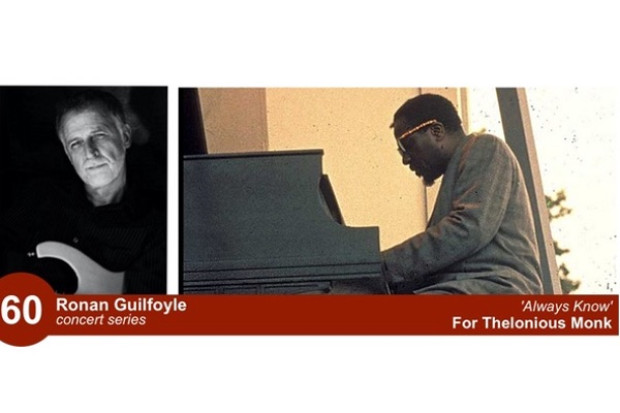 Ronan Guilfoyle 60: Always Know - For Thelonious Monk
Thursday, 10 May 2018, 10.00pm
PLEASE NOTE: Tickets €20 include BOTH Thursday night performances
('Flyin' Hi - The Music of Tommy Halferty' and 'Always Know - For Thelonious Monk')
IMC celebrates the work of one of the champions of Irish Jazz, Ronan Guilfoyle, in his 60th year with a series of special concerts at Arthur's this May 9th & 10th. Musician, composer and educator, Guilfoyle observes this milestone by gathering a cornucopia of Irish and International talent for 4 very distinct sets of music penned, arranged or orchestrated by Guilfoyle.
'Always Know' - For Thelonious Monk
A tribute to the music of Thelonious Monk, one of the key influences in Ronan Guilfoyle's musical career, which was performed at Galway Jazz Festival in 2017 to celebrate 100 years since the birth of the great jazz pianist.
Just before going on stage, Thelonious Monk would often deliver this particular piece of advice to his band: 'Don't forget, always know..'. This and other Monk sayings were captured by band member Steve Lacy - a handwritten document scrawled with the typically gnomic, yet brilliant things Monk would say to the band. Guilfoyle based this suite of music on this document, with each piece based on one of Monk's infamous sayings. As Monk said, 'You've got to dig it, to dig it - you dig?'
'If, like me, you have been playing professionally for nearly 40 years, it's good from time time, to take stock and celebrate the journey so far. I have asked some of my best friends and colleagues in music to join me in a celebration, both of my 60th birthday, and in music itself - especially jazz music. I'm very happy to be doing this on the 9th and 10th of May in Arthur's, by celebrating my 60th birthday along with 17 of my closest colleagues. In choosing the music for this celebration I wanted to include players and projects with whom I have a long track record and I am delighted to have such a stellar cast with me over the two nights.' - Ronan Guilfoyle
Tickets €20 includes both Thursday night performances
Flyin' Hi - Tommy Halferty at 70 + 'Always Know' - For Thelonious Monk
Website
Published on 12 April 2018