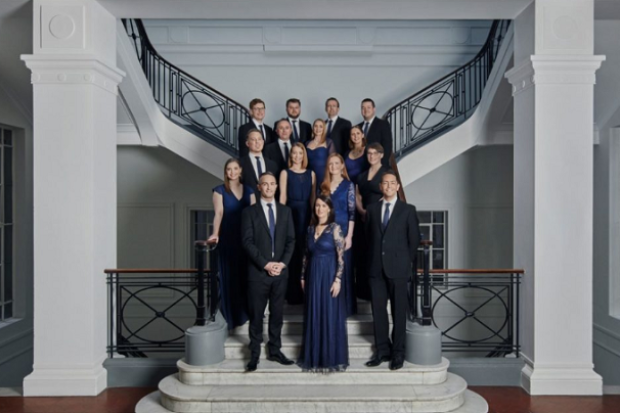 Chamber Choir Ireland @ Cork International Choral Festival 2019
Friday, 3 May 2019, 7.30pm
Cork International Choral Festival, 1–5 May. 
Choir-In-Residence Chamber Choir Ireland will once again grace the Festival with its presence for a concert in the beautiful surrounds of St. Fin Barre's Cathedral.
Their programme, the third in a series of four, is titled 'Before Bach and After' and spread across the 2018-19 season in which Chamber Choir Ireland will present the complete motets of Bach, together with related works by Brahms, Schütz, and a variety of medieval and contemporary composers.
In this programme, the music of Bach alternates with three contemporary works, which are all by women and shift the focus of the texts and indeed the musical inspiration significantly beyond and away from the Western tradition.
In addition to this unique performance, the winning composition of the 2019 Seán Ó Riada composition competition will receive its premiere performance by Chamber Choir Ireland on the same night.
Prgramme
Komm Jesu komm —J.S. Bach
As I crossed a bridge of dreams — Anne Boyd
Fuga V — J.S. Bach
Guard my tongue — Julia Wolfe
Zion hört die Wächter singen — J.S. Bach
Horo Horo Hata Hata — Santa Ratniece
Lobet dem Herrn — J.S. Bach
A note from Artistic Director Paul Hillier.
"Johann Sebastian Bach's motets enjoy a special kind of status in the choral repertoire. They contain sophisticated, almost self-consciously brilliant music of high quality and rich invention; they also make virtuoso demands of any vocalists who dare to perform them! At times it can seem as if their very eminence has isolated them, so that as musical works they appear to be floating in a genre of their own making. Yet it is a porous identity, for there are other works or bits of works by Bach that claim our attention, and while although composed only seven motets and a handful of arrangements, there are over two hundred cantatas.. Are those seven really so special? In fact I believe they are, and just as orchestras like to push themselves by presenting a cycle of, say, the nine Beethoven symphonies, so we in our more intimate domain felt inspired to present a cycle of Bach motets. But we also aim in this series of four concerts to place them in a wider historical context and examine just what a 'motet' has been and what it might be today: both before Bach therefore, and after."
Website