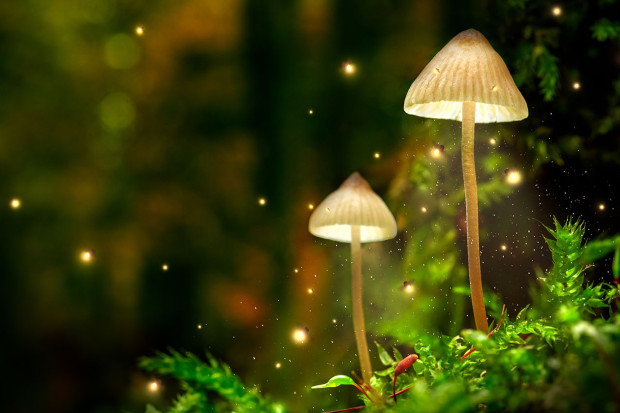 The Ark presents: Songs from the Soil
Friday, 31 March 2023, 10.15am
The Ark presents an exciting new music show by Lauren Kinsella. Join three outstanding singers in a concert of stunning songs that reveal the strange and beautiful world of fungi – one of nature's most invisible kingdoms. For children aged 8+.
Welcome to the fungiverse! Be drawn into a miniature musical world, where three amazing vocalists - Lauren, Liselotte and Michelle forage for songs and sounds on a journey through the natural world. In this highly original music performance, our singers celebrate mushrooms of all kinds with their beautiful harmonies, thrilling improvisation and rhythmic melodies.
Did you know that fungi like to hide in secret places? They can be found everywhere - in carpets, in water droplets, on trees, underground in the soil... and even in space! Where else do fungi hide? What do they look like? Can they even glow in the dark? Find out in this concert filled with spine tingling harmonies and vocal acrobatics.
With intriguing songs by acclaimed singer and composer Lauren Kinsella and sound design by Chris Hyson, let the music guide you through the forest and discover fascinating fungi wonders along the way. You might encounter some Orange Peel Fungus or Green Elf Cup but be careful of the Yellow Sickener. Or perhaps you'll find yourself singing about a Truffle or two!
DATES & TIMES
Schools Performances
Thu 30 Mar @ 10.15am & 12.15pm (previews)
Fri 31 Mar @ 10.15am
Public Performances
Fri 31 Mar @ 6pm
Sat 1 - Sun 2 Apr @ 2pm & 4pm
Relaxed Performance
Sat 1 Apr @ 4pm
AGE RANGE & DURATION
For ages 8+
Duration: 50mins approx
TICKETS
Public: €15/12.50* (20% off for Members)
Schools: €6.50 (€5 Early Bird if booked by Friday 3 March). Previews €4.50. Teachers go free.
Website
Add a Listing