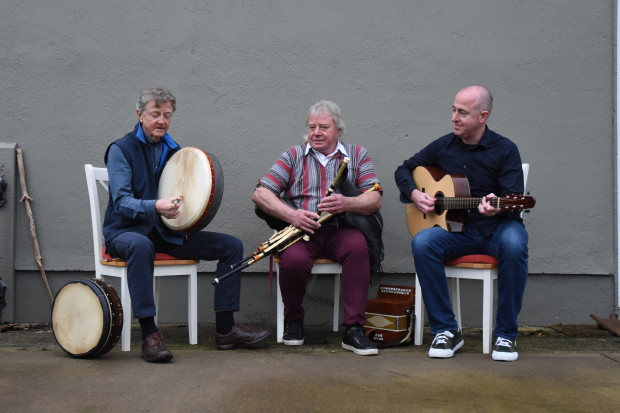 The Dublin Trio featuring Kevin Conneff (bodhrán & vocals), Joe McKenna (Uilleann pipes & whistles) & Tony Byrne (guitars) - SOLD OUT
Saturday, 25 June 2022, 7.30pm
This concert futures three of the greats of Irish traditional music performance.
• Kevin Conneff (bodhrán, vocals)
Kevin Conneff is probably best known as the bodhrán player and vocalist with The Chieftains and has been with the band since 1976. A Dubliner, he comes from the Donore part of the Liberties and first became interested in traditional Irish music in the 1960s, when he and some workmates hitched to fleadhanna ceoil all over Ireland, sleeping in hay barns and eating tins of Denny's stew!
In Dublin, he frequented O'Donoghue's, The Pipers Club, The Clareman's Association and the weekly session in Church Street. For many years, he and friends ran the prestigious Tradition Club in Slattery's of Capel Street, where singers and musicians from all over Ireland and the U.K. performed. These included Willie Clancy, Séamus Ennis, Joe Heaney, Treasa Ní Mhiolláin, Ewan MacColl, Peggy Seeger and Anne Briggs. In 1973 and 1974, Kevin and the Tradition Club ran fundraising concerts in Liberty Hall to help launch the Willie Clancy Summer School.
Apart from touring and recording with The Chieftains, he has performed with Mary Bergin, Tim Edey, Redmond O'Toole, and, from Nashville, Jeff White, Laura Cash and Deanie Richardson. He has done singing and bodhrán workshops in the U.S.A, Europe and Japan. Although he wouldn't regard himself as a songwriter, he has penned a number of ditties.
• Joe McKenna (uilleann pipes, whistles)
Joe McKenna is from the Liberties in Dublin. He studied the pipes in the famous Pipers' Club in Thomas Street where he learned from and was influenced by the great Leo Rowesome, as well as being influenced by Patsy Toughy, Johnny Doran and Willie Clancy. Over the years he absorbed and extended the art of piping, creating his own individual style and technique, and also designed and made he own pipes. He is now one of Ireland's most respected pipers and an accomplished low whistle and button box player. He composes tunes and songs and, the odd time, sings a few.
After winning a few All Ireland titles, his professional career began in the early 1970s when he played with the Abbey Theatre in Dublin. This was followed by an international touring schedule throughout America, Canada, Europe and Australia.
Joe was most known early on as one half of the harp and pipe duo, playing with his now deceased wife Antoinette Mc Kenna. They recorded their first LP in the early days of Shanachie Records and later were joined by Antoinette's sister, Mary Bergin, then being part of other groups, such as Slua Nua, De Dannan, and the Anne Wylie Band in Germany. His recordings are well known and his interest in composition led to him receiving IMRO's ' New Irish Music Composer of the Year Award' in 1993. This was followed by being closely involved in pioneering projects in schools and community care aided by the Arts Council and Music Network.
Another side to Joe is his involvement in managing the Shanachie Records label in Ireland for ten years, beginning in 1996, multi-tasking as concert promoter and coordinating and assisting touring artists and promoting their new releases. Today he continues his workshops and performing, including with the group Mountain House.
Finally, from the creative piping stand point, and in many other ways, he would say that his piping was most influenced by the unique backing style on the harp of his wife Antoinette, being a harp and piping duo for over forty years.
• Tony Byrne (guitars)
Tony Byrne, Dublin guitarist, has been involved in music from a young age. Starting out playing in rock bands as a drummer at age 11, Tony began performing around Dublin city centre venues at age 12. Following family holidays in West Kerry, Tony developed an interest in Irish traditional music and has been involved in the performance, recording and teaching of it since leaving college in 1999
Past performances include concerts with acts such as Danú, Sharon Shannon, Michael Mc Goldrick, Gerry O'Connor, David Munnelly Band, Matt Molloy, Paul Brady, Julie Fowlis, Lúnasa and many more. Tony has also performed with artists of different genres, such as legendary guitarist Tommy Emmanuel, Jerry Douglas and banjo virtuoso Bela Fleck, as well as classical violinist Nicola Benedetti and Indian Tabla Master Zakir Hussainm, with whom he performed at Carnegie Hall, New York, and recorded a live CD in San Francisco.
Television credits include The Late Late Show, Geantraí, Later... with Jools Holland, BBC Alba and many more.
Tony also works with the Galway Arts Festival and has been a cast member of award winning Irish play "Trad", which has toured extensively, including to the Edinburgh Fringe Festival and the Perth International Festival in Australia.
Tony is also a guitar teacher in Ballyfermot Senior College, Dublin, a position held for the past seven years. Other teaching experience includes guitar instruction in the USA and throughout Europe at various festivals and workshops.
Tickets can be purchased from the Motor House information centre at Farmleigh or through www.eventbrite.ie ( https://bit.ly/3xUb9tu )
Photograph: Kevin Conneff (bodhrán & vocals), Joe McKenna (Uilleann pipes & whistles) & Tony Byrne (guitars)
Website
Add a Listing