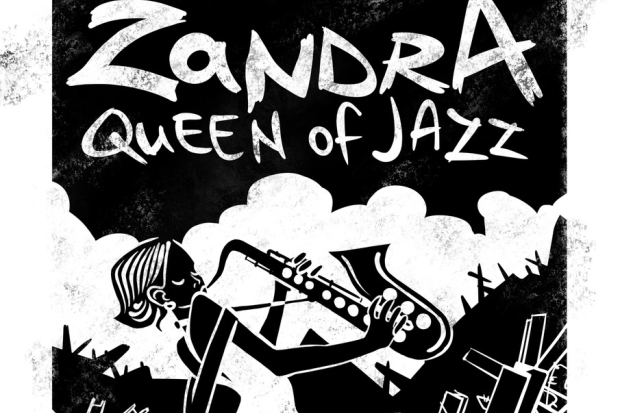 Zandra, Queen of Jazz
Monday, 18 November 2019, 8.00pm
With just her sax and a suitcase, Zandra Mitchell joined a jazz band and toured the world.
Born in Phibsborough, Dublin in 1903, she was Ireland's first female saxophonist. While the twenties roared she found her way through Europe to Berlin. The dictators rose; the books burned; the bombs dropped…and Zandra played her sax.
Darn Skippy Productions present Zandra, Queen of Jazz — a play with original music, based on an extraordinary true story.
The early development of this piece was supported by an Emerging Artist Bursary from Dun Laoghaire-Rathdown County Council Arts Office; with further support from dlr LexIcon Library.
Written and Performed by: Roseanne Lynch
Directed by: Katherine Soloviev
Original Music, Arrangements and Sound Design by: Richard Lennon
Poster by: Eugene Korolkov
About Zandra Mitchell
Josephine Alexandra (Zandra) Mitchell was born in 1903 in Phibsborough, Dublin, into a very musical family. From a very young age, she learned to play a wide range of instruments, including the violin, the cello and later the saxophone. When Zandra went to London with her brother, Eddie, to play sax with his band, she was spotted by an agent, who invited her on a tour of Switzerland with a jazz band. Zandra accepted the invitation and went on tour - against the wishes of her parents, who threatened to disown her. She travelled for years with many different jazz bands - including her own 'Baby Mitchell's Queens of Jazz' - and during her career played with some of the greatest jazz musicians of the twentieth century, including Django Reinhardt and Coleman Hawkins.
Zandra eventually settled in Berlin and was one of only very few Irish citizens living there during World War II. She witnessed Hitler's rise to power from an incredibly dangerous perspective. Jazz was seen as 'degenerate art' and a threat to the Nazis' control, so to be a jazz musician in that place and time was a huge risk.
About the Play
Zandra, Queen of Jazz has been in development for two years. Playwright Roseanne Lynch has collected as many stories of Zandra as she can, interviewing friends of Zandra's who shared their memories of her. One very close friend spoke to Roseanne for many hours, showed her all of Zandra's postcards, letters and photos and even let her play Zandra's old saxophone!
So, while this play is not a documentary - some poetic license has been taken - we have tried to create something that draws on all of this research and captures the spirit of who she was. Zandra's story also has a lot of relevance today - this is a play that asks some challenging questions about power and freedom, art and politics. It is an evening of vivid storytelling, comedy, tragedy and, of course, jazz...
About the company
Roseanne Lynch and Richard Lennon, artistic directors of Darn Skippy Productions, also happen to be married. When we first started dating, Richard (a New Yorker) used the phrase "Darn Skippy" in a sentence, and Roseanne (a Dubliner) was completely bewildered. Was he referring to a kangaroo who needed his socks mending? What was he talking about? Richard explained that saying "Darn Skippy" is like saying, not just "yes", but "YES!!!!" It is now something we say to each other most days, and when the time came to pick a name for our production company, it seemed like the perfect choice.
We want to make work that is vivid, bold and bursting with life – work that says, not just "yes", but "YES!!!!" to all the joy, agony and infinite possibility of being alive. This is Darn Skippy's debut stage production.
Our previous work includes The Killiney Hill Sessions – a series of music videos made in collaboration with poet/singer-songwriter Christian Wethered; and Anchor – a radio play commissioned by the dlr LexIcon Library to mark the Centenary of the sinking of the RMS Leinster.
Listen to Anchor here: vimeo.com/richardlennon/anchor
Follow Darn Skippy:
DarnSkippy.com
Facebook.com/darnskippyproductions
Twitter.com/darnskippy
Vimeo.com/darnskippy
Website