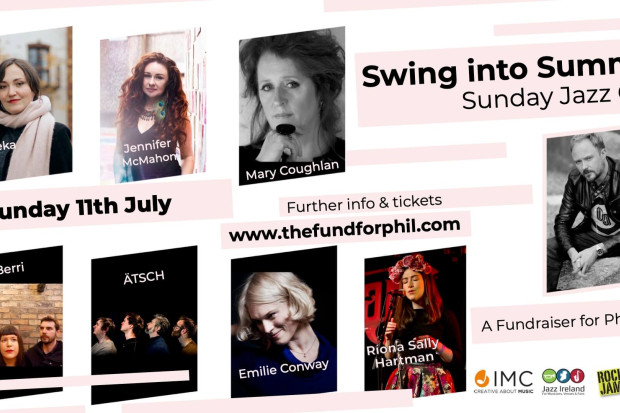 Swing into Summer: Sunday Jazz Gala - A Fundraiser for Phil Ware
Sunday, 11 July 2021, 3.00pm
In collaboration with IMC and Jazz Ireland, The Dublin jazz Co-op presents 'Swing Into Summer', a Sunday jazz gala event in aid of a cause that's very dear to the Irish jazz community's heart - the Fund for Phil Ware.
Swing into Summer on Sunday July 11th with a packed gala concert of new and favourite jazz standards and instrumental music from some of Ireland's finest artists, with a bit of everything you'll enjoy. From the evocative voice of special guest, renowned singer Mary Coughlan, to cool electronic-influenced modern jazz, there's something for all tastes.
Visit www.thefundforphil.com for an update on the schedule of performers.
Phil Ware is one of the Irish jazz's most celebrated musicians, a much-respected pianist and an inspirational teacher. In June 2020, Phil suffered a rare form of stroke - which left him severely disabled, unable to speak or to move the right side of his body. To help Phil recover and to support his needs into the future, a group of his closest friends established The Phil Ware Trust for public donation to support Phil's recovery. Over the last year Phil has made remarkable progress, thanks to the wonderful care he has received from his medical team and the support and encouragement of his closest friends. He may never perform again at his former level, but there is hope that, with the right treatment and support, and with the funds to back him up, he will be able to leave hospital and live an independent life.
The Swing into Summer Gala is the brainchild of many of Phil's former music students, supported by colleagues and friends, who have experienced first-hand his incredible musicianship and pedagogy, and are living proof of his influence on the jazz world in Ireland.
As a flexible online stream, you can bring the concert into your home, or even your garden, sip on a cool drink and enjoy some new fresh sounds and old jazz favourites, presented by host and jazz aficionado DJ Billy O Hanluain, and interspersed with noted jazz musicians sharing some favourite stories of Phil.
Over the course of the day you'll hear sets from an array of outstanding musicians, to create a perfect jazz soundtrack for your Sunday.
Special guest for the day is Ireland's most soulful jazz and blues singer, Mary Coughlan. Whether you're into folk, blues or jazz, you can't fail to be moved by the emotional depth, expression and power in her voice, forged from an extraordinary life.
Rising singer-songwriter Jennifer McMahon's music also illustrates the emotional power of song, exploring personal and collective themes of love, loss, belonging, sensuality, and compassion.
Enjoy a melding of vocal improvisation with electronic experimentation from Dublin trio Berri, with improvisations using vocalist Jenna Harris' natural voice and live processing, backed by a strong rhythm section in Matthew Jacobson and Derek Whyte.
For listeners with post-rock leanings, guitarist Matthias Winkler leads quartet ATSCH, bringing a cool change of soundscape to the afternoon with work influenced by musicians like Sigur Ros.
Poetry-lovers will enjoy the sweet voice and literary-inspired work of Emilie Conway, bringing poetry and art to life with classic jazz vocals, while bi-lingual vocalist and composer Riona Sally Hartman melds lush vocal harmonies, acoustic softness and surrealist stories into her melodic songs.
Vocalist Aleka with her quartet explores jazz standards from her debut album 'Person I Knew' in her unique style. Her agile musicality draws influences from home country of Romania interspersed with eastern rhythms, as well as inspirations from Debussy, Bartok and other classical composers.
The programme is a fitting tribute to an inspirational musician and educator, and one which any music fan will enjoy.
All monies donated to this benefit concert, officially sanctioned by the Phil Ware Trust, will go exclusively to cover costs associated with Phil's medical care and ongoing rehabilitation, as determined by the board of trustees, which includes distinguished figures from the worlds of medicine, finance and music in Ireland.
Website
Add a Listing