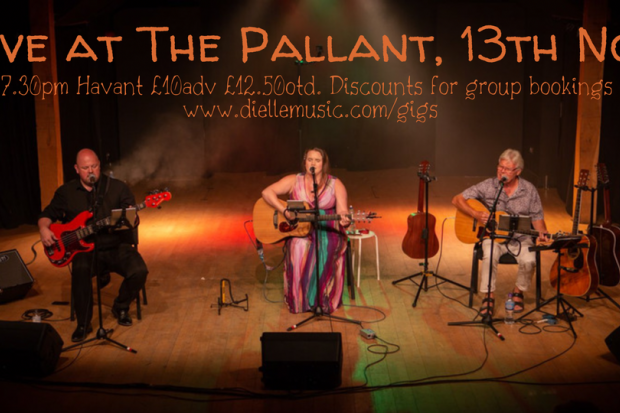 Saturday Night At The Pallant - The DiElle Trio
Saturday, 13 November 2021, 7.00pm
About the DiElle Trio
Inspired by Crosby, Stills & Nash, The Hollies, Bob Dylan and more.
Original tunes and classic covers from John Gleadall, Chris Wood and DiElle. "Harmonies that leave you breathless" Bill Kenny
With a strong bond of friendship and host of funny stories, this group will entertain those who have a love of the golden era of pop
Don't miss this spectacular live show, crammed with laughs, larks and songs from the greats! "If you get a chance to see them, go!" Ben @YourFareham
Music also from members of the Hayling Island Folk and Acoustic Club and Tom Kennar blues vocalist and piano player.
This lovely spacious venues has high ceilings and tables provided for all parties so social distancing can be easily maintained.
£10adv
£12.50otd
£56 for parties of 6
Website