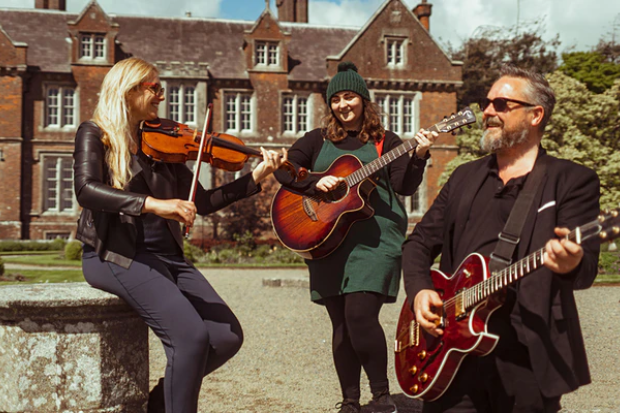 Musici Ireland Live from Wells House – 4 Concerts over 3 Days
Saturday, 4 June 2022, 8.00pm
Musici Ireland present 4 concerts over 3 days on 4–6 June 2022.
Come and experience live music in one of Wexford's most beautiful Country Houses at Wells House & Gardens.
An exciting weekend of music with something to suit every family member!
Concert 1: Saturday 4th June 8pm in the Robertson Hall
A concert of String Quartet music:
Mozart "Dissonance" Quartet No. 19 in C major K 465
Shostakovich Quartet No.1 in C majo
Dvorak "American" Quartet

Ioana Petcu-Colan and Lynda O'Connor - Violins
Beth McNinch - Viola
Katie Tertell - Cello
Concert 2: Sunday 5th June 11am in the Versaille Room
Dianne Marshall - Harp
CPE Bach – Fantasia In Ebmajor
Germaine Tailleferre – Sonata For Harp
Marius Flothuis – Pour Le Tobeau D'orphee
Paul Patterson – Spiders
Gabriel Faure – Une Chatelaine En Sa Tour
Ami Maayani – Maqamat
Pearl Chertok – Around The Clock Suite
Concert 3: 5 June at 8pm in Wells House
Gala concert with special guests Gavin Glass and  Rachel Grace.
Price includes a glass of wine at the interval.
Musici Ireland are joined by special guests Gavin Glass and Rachel Grace for an exciting evening of music making. Alongside original songs by Gavin and Rachel we will hear from Wexford composer Liam Bates with "Vivo" and:
Phillip Glass: Mishima Closing
Jessie Montgomery: Strum
Arvo Part: Summa
Valentin Silvestrov: Ikon
John Taverner: the lamb 
Ioana Petcu-Colan and Lynda O'Connor - Violins
Beth McNinch - Viola
Katie Tertell - Cello
Concert 4: Monday 6th June at 3pm in Robertson Hall
A family concert of music from the movies… this is a great chance to get up close and personal with a string quartet, to hear some of your favourite music from movies such as: James Bond, Platoon, Encanto, Moana, Star Wars, Lord of the Rings, Pirates of the Caribbean and many more.
With violinists Lynda O'Connor and Lidia Jewloszewicz-Clarke, violist Beth McNinch and cellist Katie Tertell.
For further details on the Wells House concerts and booking, visit the link below.
Website
Add a Listing