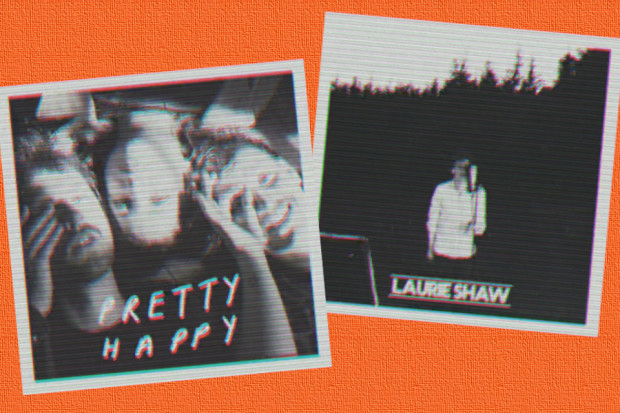 Pretty Happy and Laurie Shaw @ ClubHeadBangBang
Friday, 30 September 2022, 9.00pm
Laurie Shaw
Laurie Shaw is a musician and songwriter, primarily interested in the medium of the album. He writes and records in a home studio in Kilgarvan, County Kerry and has crafted over ninety albums since 2010. These albums are mostly of alternative pop, heavily influenced by music of the 60s and 70s such as garage rock, disco and Afro-Beat. He has a lyrical style that is distinctly observational and narrative-based, delivered in his own accent and dealing with themes of isolation, life in rural areas, geography and social behaviours. He has performed around the country with his backing band and worked with the Irish based labels Little L and Sunshine Cult to release cassettes as well as UK label Sunstone Records to release a double L.P.
Pretty Happy
Pretty Happy is a 3-piece sister-brother-best friend art-punk band from Cork known for intense theatrical live performances, and embracing the idioms and energy of their home city. In the last six months they opened for Future Islands, Gilla Band, Pillow Queens, The Mary Wallopers, toured the UK with Altered Hour and toured Europe and the UK with Kim Gordon (Sonic Youth, Body/Head), and performed at Primavera Sound, All Together Now and Raw Power in London. In November they open for Pavement in Dublin. Pretty Happy are diverse artists who enage with theatre, film and visual art. In June this year they curated QUARE a celebration of queer art in Cork with one-day open-air event in St. Anne's Park in Shandon for Cork Midsummer Festival. The band also made a documentary about Cork punk and post-punk heritage (something very close to their heart) for the Triskel Art Centre's WRITE RECORD PERFORM residency.
This event is supported by Department of Tourism, Culture, Arts, Gaeltacht, Sport and Media and Kerry County Council through the Local Live Performance Programming Scheme.
Website
Add a Listing