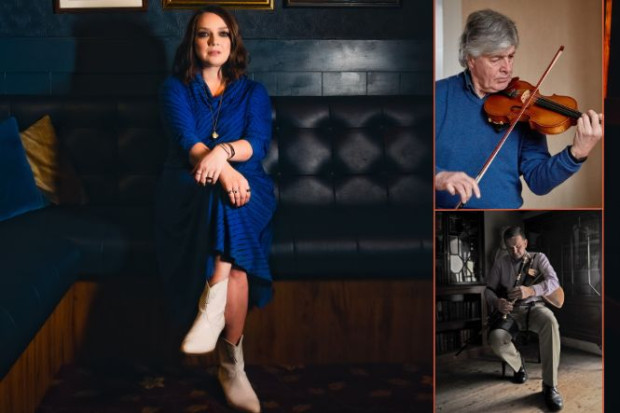 Drogheda Traditional Music and Singing Weekend: Pauline Scanlon, Paddy Glackin and Robbie Hannan
Saturday, 3 December 2022, 8.00pm
Join us at Drogheda Traditional Music and Singing Weekend for the annual concert in honour of Caitlín Bean Uí Chairbre, featuring Pauline Scanlon, Paddy Glackin and Robbie Hannan
Pauline Scanlon is a critically-acclaimed singer of contemporary and traditional Irish music. The Irish Times said "Her voice is a superb mix of china cup fragility and steely strength" and this pairing of opposites seems a true fit for this West Kerry native. Her voice comes from an ancient place but is always fresh. She is uniquely Irish yet universally understood, apparently traditional yet subversive at every turn. Perhaps now, it is the steely strength that comes to the fore in both her activism and her determination to constantly evolve as an artist. As a founding member of FairPlé, the role of women in the arts is central to her creative path and something she is very vocal about and dedicated to. Her new album, The Unquiet, released in March of this year, is a piece of art possessed of an old soul, but thoroughly modern and of its time.
Pauline is also known for her partnership with Éilís Kennedy as Lumiere and for her work with Sharon Shannon, Atlantic Arc Orchestra, John Spillane, Sinéad O'Connor and Damien Dempsey, as well as Bird On The Wire, a collaborative project with The Whileaways.
Paddy Glackin and Robbie Hannon
Regarded as one of the great exponents of fiddle and pipes duet playing Paddy and Robbie have been playing together for over twenty years. Both share a deep interest in the old music of the pipes and fiddle with a particular interest in the music o Co Donegal. They have performed across Europe and America and released the critically acclaimed cd Sidean Sí in on the Gael Linn label in 1995.
Paddy and Robbie are in demand as soloists and both have recorded extensively with a range of musicians over their careers. However, playing as a duet affords them the opportunity to explore a vast and rugged musical terrain that brings the listener into a remote musical experience.
Website
Add a Listing
Published by DAC on 25 October 2022