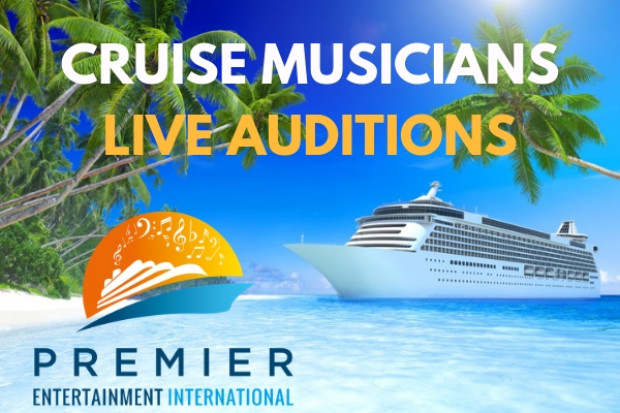 Casting Call: Live Auditions for International Cruise Line
Monday, 9 September 2019, 10.00am
Premier Entertainment International is currently recruiting musicians from UK & Ireland to participate in Live Auditions for a leading international cruise line. Successful applicants could see themselves playing on board luxury cruise ships, whose itineraries include The Caribbean, Pacific Islands, Hawaii, Alaska, Mexico, South America, World Cruises, and more.
Typical contract length: 4-6 months, depending on position
Competitive salaries
Flights, accommodation, and meals included
The following positions may apply:
4-6 pc Party Band | Guitar Vocalist | Lounge Duo | Piano Soloist | Classical Ensemble | Irish Folk-Trad Duo
Houseband Musicians: Drums | Bass | Guitar | Keys | Saxophone | Trombone | Trumpet
Audition Dates:
Manchester, UK: 9 - 11 Sept 2019
Cork, Ireland: 13 & 14 Sept 2019
LEARN MORE about the position you are applying for here: https://premierentertainmentint.com/all-careers/
APPLY NOW: http://bit.ly/applyPEI
Applications close on 2 September 2019
All applications must include:
- links to showreel(s) that showcase your repertoire & skill
- promo photos
- biography/ resume of professional music experience and music education background.
- Soloists, Duos, Trios & Bands must also include a repertoire list with their application.
Website