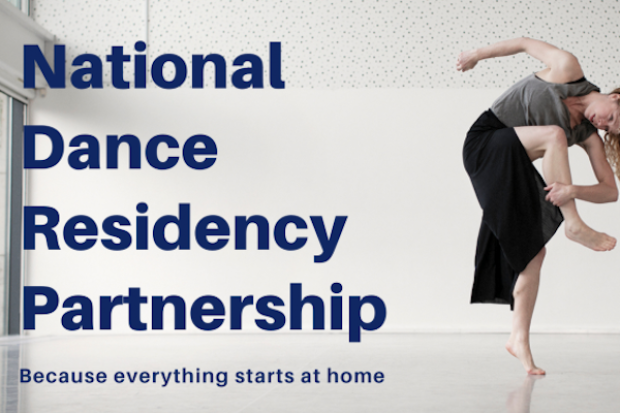 National Dance Residency Partnership
Wednesday, 5 May 2021, 12.00pm
Call for Expressions of Interest
The National Dance Residency Partnership (NDRP) is a partnership between Dance Ireland, Dance Limerick, Firkin Crane and Galway Dance Project to provide a networked support to choreographers in the production of new dance work. By coming together, the partners acknowledge that our collective infrastructure and resources can go further and encourage more ambition in the dance sector.
Each partner will contribute financially and/or in-kind space to two choreographers, which will allow for up to six weeks rehearsal time across the country. Additional contributions will include accommodation support, and the time and support of artistic staff.
What is on offer?
We will support 2 choreographers/makers who have funding in place to develop new dance work in 2021 by offering:
6 weeks (non-consecutive) of studio space across our partner venues in Dublin, Galway, Cork and Limerick. This can be arranged in blocks of 1 to 3 weeks at 2 or more locations.
Financial investment of €3500 per choreographer/maker
€1750 support towards accommodation expenses per choreographer/maker. (Accommodation provided in Cork.)
Opportunities to share work in progress, if appropriate
Who is this for?
We would like to hear from you if:
You are researching and developing new work in 2021.
We are keen for this to be an opportunity to invest deeply in incubating new ideas and innovative new work that would benefit from engaging with the partners and building contacts and networks across Ireland.
 
Have additional financial support through existing funding, grants, or independent resources.
This is a pilot project and the financial resource on offer is intended as a contribution toward offsetting some of the costs associated with the residency periods. We are keen to learn and to prove the concept of the partnership in order to build new resources for the future.
 
Can engage with the timeline of the partnership.
There is space available at various times between July and November, and some of this will be fixed and some flexible, depending on the location. We are open to working with the successful choreographers to make this work with their plans.
 
Are willing to support the development of this partnership through sharing and evaluation.
Artist-led engagement and connection between the partners is something we would like to explore. We are open to suggestions of how this can be achieved, and how this may impact the evaluation of the partnership.
Whilst this residency partnership is not focused on developing a work to full production, it may be possible to arrange for technical / production time at some venues. This could, for example, be used for testing production ideas, or for filming sections of work for publicity or showcasing. If you have an agreed performance date in Autumn/Winter 2021/22 do let us know.
How to Apply
The NDRP will be coordinated and administered by Dance Ireland, and representatives from each partner organisation will form a steering committee to support the programme, participate in the selection process and contribute to the future direction of the initiative.
Applications that meet the criteria outlined above will be shortlisted and considered by a panel including representatives from the partner organisations, and an independent artist representative.
To apply, please complete this expression of interest form here.
Additional information, including budgets, CV's or other relevant documents should be emailed to: programme [at] danceireland.ie with the subject title: "NDRP [NAME OF APPLICANT] Supporting Documents".
Should you require additional support or have access needs, please let us know by emailing: info [at] danceireland.ie or calling Dance Ireland on 01 855 8800.
Timeline
Deadline for applications:            12pm, Wednesday 5 May, 2021
Panel Meeting:                              Tuesday 11 May, 2021
Successful artists will be contacted by Monday 17 May, 2021
All applicants will be contacted by Wednesday 19 May 2021. Feedback will be provided to unsuccessful applicants, where requested.
IMAGE: Dance Artist Justine Cooper by Agata Stoinska
About the Partners
Dance Ireland
Dance Ireland is the national development and representative organisation for professional dance in Ireland. We support the development of all forms of dance in Ireland through training, professional opportunities, and advocacy. Our vision is for dance to be valued and vibrantly, actively, and confidently part of people's lives. Achieving this, we believe, would ensure a sustainable future for dance in Ireland and a credible career for those committed to dance as a profession. We exist to make this happen. danceireland.ie
Dance Limerick
Dance Limerick enables dance creation, participation and appreciation and strives to be a creative community connecting people and ideas through dance.  By supporting and showcasing the work of artists across a diverse range of practices, Dance Limerick encourages artists and the public alike to be curious, to be creative and to connect with each other and to what matters in the world about us. dancelimerick.ie
Firkin Crane
Firkin Crane, the home of dance in Cork, is a place where dance artists, dance audiences and dance enthusiasts come together to make, see and join in dance of all kinds. Firkin Crane uses its distinctive heritage building comprising stage, performance spaces and studios to support experimentation, creation and participation. firkincrane.ie
Galway Dance Project
Galway Dance Project is an artist-led, non-profit dance resource organisation established in 2011 in Galway.  Galway Dance Project delivers supports and resources to the professional dance sector and promotes the development of dance as an artform in the region. galwaydanceproject.com
We are grateful for the support of the Arts Council/An Chomhairle Ealaíon for this partnership project
Website