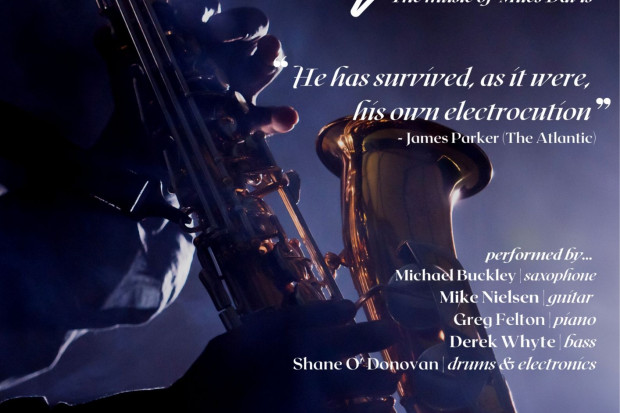 Electric Miles - The Music of Miles Davis
Saturday, 4 March 2023, 8.00pm
Miles Davis is recognised as one of the most influential jazz artists of the 20th century. Spanning 50 years, his musical career explored a variety of different styles, from "cool jazz" to "hard bop" and everything in between.
In the mid-1960s, Davis transitioned into what became know as his "electric years" and during this time, he incorporated rock and funk styles, experimented with African rhythms and employed an increasingly diverse range of electronic instrumentation and sounds.
This period in Davis' life culminated in the seminal 1970s recording "Bitches Brew" and subsequently, his more controversial 1975 live concert recording titled "Agharta". Featuring an all-star line-up with some of Ireland's finest jazz talent, "Electric Miles" is an adrenaline fuelled evening of virtuosic music-making which explores and celebrates the music of Miles Davis' "electric years".
This show's line-up has a unique connection to Miles Davis himself through the American saxophonist David Liebman, who played with Miles during the 1970s and with whom saxophonist Michael Buckley and guitarist Mike Nielsen have also performed.
Michael Buckley | saxophone
Mike Nielsen | guitar
Greg Felton | piano
Derek Whyte | bass
Shane O' Donovan | drums & electronics
Saturday 4 March 2023 @ 8pm (doors 7pm). Tickets (€22) can be booked at www.whaletheatre.ie or call the booking office on 01 2010550.
Website
Add a Listing