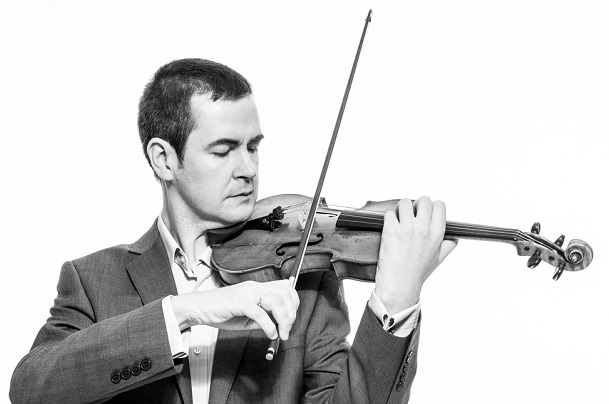 Darragh Morgan to Perform Programme of Iranian Works at Huddersfield Contemporary Music Festival
Concert will be free to view on the festival's website this Sunday.
Violinist Darragh Morgan will perform at Huddersfield Contemporary Music Festival (HCMF) this Sunday 22 November. The festival, which takes place on 20–22 November, has curated a fully online programme this weekend featuring concerts, talks, podcast recordings, new commissions and workshops. 
The Irish violinist, also a member of the Fidelio Trio, earlier this year performed as part of the Ireland Performs series with pianist Mary Dullea and released an album, For John Cage, with pianist John Tilbury on Diatribe Records. Later this month, the Fidelio trio will present the the 8th Fidelio Trio Winter Chamber Music Festival online. 
Morgan's performance takes place on Sunday at 1pm and will feature a number of works by Iranian composers, including the world premiere of Beyond The Autonomous Sensory Meridian Response by Arshia Samsaminia and the UK premiere of Fozié Majd's Farãghi (In Absentia). Last year, Morgan recorded Majd's work for an album showcasing contemporary Iranian composers. Morgan will also perform Pender by Amir Mahyar Tafreshipour and works by Shiva Feshareki and Yannis Kyriakides. 

The performance will be accompanied by video footage of mountains, salt lakes and deserts of Iran, to emphasise the landscape that has inspired the music. Field recordings from Baluchistan (a region of land stretching over parts of Iran, Pakistan and Afghanistan) and interviews with the composers about their work will also feature during the event, presented between the works in Morgan's programme. 

The concert is not ticketed and will be available to watch on HCMF's website. 
To receive our latest articles, reviews, news and jobs, subscribe to our newsletters.

Weekend events
Also taking place over the weekend is a series of new commissions launched by the Riot Ensemble with composers including Heloise Tunstall-Behrens, Hannah Kendall, Tonia Ko, Matthew Grouse, Auclair, and Anna Appleby. Artistic Director and conductor of the Riot Ensemble Aaron Holloway-Nahum will take part in a podcast interview on Saturday 21 November at 1pm, while Beirut-based DJ and radio host Ziad Nawfal will be interviewed on the podcast on Sunday at 8:30pm. 
There will also be talks with artists including composers Annea Lockwood, Auclair, George E. Lewis, Mariam Rezaei, Clara Iannotta and Cassandra Miller, music workshops for infants and young children and a series of concerts by artists including pianist Sarah Cahill, Explore Ensemble, sound and performance artist Kelly Jayne Jones, producer, composer and improviser Matt Wright, clarinettist Heather Roche, electronic artist Hayley Suviste, saxophonist Raymond MacDonald and pianist and vocalist Rachel Weiss, and London Sinfonietta. 

To see the full festival programme, visit: https://hcmf.co.uk/2020-programme/
Published on 17 November 2020