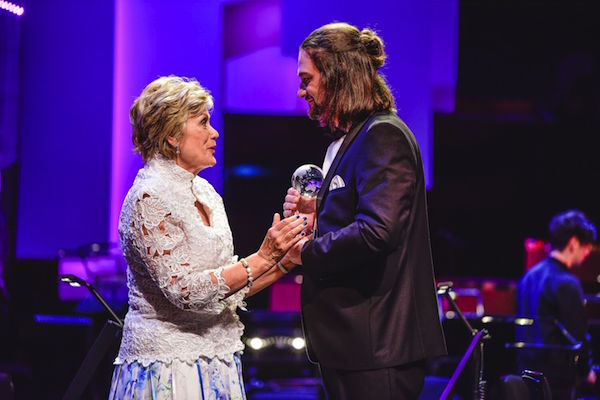 Listen to the Winning Performances from the 2019 Cardiff Singer of the World
Baritone Andrei Kymach wins Main Prize; Tenor Mingjie Lei wins Song Prize; Mezzo soprano Katie Bray wins Audience Prize.
Ukrainian baritone Andrei Kymach has won the 2019 BBC Cardiff Singer of the World competition. 
The biennial competition took place between 15 and 22 June and featured 20 singers. Five were shortlisted for the Main Prize (operatic and concert works with orchestra) which took place on Saturday night at St David's Hall. The finalists were Kymach, tenor Mingjie Lei (China), soprano Sooyeon Lee (South Korea), bass Patrick Guetti (USA), and mezzo soprano Guadalupe Barrientos (Argentina). 
The jury consisted of David Pountney (chair), José Cura, Wasfi Kani, Frederica von Stade and Dame Felicity Lott. Commenting on the competition, Pountney said: 'We have been watching these magnificent young people make riveting theatre with their voices. It is a privilege and a pleasure to celebrate their talent.'
Kymach is a recent graduate from the Bolshoi Theatre Young Artists Opera Programme. He has since sung at Opera de Nice and the Gran Teatro del Liceu in Barcelona. In June he performs at the Queen Elizabeth Hall in London.
Chinese tenor Lei won the Song Prize (lieder and art song with piano accompaniment) on Friday. Mezzo soprano Katie Bray was awarded the Audience Prize (voted for by the public) on Saturday.
Winners of the Main Prize and Song Prize receive £20,000 and £10,000 respectively. 
Listen back to Andrei Kymach's Main Prize performance here (begins at 14 minutes). He sang Bizet's 'Toreador Song' from Carmen, 'Aria of Aleko' from Rachmaninov's Aleko, and Enrico's aria from Donizetti's Lucia di Lammermoor.
Listen back to Mingjie Lei's Song Prize performance here (begins at 1 hr 31 mins). He sang Faure's 'Sérénade Toscane', Rachmaninov's 'O cease thy singing', Liszt's 'L'vidi in terra angelici costumi', and Lin's 'On the other side of the river', an arrangement of a Chinese folk song. The piano accompanist was Llŷr Williams.
Katie Bray from England sang in Round 3. Watch her performance of 'Where Shall I Fly' from Handel's opera Hercules here. 
For more on the BBC Cardiff Singer of the World competition, visit www.bbc.co.uk.
Published on 24 June 2019