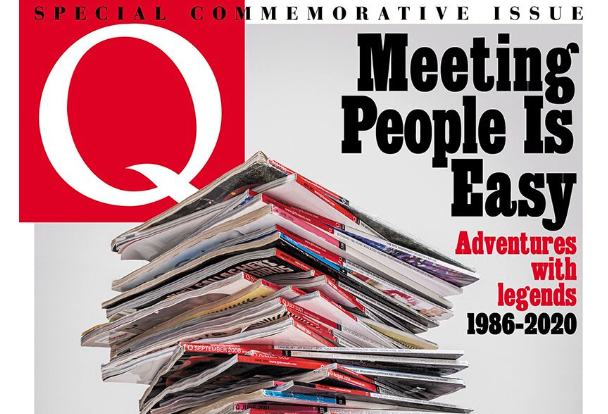 Q Magazine Announces Final Issue
The British rock and pop monthly to suspend publication after thirty-four years.
Q magazine has announced that its next issue, out on 28 July, will be the last as it ceases publication after thirty-four years. Editor Ted Kessler announced the news via Twitter, also sharing his last Editor's Letter. 
I have some bad news about @QMagazine. The issue that comes out on July 28 will be our last. The pandemic did for us and there was nothing more to it than that. I have attached our final cover and my editor's letter for context.
On the plus side, we're all available for work. pic.twitter.com/rm8qOcUBtB

— Ted Kessler (@TedKessler1) July 20, 2020

The final magazine will be a commemorative issue, looking back at highlights from Q's archive in the form of interviews and features with David Bowie, Joni Mitchell, Prince, the Stone Roses and more. 
'The pandemic did for us and there was nothing more to it than that', said Kessler on Twitter. In May, the magazine's owner, Bauer Media, put the monthly and other titles in its remit under review, as sales had drastically reduced during the pandemic. Q's circulation had fallen to 28,000 per month, after a peak of 200,000 in 2001. 

Founded in 1986 by writers from Smash Hits magazine, Mark Ellen and David Hepworth, Q was originally named Cue, in the sense of cueing up the next record to play, but was changed to Q to avoid confusion with snooker publications, and in order to stand out more on newsstands. 

The magazine was a key publication during the Britpop era and is known for its in-depth reviews of new albums, re-releases, live concerts, and radio and TV programmes, as well as deep-dive interviews with musicians and compilation lists, such as '100 Best Albums of the 90s' and '100 Greatest Songs of All Time'. The column 'Who the Hell do They Think They Are?' by journalist Tom Hibbert aimed to call out egotistical musicians with probing interviews. 

The previous June issue of Q was thought to be the last by the editorial team, until one final issue was negotiated. The June issue featured writers from the past and present recalling memorable interviews and features from the past thirty-four years. Commenting on the last two issues, Kessler's final Editor's Letter said:
This issue is designed to be enjoyed as the accompaniment to last month's Anecdotal Evidence edition. Each corroborates the other. They're a one-off double A-side single, a twin-salute to Britain's last great contemporary music magazine. 

Visit www.qthemusic.com.
Published on 21 July 2020