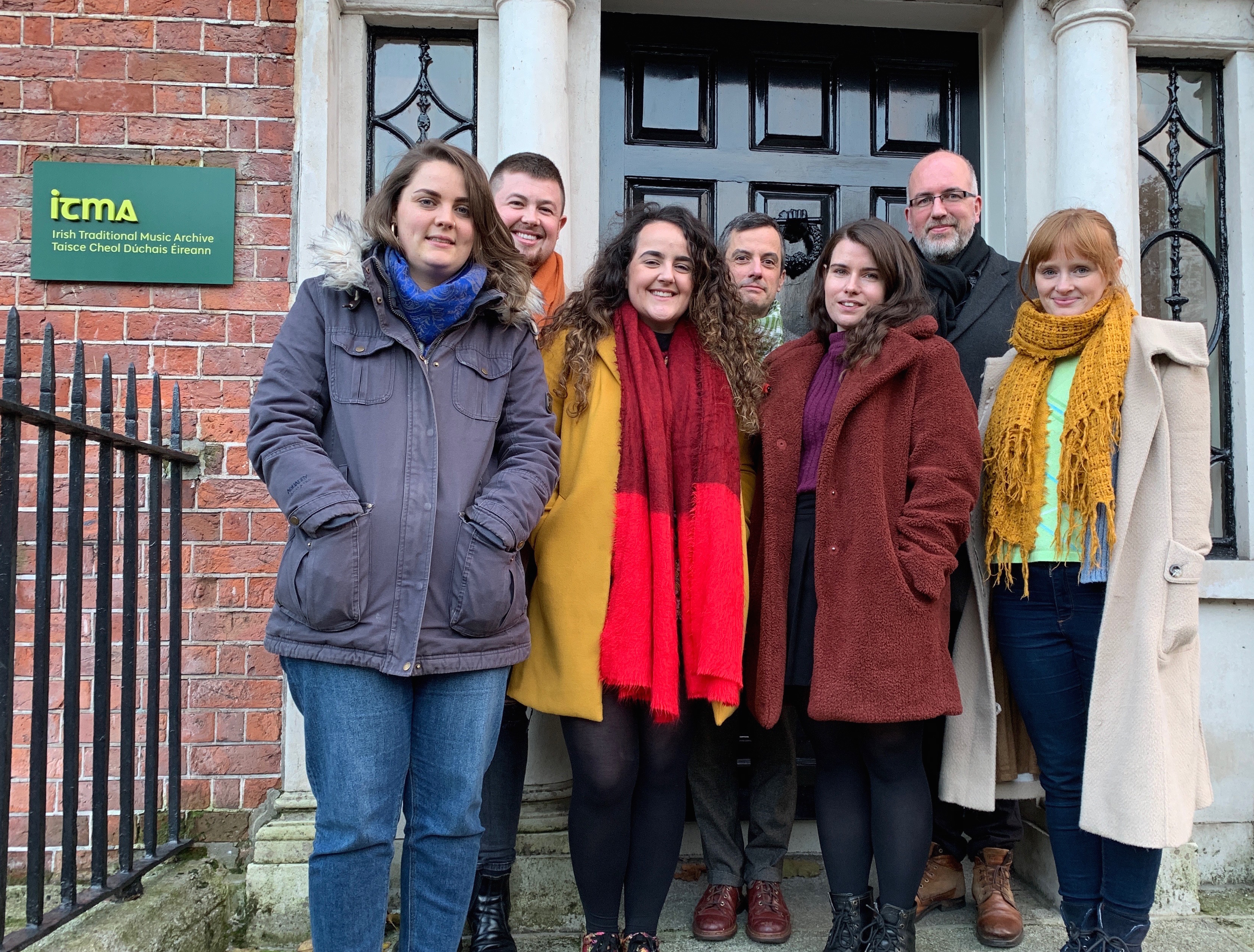 Announcing the Participants of the Irish Traditional Music Writer Mentoring Scheme
Five writers to take part in new scheme to increase coverage of traditional music in Ireland.
The Journal of Music is pleased to announce the participants of the new Traditional Music Writer Mentoring Scheme, supported by the Arts Council under the Deis Recording and Publication Award. The aim of the scheme is to produce new writing and reviewing on traditional music across Ireland. 
The five participating writers are Kevin McCullagh, Miceál Mullen, Ciara O'Leary Fitzpatrick, Sadhbh O'Sullivan and Moya Sweeney.
Over the course of the scheme, the writers take part in a workshop with the Journal's editorial team and are given a reviewing assignment. The editorial team then work with the writers towards publication. The group met for the writers' workshop at the Irish Traditional Music Archive in Dublin on 12 November. 
Commenting on the scheme, Paul Flynn, Head of Traditional Arts with the Arts Council, said: 
The Arts Council is conscious of the importance of mentoring within the traditional arts. The new Traditional Music Writer Mentoring Scheme is a great opportunity for writers to engage deeply with the Journal of Music. It is a chance to develop their writing skills and unique critical voice, and to contribute to the discourse around the music, while being supported by the Journal. This is a great time for writers to engage with traditional music across Ireland.
Toner Quinn, Editor of the Journal of Music, added:
We are delighted to have such a talented group of musicians and writers on this scheme. This is our sixth music writer mentoring scheme and each time we learn about new artists, scenes and ideas that all feed into our editorial coverage. It's important for the Journal to be constantly developing new writing talent and cover events across the country. We are particularly delighted to have new traditional music writers from a range of areas, from Belfast to Cork, and grateful for the Art Council's support of this scheme.
Find out more about the five participants below. 
Kevin McCullagh
Kevin McCullagh is a fiddle player, DJ and sound artist from Belfast, where he is an active member of the traditional music scene. His compositions, released under the pseudonym Jan Jeffer, have featured on RTÉ Lyric FM, NTS Radio and at many Irish festivals including the Sonorities Festival of Contemporary Music, Cathedral Quarter Arts Festival, Hilltown Contemporary Music Festival and Electric Picnic amongst others.
Miceál Mullen
Miceál Mullen is a recent graduate of the BA (Hons) in Applied Music at Dundalk Institute of Technology. It was during the degree that Miceál found a new passion for writing. During his final year, Miceál was recognised as being in the top 40% of applicants to the Global Undergraduate Awards (UA), the world's largest academic awards programme. Miceál is a music educator and performer on banjo and mandolin with internationally recognised Irish traditional band Cúig. 
Ciara O'Leary Fitzpatrick
Ciara O'Leary Fitzpatrick is a concertina player and composer from north County Cork. Having grown up listening to traditional music from a young age, she is just a little bit obsessed with the concertina. Ciara lecturers at CIT Cork School of Music where she previously graduated with a Master's degree in Performance, and currently works as the Acting Marketing Manager at Cork Opera House.
Sadhbh O'Sullivan
Sadhbh O'Sullivan is a songwriter, musician and arts-in-health practitioner from Kildare. As a solo artist she has released three albums (under the name Sive), toured extensively and performed on numerous television and radio shows including Other Voices. Sadhbh completed the MA in Community Music at the University of Limerick in 2014 and since then has enjoyed a vibrant career as a facilitator across community and healthcare settings. She is passionate about utilising music as a tool for wellbeing, working primarily with older people, and is involved in outreach programmes for organisations including the National Concert Hall and IMRO.
Moya Sweeney
Moya Sweeney is currently a music student at Ulster University Magee, Derry. Hailing from County Tyrone, she has a passion for playing, composing, teaching and writing about music. Coming from a musical household, where the Beatles and Van Morrison were played regularly, her fascination with music was encouraged from a young age. A button accordion player, Moya has won county, provincial and all-Ireland medals at Fleadh Cheoil competitions and performs throughout Ireland and across Europe. 
To find out more about our Music Writer Mentoring Schemes, visit journalofmusic.com/page/music-writer-mentoring-schemes
Published on 25 November 2019