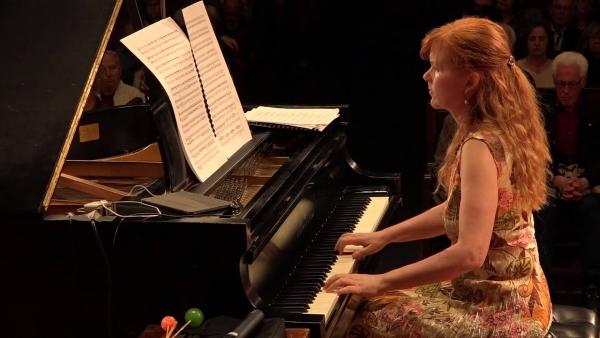 Come out, sit awhile; break the bottle, and you is lost
Cold Blue Two available now.
Cold Blue Music, the Californian label established by composer Jim Fox in the 1980s  – and that closed a few years later, only to re-emerge in the 2000s – has recently released its second anthology of American music, Cold Blue Two. Listen below to a preview track – Read Miller's Come out, sit awhile; break the bottle, and you is lost, performed by noted new-music pianist Sarah Cahill.
Speaking to The Journal of Music, Fox explained: 
Come out, sit awhile; break the bottle, and you is lost is the one old piece (i.e. not written in the past half-dozen years) on the Cold Blue Two album. Dating from 1982, it's something I've enjoyed programming on several concerts in the intervening years. What appeals to me about this music is the way it unpretentiously blends traditional jazz harmonies with the feel of a hymn tune, perhaps alluding to the harmonic tendencies of Bill Evans and Chopin within a chorale-like texture, while short melodic gestures drift in and out of focus. The title is a line the composer, Read Miller, once overheard while walking in Richmond, Virginia.
Read Miller is a poet, percussionist and composer who lived in Southern California from the mid-seventies through the mid-nineties, and now lives in rural Virginia. Cold Blue Two also contains works by John Luther Adams, Rick Cox, Michael Jon Fink, Jim Fox, Peter Garland, Daniel Lentz, Ingram Marshall, Larry Polansky, David Rosenboom, Phillip Schroeder, Chas Smith, James Tenney, and a work by Gavin Bryars called It Never Rains which was written specifically for the CD.
For more information, visit coldbluemusic.com 
Published on 12 November 2012