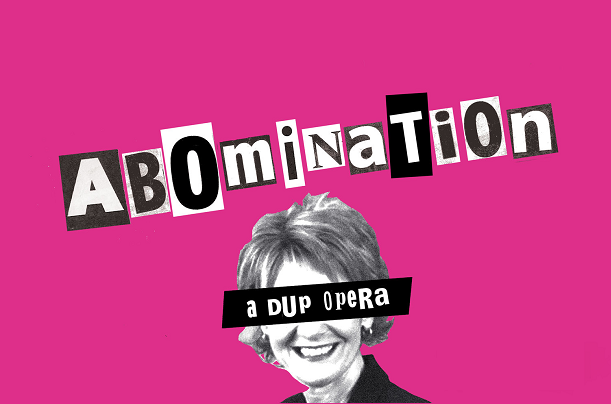 'Do politicians have a moral responsibility for the words they use?': Conor Mitchell's New Opera on the Homophobia of the DUP
'Abomination – A DUP Opera', a provocative new work by composer Conor Mitchell focusing on homophobic comments made by the party, will premiere this November in Belfast.
A new opera by composer Conor Mitchell will be performed by the Belfast Ensemble at this year's Outburst Queer Arts Festival in Belfast from 7 to 10 November. Abomination – A DUP Opera is based on historial and recent homophobic comments made by members of the Democratic Unionist Party. The title refers to a media interview with former DUP MP Iris Robinson in which she said 'homosexuality, like all sin, is an abomination'. 
The Belfast Ensemble are a relatively new music group, having been formed two years ago by Mitchell when he wanted to 'investigate what it would be like to have a contemporary performance ensemble in the city of Belfast that worked on music theatre, or music that has a theatrical edge to it'. The Ensemble recently premiered, at the Southbank in London, his 'semi-political' instrumental work Lunaria which traces events in Northern Ireland over two years and features voices singing 'Backstop! Backstop! Backstop!'
Abomination is the ensemble's largest project so far and, according to Mitchell, will be the most 'in your face piece of contemporary music that I think is going to happen this year in this city…  I think what can be so amazing about opera is that it can tackle quite heavy subjects'. 
Arias, duets and trios
Robinson's comments, made in a 2008 interview with BBC presenter Stephen Nolan, will be the central motif of the opera. Canadian soprano Rebecca Caine will sing the role of Robinson and Belfast actor Tony Flynn will play Nolan. Running throughout the performance will also be other historical and recent comments made by members of the party, set in a variety of forms.
'What I don't want to see is a very clear cut narrative,' says Mitchell. 'I want the Iris Robinson [comments] to happen the whole way through it and then have the DUP soundbytes effectively forming a set of arias, duets and trios.'
The aim of the opera is not simply to be provocative, however, but to raise bigger questions. Mitchell explains:
I could easily just put the really provocative [comments] in… but actually it doesn't say anything. So it's finding that balance between the progress of the party from the 70s right through to the Iris moment. And the big question for the evening is: do politicians have a moral responsibility for the words they use?
Abomination – A DUP Opera runs from 7 to 10 November at the Lyric Theatre in Belfast. For more, visit www.thebelfastensemble.com/abomination
Published on 2 October 2019