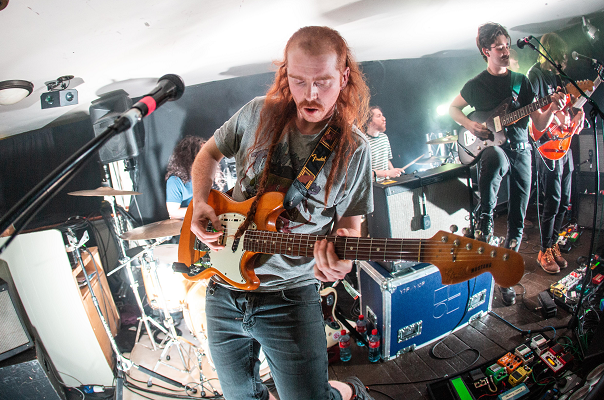 €187k Awarded for Irish Music Tours Abroad
Artists and tours include Thumper, Girl Band, Bitch Falcon, the Irish Chamber Orchestra, Zoë Conway and John Mc Intyre, Just Mustard, and International Uilleann Piping Day.
In its most recent round of funding, Culture Ireland has awarded €186,850 to Irish musicians, groups, composers and promoters for travel and touring abroad. 
There were forty-eight awards granted overall. Receipients include the Irish Chamber Orchestra who will perform in New York, Illinois and Washington DC in November; the Irish World Academy Ensemble who will perform in Argentina; and International Uilleann Piping Day events in five countries.
Dublin rock act Thumper will perform in several cities across the UK this September, Mick Flannery will visit the USA and Canada, and hard-rock band Bitch Falcon will perform across Europe in September and October. 
Also supported is singer and guitarist David Keenan, Dundalk five-piece Just Mustard, The Riptide Movement, traditional music band Beoga, Sharon Shannon, Zoë Conway and John Mc Intyre, and jazz vocalist and composer Sue Rynhart. 
Full details on all music recipients are listed below. 
In April, in the previous round of Culture Ireland funding, Irish musicians, groups and promoters were awarded €194,150 to tour and perform abroad. The next round of funding applications closes on 15 October. 
Culture Ireland also made awards in the disciplines of theatre, visual art, literature, film, dance, and circus. The total amount awarded was €656k for 125 projects. For more, visit www.cultureireland.ie.
Culture Ireland Awards – August 2019
Tour by the Irish Chamber Orchestra of USA, 16–20 November 2019, €45,000
Presentation by Plankton Co. Ltd. of Sharon Shannon and We Banjo 3 at Celtic Christmas 2019, throughout Japan, 30 November–9 December 2019, €15,000
USA and European tour by Socks in the Frying Pan, 1 September–12 November 2019, €7,000
Presentation of Irish Music and Dance at The Cáceres Irish Fleadh, Extremadura, Spain, 21–27 October 2019, €5,000
European and American tour by Girl Band, 2 October–14 November 2019, €5,000
Performances by Irish musicians at Irish Christmas in America, venues across North America, 26 November–22 December 2019, €5,000
Mick Flannery North American east coast tour, Canada and USA, 4–14 September 2019, €5,000
USA tour by The Conifers, 6 –23 September 2019, €5,000
European tour by David Keenan, supporting Hozier, 1 September–5 October 2019, €5,000
Presentations worldwide for International Uilleann Piping Day, UK, Canada, Argentina, Italy and Australia, 2–4 November 2019, €4,000
Tour of USA and Germany by HighTime, 8 September–13 November 2019, €4,000
Performances by Irish musicians at The Trip to Birmingham Tradfest, 21–24 November 2019, €4,000
European tour by Bitch Falcon supporting Black Peaks, 7 September–11 October 2019, €4,000
Tour of USA and Canada by David Keenan, 1–27 November 2019, €4,000
UK tour by The Riptide Movement, 18 September–18 October 2019, €3,500
Tour of the UK by Cua, 27 November–12 December 2019, 3,500
Tour of the UK and USA by JigJam, 4 September–17 October 2019, €3,000
Tour of Belgium by Kila, 6 venues, 19–25 November 2019, €3,000
Presentation of Irish World Academy Ensemble at Celtic Argentina's 40th Anniversary Festival, Buenos Aires, Argentina, 5–14 October 2019, €3,000
Performance of Citadels of The Sun / Dúnfoirt na Gréine by Sarah E Cullen, Martin Coyle and Paul Cutliffe, in collaboration with Rajasthani artists, at Jodhpur RIFF, India, 7–13 October 2019, €3,000
UK performances by Thumper, 24–28 September 2019, €3,000
Irish Performances at the Celtic Harmonies International Festival, Quebec, Canada, 5–13 October 2019, €3,000
Tour of UK, USA and Iceland by Just Mustard, 12 October–8 November 2019, €3,000
Irish music and other presentations at 41st Copenhagen Irish Festival, Kulturstationen Vanløse, Copenhagen, Denmark, 7–9 November 2019, €3,000
Tour of the US by The Jeremiahs, 28 September–6 October 2019, €3,000
Tour of North East USA by Gerry O'Connor, 20 September–13 October 2019, €3,000
Tour of the USA by Billow Wood, 30 August–29 September 2019, €2,500
UK tour by Beoga, supporting Foy Vance,16–21 November 2019, €2,000
Tour by John Blek, UK, Netherlands, Belgium, Germany, 31 August–4 November 2019, €2,000
UK performances by Sue Rynhart and Umbra in Scottish-Irish collaboration of jazz ensembles, 4 October–22 November 2019, €2,000
Tour of West Coast of America by Nuala Kennedy and Eamon O' Leary, 1–11 November 2019, €2,000
Boxing Banjo performing at Indy Irish Fest, Indianapolis, USA, 13–15 September 2019, €2,000
Performances by Manus McGuire in Tasmania and Australia, 13–19 January 2020, €2,000
UK and EU headline tour by Orla Gartland, 6–20 November 2019, €2,000
UK and US performances by Caoimhín Ó Raghallaigh and Thomas Bartlett, 27 September and 9 October 2019, €2,000
Tour of Germany by Zoë Conway and John Mc Intyre, 31 October–30 November 2019, €2,000
US performances by Siobhra Quinlan of sfiiinx, 11 and 16 October 2019, €1,500
Magnetic Music GmbH presenting the Irish Folk Festival Tour of Germany and Switzerland, 17 October–16 November 2019, €1,500
Performances by Garadice, Dylan Bible and Amanda Fardy and other Irish artists at Community Participation and Learning Programme, Leeds, 1 September–30 November 2019, €1,500
Performances by The Kilkennys and New Road at Bustofolk Interceltic festival, Museo del Tessile, Busto Arsizio, Italy, 12–15 September 2019, €1,500
TIMSIG presenting Glenntown Irish Music Festival 2019 in Gothenburg, Sweden, 10–13 October 2019, €1,500
Performance by Kíla at Babieca Folk, Cultural Caja de Burgos, Spain, 30 November 2019, €1,000
Performance by Penang Philharmonic Orchestra with conductor Ciaran McAuley and soloist Stephen Hough, Malaysia, 24 August 2019, €1,000
Performance of work by Deirdre Gribbin at Chamber Hall of the National Auditorium, Madrid, Spain, 12 November 2019, €500
Presentation of work by Irish composers at National Auditorium by Plural Ensemble, Madrid, Spain, 12 November 2019, €480
Performance of Woman by Sue Rynhart, Liverpool Irish Festival, LEAF and EFG London Jazz Festival, UK, 20 October and 22 November 2019, €450
Performance of work by Jane O'Leary at Chamber Hall of the National Auditorium, Madrid, Spain, 12 November 2019, €250
Tour of UK by Anna's Anchor by Marty Ryan, Manchester, Nottingham, London, Devizes, UK, 25–28 September 2019, €170
Published on 29 August 2019