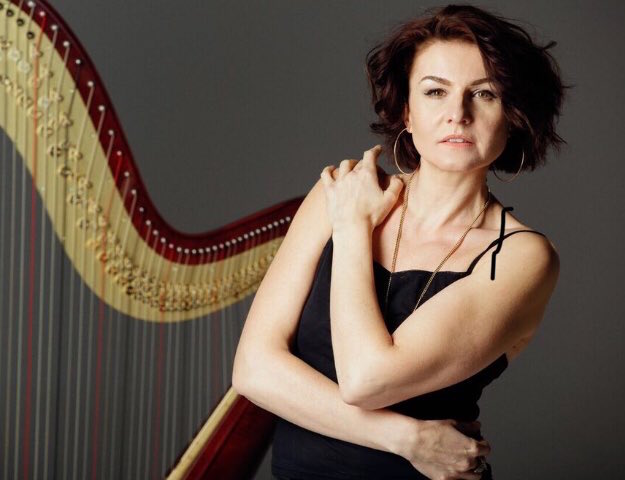 'The first challenge was just to believe that I can be free': An Interview with Jazz Harpist Alina Bzhezhinska
Ahead of her forthcoming 10-date Music Network tour, Polish-Ukrainian jazz harpist Alina Bzhezhinska spoke to the Journal of Music about her musical background, the inspiration of Alice Coltrane, and learning the Scottish harp.
If you listen to Alina Bzhezhinska's albums, Harp Recital and Inspiration, you'll hear a radical difference between the two, and not just because they are over a decade apart. Trained as a classical harpist, beginning in Lviv in Ukraine where she is from, and then gaining scholarships to study in Poland, Germany and the US,  Bzhezhinska has always been on a quest to transform her musical language.
This idea of playing a different style was in my head since I was a child. I wanted to express myself through the harp using my own language. I still love playing classical music, but playing works by other composers not always gave me the satisfaction of expressing myself the way I wanted to.
After a rigorous classical training, studies with Dr Carrol McLaughlin at the University of Arizona began to open her eyes to different musical languages, and then hearing recordings by Alice Coltrane and Dorothy Ashley brought her into the world of jazz.
Those records were like an epiphany for me. When I heard Alice Coltrane improvising… that was the time when I felt a bit scared because I could not believe how somebody could be so free.
The challenge of making the jump into jazz, however, was not so much technical or musical but psychological.
The first challenge was just to believe that I can be free. I obviously had to learn the harmony and all the rules of the jazz language, and then I had to break it all. I had to be really brave and believe that I can find my own way of expressing my music because, with the harp, it's not so straightforward to make harmonic changes because we use pedals to do it. And it could be quite complex and we need to move incredibly fast. … But it is possible to do. 
Alice and John
Alice Coltrane was an accomplished pianist, and, after her famous saxophonist husband John died in 1967, she began playing harp, which he had encouraged her to do.
When he died, it was, in a way, the way out of her grief… . So I think that's exactly how she used the instrument… more as a spiritual tool… She used to say that the piano was like sun rising … and when sun set it was like a harp.
Alice was the impetus for Bzhezhinska's 2018 album Inspiration, which features saxophonist Tony Kofi, bassist Larry Bartley and percussionist Joel Prime, and, on the Music Network tour, the harpist and her band  will perform works from the album written by Coltrane, such as 'Wisdom Eye' and 'Los Cabalios', but also Bzhezhinska's own compositions, like 'Annoying Semitones'.
The album was actually heavily based on the music of Alice and John Coltrane, including my own compositions inspired by this amazing couple. But then I started digging a little bit deeper and [on the tour] I have also included music by Pharoah Sanders and McCoy Tyner, who were also connected with the Coltranes.
Workshops
As well as being a performer, Bzhezhinska teaches at Goldsmiths' college in London and is the author of the tutors Steps to Excellence: World Traditional Music for Harp and Steps to Excellence: Studies for Harp Birds & Fishes. During her Music Network tour she will give five workshops for young musicians and is looking forward to encouraging them to try jazz harp, to discover Alice Coltrane and to explore their compositional ideas.
Bzhezhinska has lived in London for the past five years, but after her studies in the US she first moved to Scotland because of the strong harping tradition there. She joined the Clarsach Society and learned the lever/Celtic harp and also learned a number of Irish tunes such as the 'Sally Gardens' reel. She has never been to Ireland, but is an admirer of the harp repertoire and tradition. 'The rhythms are very good and it's also great for people who play jazz, to know all the syncopated rhythms in jigs and all the dances. I think that was also a very good learning process for me – another step into what I'm doing now.'
It was in London, however, that she first met saxophonist Kofi at the Brilliant Corners jazz club.
It was so dark when I came in. I was a bit late and they had already started. I couldn't even see anything but I could hear this beautiful tone of the saxophone, and we met after and I told him about my idea to have a duet with him or just jam.
All of the musicians in the quartet are admirers of the Coltranes, and artists such as Joe Henderson, influences that all contribute to the sound of the band.
It's very important to have the right people for this kind of music. This music doesn't need to be so technical, but it definitely needs to be soulful.
The Music Network tour by the Alina Bzhezhinska Quartet featuring Tony Kofi, Larry Bartley and Joel Prime begins in the Sugar Club in Dublin on Wednesday 5 February and then travels to Cork (6th), Bray (7th), Tinahely (8th), Portlaoise (9th), Clifden (10th), Wexford (12th), Carrick-on-Shannon (13th), Ennis (14th) and Letterkenny (15th). For further details and booking, visit www.musicnetwork.ie/concerts/details/alina_bzezhinska_quartet.
This preview is supported by Music Network.
Published on 29 January 2020