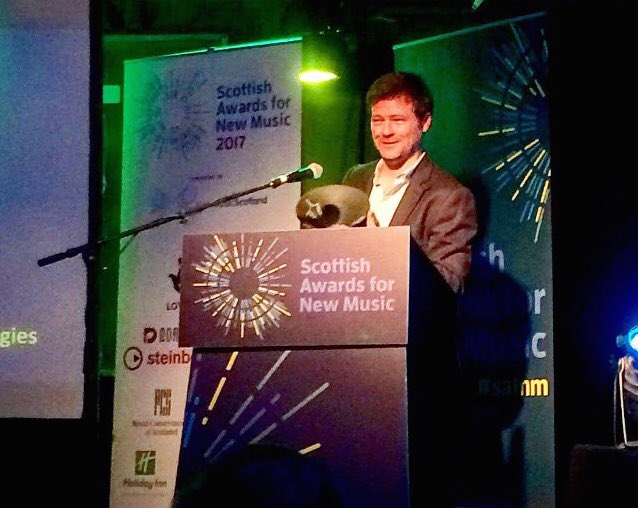 International Successes for Irish Composers
David Fennessy, Jennifer Walshe and Sam Perkin recipients of awards in Glasgow, London and Lyon.
Following the news last November that Ailís Ní Riain was a recipient of the Paul Hamlyn Award, and in December that Jennifer Walshe had won a special award for innovation at the 15th British Composer Awards, David Fennessy has now won a category prize at the very first Scottish Awards for New Music.
The award, under the 'Small/Medium Scale Work' category, was given for Fennessy's 2016 work for string sextet and cimbalom, Panopticon, which was premiered by the Hebrides Ensemble in Glasgow last November.
Fennessy, a lecturer at the Royal Conservatoire of Scotland, has written that the work 'continues a line of enquiry present in pieces of mine beginning with graft (1999) for string quartet through to Hauptstimme (2013) for solo viola and ensemble, and Hirta Rounds (2015) for sixteen unconducted strings – namely the role of the individual within a larger, group setting and particularly, the functions of leaders and followers.'
The Scottish Awards for New Music were established by New Music Scotland and have received over 180 nominations in their first year. The awards took place on 8 March in Glasgow.
In the maw of post-Brexit stress
Walshe's award for innovation was the first of its kind at the British Composer Awards. She was also shortlisted, with Brian Irvine, for the Chamber Ensemble Award for their work 13 Vices.
Commenting on the award, Walshe, who is also a lecturer at Brunel University London, said,
As someone who only moved here 6 years ago, I've been really lucky that so many wonderful UK musicians, ensembles and festivals have supported my work, beginning in the early days with Anton Lukoszevieze, Apartment House and Huddersfield Contemporary Music Festival through to the Arditti Quartet.

I'm feeling particular gratitude to all the London folks (and non-London folks) who make the music happen despite living in the maw of neoliberal capitalism/post-Brexit stress – London Contemporary Music Festival, Weisslich, Supernormal, Asparagus Piss Raindrop, Kammer Klang, 840, ddmmyy, Bastard Assignments, Phaedra, Mopomoso, Muckle Mouth, Plus Minus. We've got a beautiful, generous and supportive community here and I love it.
Prix Salabert
Meanwhile, Cork composer Sam Perkin has recently won the Prix Salabert for composition, which is awarded each year to a student from the Conservatoire National Supérieur de Musique et de Danse de Lyon where Perkin recently completed an Artist Diploma in Composition. The award was for his piece Pause, which was commissioned by the Ortús Chamber Music Festival.
Perkin's latest work, Language, for violinist Miranda Cuckson, will be premiered at the opening concert of the 2017 West Cork Chamber Music Festival in June. 
For full details, visit www.westcorkmusic.ie
Published on 9 March 2017