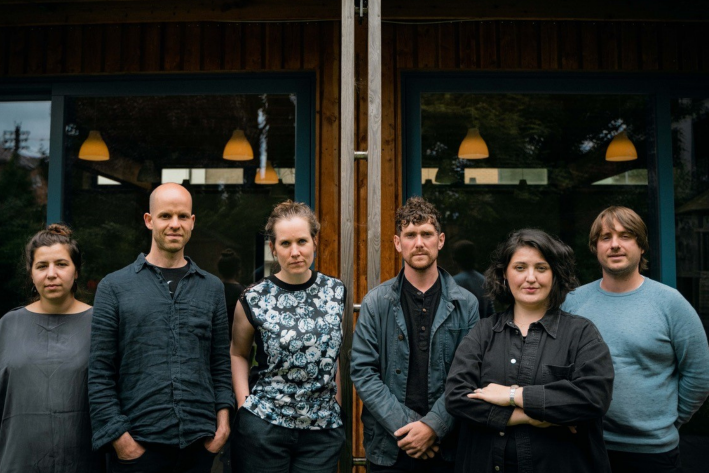 Irish Composers and Ensembles to Feature at Huddersfield Contemporary Music Festival
10-day festival will present works by Composer in Residence Jennifer Walshe, Úna Monaghan and Ann Cleare, as well as performances by Kirkos Ensemble and Stone Drawn Circles.
This year's Huddersfield Contemporary Music Festival (HCMF) takes place from Friday 17 to Sunday 26 November and features a number of Irish composers and groups.
The Irish focus is part of a three-year partnership with Culture Ireland that began last year and included Barry O'Halpin's Wingform, a work by Linda Buckley and short musical films based on Ulysses. This year, the Composer in Residence is Jennifer Walshe, who recently toured her new work Oscailt around Ireland, and HCMF will also feature Nick Roth, Natalia Beylis, Kirkos Ensemble and Tonnta, and works by Úna Monaghan, Karen Power, Ann Cleare and Irene Murphy.
UK premieres of Walshe works
Walshe will have a number of her works performed at the festival, including the UK premiere of PERSONHOOD, which was performed at New Music Dublin last year. The piece, to be performed on 17 November, is a reflection on what it means to be a human in this time of surveillance and technology. It will be performed by accordionist Andreas Borregaard and the Oslo Sinfonietta under conductor Christian Eggen.
On 24 November, Walshe's Ireland: A Dataset, which was performed online in 2020 during the pandemic, will receive its live world premiere at the Bates Mill Blending Shed venue. The work, which explores Irish identity through subjects such as nationalism, representation and inclusion, will feature vocal ensemble Tonnta, saxophonist Nick Roth, sound engineer Úna Monaghan, Aedín Cosgrove on stage and lighting, and Walshe on music, text, direction and video. 
Walshe will also perform an improvised set with electronic duo Matmos (Drew Daniel and M.C. Schmidt) on 25 November, and on 20 November, her 2015 film AN GLÉACHT will be screened with a live improvisational accompaniment from Roth, Monaghan and Lee Patterson.
Finally, from 18 to 25 November, an exhibition of works by Walshe will be presented at Huddersfield Art Gallery. AT THE FIRST SOUND, THE WHOLE WORLD FREEZES includes two works made using AI. As part of the opening of the exhibition, Walshe will speak with BBC Radio 3's Kate Molleson and discuss the works on display, the increasing influence of AI, and her other works being presented at the festival.
Diatribe label concerts
Elsewhere, Ireland's Diatribe Records will present The Landscape Series on 19 November, an immersive sound experience featuring a collection of works exploring how human interactions transform the environment. The event will include Óscar Mascareñas' Burrenscapes, Irene Murphy's Not Just Rivers, Ann Cleare's An Cúigiú Cúige, and Natalia Beylis' Prophecy of the Beetle. On 23 November, another work by Beylis, Around Here, The Birds Plant The Trees, will receive its world premiere, performed by Tóla Custy (fiddle), Ailbhe Nic Oireachtaigh (viola), Eimear Reidy (cello), Willie Stewart (percussion) and Beylis on live sound collage and objects. 
There will also be a performance by new contemporary music group Stone Drawn Circles, comprising Lina Andonovska on flutes, Nathan Sherman on viola, Michelle O'Rourke on vocals, Alex Petcu on percussion, Caimin Gilmore on double bass and Úna Monaghan on harp and sound design. The group will perform three world premieres – Nicole Lizée's Peril Earrings, Úna Monaghan's In Formation and Cat Hope's Landay Sequenzas – and the UK premiere of Karen Power's can you hear me now???.
On 21 November, Kirkos Ensemble will present the world premiere of a new work, Beginner's Guide To Slow Travel, composed collaboratively by Sebastian Adams, Robert Coleman, Yseult Cooper Stockdale, Jane Hackett, Hannah Miller and Joan Somers Donnelly. On 20 November, the group will also host an event titled 'Join us for a nap', where audiences are encouraged to take part in a group nap at Bates Mill Photographic Studio.
Finally, on 22 November, Electric Circus, a new Irish electroacoustic ensemble including Peter O'Doherty (spatialisation) and Brian Bridges (synthesiser), will perform French composer Michel Chion's Requiem for its 50th anniversary, as well as Improvisation, a new piece by Bridges.
As well as the Irish contingent, there will be a range of work by Lithuanian composers – another featured country at this year's festival, concerts focusing on Jürg Frey at seventy, the UK premiere of Rebecca Saunders' Skull, the world premiere of Laura Bowler's Advert played by Decoder Ensemble, the Mivos Quartet performing the UK premiere of George Lewis' Playing with Seeds, Éliane Radigue's Asymptote Versatile, Riot Ensemble performing a new work by Icelandic composer Bára Gísladóttir, and more.
The Contemporary Music Centre will be facilitating an Irish delegation to attend the festival.
For full details on all events and tickets, visit https://hcmf.co.uk.
Download the full programme below.
Subscribe to our newsletter.
Published on 14 November 2023