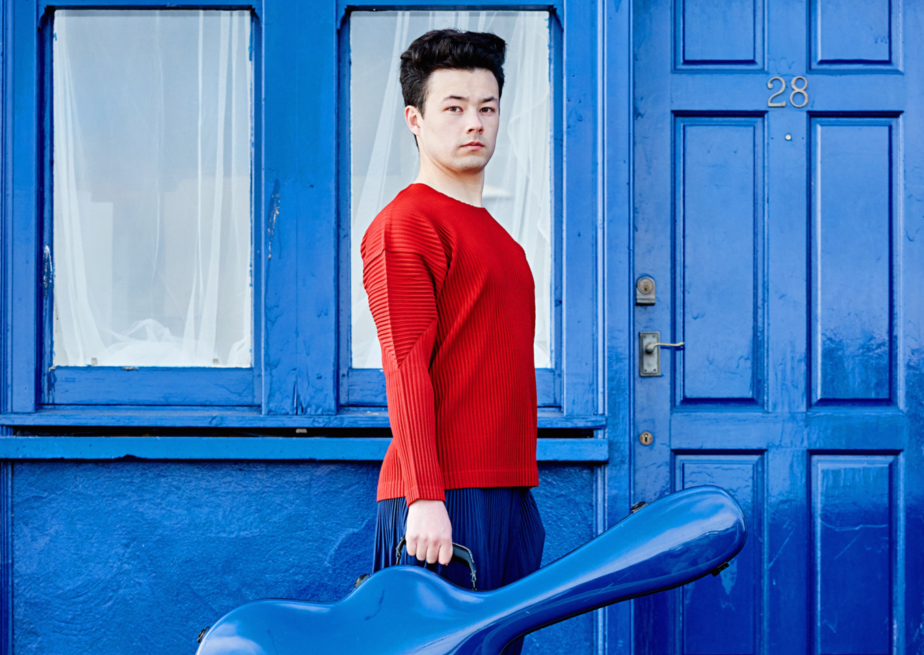 'It's a cross section of what guitar and voice can do': An Interview with Sean Shibe
Guitarist Sean Shibe and tenor Ben Johnson begin a six-date Music Network tour this week, and the Scottish guitarist will also give a masterclass at TU Dublin. Shibe spoke to the Journal of Music about his critically acclaimed album 'softLOUD' and the music on the duo's upcoming concerts.
It was in 2013 at the centenary celebrations for Benjamin Britten in Aldeburgh that guitarist Sean Shibe and tenor Ben Johnson first collaborated. They performed a number of folk songs together as well as Britten's Songs from the Chinese, which were originally written for tenor Peter Pears and guitarist Julian Bream.
Both Shibe and Johnson are former BBC Radio 3 New Generation Artists, but they have achieved a number of other accolades since: Johnson won the audience prize at the 2013 BBC Cardiff Singer of the World competition and in 2018 Sean Shibe won the Young Artist Award from the Royal Philharmonic Society. The guitarist has also just won the album category at the Scottish Awards for New Music and the concept album category at the Gramophone Awards, both for his album softLOUD.
A response to the world
The album is unique in the way it develops over eighteen tracks from gentle folk dances on solo guitar through Steve Reich's Electric Counterpoint to Julia Wolfe's screaming LAD and David Lang's aggressive Killer for electric guitars.
Speaking to the Journal of Music about the recording, and ahead of his Irish tour, the twenty-seven-year old Scottish guitarist elucidated the idea behind softLOUD:
I needed to create something that I felt was honest … genuinely a response to the world around me… when we're confronted by the massive internet noise and bombastic, nativist, populist rhetoric… nice romantic miniatures don't seem to cover that… I was searching for things that did sum that up.
Cross section
Starting tomorrow (21 Nov.), Shibe and tenor Johnson will undertake a six-date tour of Ireland, beginning in Waterford. Their programme is very different to softLOUD, but does include some folk songs. There are also works by Dowland, Morley and Bach.
It's a cross section of what guitar and voice can do. We've referenced things like the folk-song revival in England at the beginning of the twentieth century [and] we've referenced the nineteenth-century habit of arranging popular songs for piano and voice for guitar and voice. So these are arrangements of Schubert and Beethoven by their contemporaries, which is quite an original thing and offers a much more intimate take on the repertoire.
Shibe will also perform a new work written by Irish composer Brian Bolger, Lawra, which has been commissioned by Music Network specifically for this tour. 'It's quite meditative … an interesting counterpoint to the Bach.' Bolger, from Dublin, is a member of Crash Ensemble and also artistic director with the Dublin Guitar Quartet.
Musical partnership
As well as the tour, Shibe will give a masterclass on 21 November at 11am at the TU Dublin Conservatory of Music and Drama. The masterclass is open to a public audience and tickets are free.
Shibe and Johnson's musical partnership is bound by a common approach: 'I think we are both quite expressive. We're not afraid of very stark contrasts. I think that we both bring that out in one another. '
The key to performing in a tenor-guitar duet, he says, is 'responding to the text'.
With every sentence that the singer's singing you react to it … sometimes you have to be quite direct in your response… sometimes you have to think of the underlying meaning of the sentence rather than particular words… but it's always text first.
softLOUD was Shibe's second solo album, following the 2017 Dreams & Fancies: English Music for Solo Guitar, about which Gramophone wrote, 'under Shibe's fingers, they are all mesmerising'. He is currently finalising the recording of a new album that will focus on Bach and will be released next spring.
This is only the guitarist's second time in Ireland. His previous performance was part of the Great Music in Irish Houses Festival last June and he feels a real affinity with the Irish scene. 'It's a great favourite … Ireland [is] so culturally fecund… with the cross-pollination of artistic scenes… it feels very healthy.'
Sean Shibe and Ben Johnson's Music Network tour begins in the Edmund Rice Chapel in Waterford on Thursday 21 November at 7.30pm and then visits Siamsa Tíre, Tralee (22nd, 8pm), Royal College of Physicians, Dublin 2 (23rd, 8pm), The Parade Tower, Kilkenny Castle (24th, 4pm), All Saints Church, Castleconnell (26th, 8pm), and Station House Theatre, Clifden (27th, 8pm). For booking details,  visit www.musicnetwork.ie. To attend the masterclass, email marco.ramelli [at] tudublin.ie.  
This preview is supported by Music Network.
Published on 20 November 2019