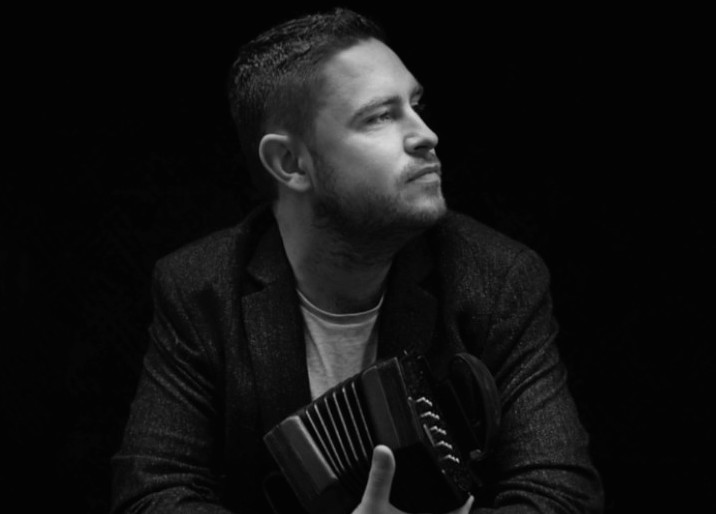 Jack Talty Appointed Traditional Artist in Residence at UCC
Concertina player to begin residency in October.
Concertina player, director of the Raelach Records label and Ensemble Ériu co-founder Jack Talty has been announced as Traditional Artist in Residence at University College Cork for 2018–19. Talty will deliver a series of concerts, workshops and classes over the course of his one-year residency, beginning in October.
Talty is a renowned traditional concertina and piano player from Lissycasey in West Clare. He is also a BA and BMus graduate of UCC, where he was awarded the Seán Ó Riada Memorial Prize for traditional music and the Mary V. Hart Memorial Award for academic performance.
Talty has toured extensively throughout Ireland, Europe, the USA, Australia and Asia, and has contributed to over 70 commercially released albums as a performer, producer, composer, arranger and audio engineer. He is the artistic director of the Irish traditional music label Raelach Records, which he founded in 2011, and he also co-founded and is co-director of Ensemble Ériu, which won the musical collaboraton award at the TG4 Gradam Ceoil awards in 2015.
Talty performs regularly as a soloist, as a duet with fellow concertina player Cormac Begley, and, since 2013, as the principal concertina player and section leader with Dave Flynn's Irish Memory Orchestra. His PhD research explores the institutionalisation of Irish traditional music pedagogy in Irish higher education.
The traditional artist residency is supported by Arts Council in association with the College of Arts, Celtic Studies and Social Sciences and the School of Music and Theatre at UCC. Previous traditional artists in residence include Iarla Ó Lionáird, Niall Vallely, Desi Wilkinson, Karan Casey and Colin Dunne.
For more, visit www.artscouncil.ie, www.ucc.ie/en/music-theatre and www.jacktalty.com.
Published on 25 September 2018