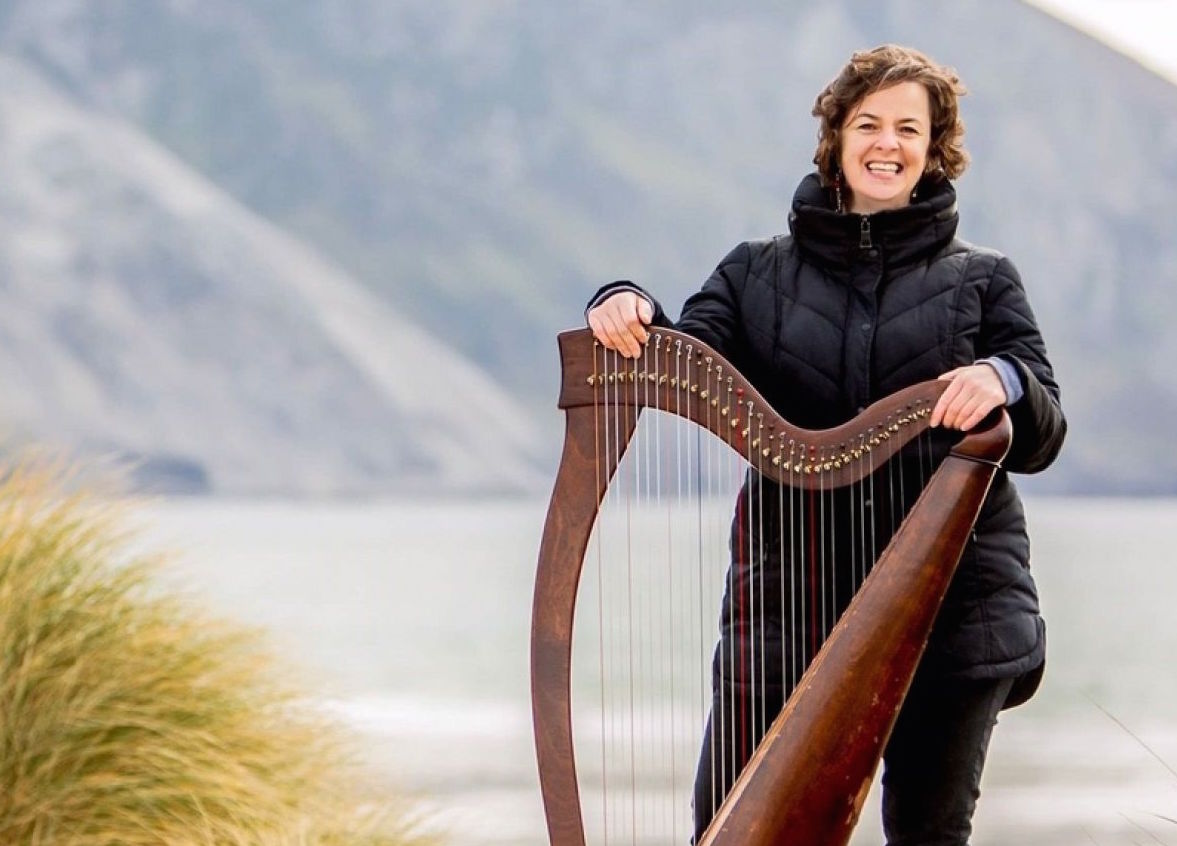 Laoise Kelly Awarded TG4 Gradam Ceoil
Lillis Ó Laoire, Josephine Marsh, Sharon Howley, Seamus Connolly and Ned Kelly also receive awards.
The recipients of the 2020 TG4 Gradam Ceoil awards will be formally announced at a ceremony in Westport's Town Hall Theatre this evening (12 November).
The annual awards from the Irish-language television station celebrate Irish traditional music and song across a number of categories. A gala concert will take place at the Waterfront Hall in Belfast on 23 February next year where the recipients will receive their awards.
Ceoltóir na Bliana/Musician of the Year
Harper Laoise Kelly is the recipient of the main award, the TG4 Gradam Ceoil Ceoltóir na Bliana/Musician of the Year. Originally from Westport, Co. Mayo, and now living on Achill Island, Kelly is at the forefront of the recent renaissance in Irish harping. She began learning harp from age twelve and her unique style combines playing with fingernails in the melody and fingerpads on the bass. She is also founder of the Achill International Harp Festival which is now in its third year. Kelly was a member of traditional group Bumblebees, who recorded two albums, Bumblebees (1997) and Buzzin (1999) and she was also a member of folk ensemble Fiddletree. She has released three solo albums, Just Harp (1999), Ceis (2010) and Fáilte Uí Cheallaigh (2015) and in 2016 released Ar Lorg na Laochra, a duet album with Monaghan piper Tiarnan Ó Duinnchinn. She won the Waterford Crystal harp at the Belfast Bicentennial Harp Festival in 1992 and three all-Ireland Fleadh Cheoil harp competitions. 
Amhránaí na Bliana/Singer of the Year
Sean-nós singer Lillis Ó Laoire is Amhránaí na Bliana/Singer of the Year. A previous two-time winner of Corn Uí Riada, the main annual competition for sean-nós singing at the Oireachtas, Ó Laoire's singing is deeply connected to his home county of Donegal where he learnt many of his songs. He released Bláth Gach Géag dá dTig on the Cló Iar-Chonnacht label and has appeared on many other recordings. He is an author and has written many academic articles and conference contributions and initiated and managed the Joe Heaney archive, a digitised collection of the Conamara singer's music. He is also the author of On a Rock in the Middle of the Ocean: Songs and Singers in Tory Island and co-author with Sean Williams of Bright Star of the West: Joe Heaney, Irish Song Man. Ó Laoire lectures in the School of Languages, Literature and Culture at NUI Galway. 
Gradam an Chumadóra/Composer Award
Josephine Marsh is the recipient of Gradam an Chumadóra/Composer Award. A multi-instrumentalist and renowned composer, Marsh plays accordion, fiddle, concertina, whistle, mandolin, guitar and banjo. Her well-known tunes include 'Phyllis's Birthday' and 'Matthew's Waltz' and her albums include I Can Hear You Smiling with the Josephine Marsh Band and the solo recording Music in the Frame from last year. Born in London, she now lives in Coore in West Clare and has composed over one hundred tunes. Most recently she was commissioned to compose two new pieces, 'Spideog' and 'The Coffee House', for a Music Network tour. She plans to release a collection of her own compositions next year.
Ceoltóir Óg/Young Musician of the Year
Sharon Howley is Ceoltóir Óg/Young Musician of the Year. From Kilfenora, Co. Clare, Howley performs traditional tunes on the cello and also plays fiddle and piano. She is a primary school teacher and member of the the Kilfenora Céilí Band. She also tutors with Music Generation. Howley completed the MA in Irish Traditional Music Performance at the University of Limerick.
Gradam Saoil/Lifetime Achievement Award
The recipient of the Gradam Saoil/Lifetime Achievement award is fiddle-player Seamus Connolly,  living in Massachusetts but originally from Killaloe, Co. Clare. Connolly is a former multiple winner of the all-Ireland Fleadh Cheoil fiddle competition. He has released two solo albums, 1988's Notes from My Mind and 1989's Here and There, and has featured on many more. He began working work in Boston College in 1990, where he established Irish music, song and dance classes for students in the university's Irish Studies programme. He also founded the Gaelic Roots Summer School and Festival on the university campus. The largest project of his career is the Séamus Connolly Collection of Irish Music, a digitised collection of over three hundred tunes.
Gradam Comaoine/Outstanding Contribution
Button accordionist Ned Kelly from Ballycommon, Co. Tipperary, is to be awarded the Gradam Comaoine/Outstanding Contribution award. Kelly set up the In Tune for Life orchestra in 2013 as a once-off project for a charity event, but it has remained a permanent ensemble made up of young musicians in the local area. The proceeds of their concerts go to charity and they have raised over €230,000 for various causes so far. 
For more information on the announcements today, follow @GradamCeoil on Twitter.
Published on 12 November 2019