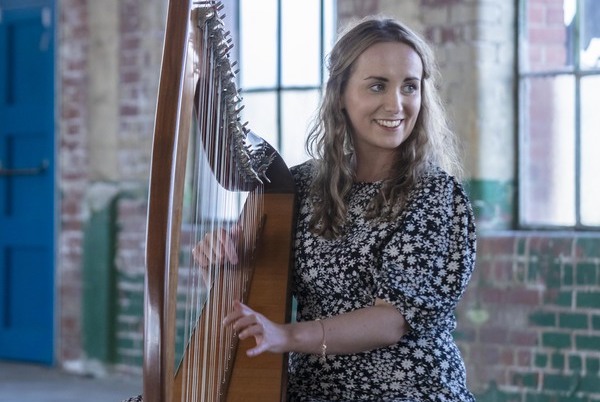 Latest Appointments and Awards in Music (February 2023)
A round-up of recent appointments and awards with news from Cruit Éireann / Harp Ireland, Arts Council of Northern Ireland, Glyndebourne, BBC Radio Scotland, Contemporary Music Centre and the National Symphony Orchestra, Irish National Opera, English Folk Dance and Song Society, Roscommon County Council, IMRO and more.
Harper, teacher and researcher Lauren Ní Néill has been appointed CEO of Cruit Éireann / Harp Ireland and commenced her new role this month. 
Ní Néill, from Glenullin, Co. Derry, has performed both nationally and internationally as an Irish traditional musician. Having completed her undergraduate degree in Irish Language and Literature with Music followed by a Master's degree in Music, Ní Néill's interest in historical and contemporary Irish harp practices is reflected in her recently completed practice-led PhD research into the Gaelic bardic poetry and harping traditions of Ireland
Prior to her position with Cruit Éireann / Harp Ireland, she worked with Conradh na Gaeilge as People and Place Programme Co-Ordinator, where she explored the linguistic origins of local place-names and created new opportunities for learning Irish.
During this time she published a place-names podcast and video series and delivered workshops and recitals with schools, community groups and with fellow traditional musicians. She is a member of language rights group An Dream Dearg and is also currently a director of both the Derry and Inishowen Harp Ensembles. She continues to lecture in Irish Traditional Music at Ulster University. 
For more, visit https://bit.ly/3IFdJc5.
–
The Contemporary Music Centre (CMC) and the National Symphony Orchestra, in association with RTÉ Lyric FM, have announced Geoff Hannan, Daragh Black Hynes, Tom Lane and Amy Rooney as the composers selected to participate in this year's Composer Lab.
Composer Lab is a professional development initiative programme for composers who wish to write for symphony orchestra, providing the participants with mentorship from composer David Fennessy.
As part of the programme, which is now in its sixth year, composers will receive one-on-one mentorship, workshops, guidance and advice from the NSO and CMC teams as well as performance opportunities. 
Composer Lab 2023 will culminate in a public performance of the composers' works performed by the NSO under conductor Gavin Maloney. This performance will be broadcast live on Lyric FM.
For more, visit https://bit.ly/3SlkJhm.
– 
University of Limerick has this month honoured Jörg Widmann with an honorary doctorate.
Professor Widmann, a composer, clarinettist and former principal conductor of the Irish Chamber Orchestra (ICO), was conferred by UL President Professor Kerstin Mey in a ceremony at the Irish World Academy of Music and Dance. Commenting on the award, Professor Mey said the artist received the honour due to the 'extraordinary contribution' he made during his time as principal conductor of the ICO, which is resident at the Irish World Academy in UL.
For more, visit https://bit.ly/41hJxv2.
–
Twenty-three-year-old pianist Amy Laurenson has been announced as the BBC Radio Scotland Young Traditional Musician for 2023. The competition took place on 5 February as part of the Celtic Connections festival in Glasgow. Six finalists competed for the top prize, which offers a recording session with BBC Scotland, an opportunity to perform at the Scots Trad Music Awards later in the year and a one-year membership of the Musicians' Union.
The other finalists were singer Aidan Moodie, piper Ailis Sutherland, Gaelic singer Mairi McGillivray, accordionist Sam Mabbett and fiddle player Madeleine Stewart. 
For further information, and to watch the final performances, visit https://bbc.in/2WRiJDB.
– 
Irish National Opera has announced the appointment of two new members to its Board. Radio producer Suzanne Nance and technology start-up investor Dennis Jennings join the board of nine members, including Chair Jennifer Caldwell. 
Nance is the President and CEO of All Classical Radio in the USA. She is an award-winning executive producer specialising in public service media and arts and cultural programming. She is also a classically trained soprano and has performed across the US, Europe and the UK. 
Jennings is an investor in technology-based start-up companies and is director/chairman of a number of companies. He has served as a director/governor and chair or vice-chair of non-profit organisations including the Royal Irish Academy of Music (RIAM), the Irish Centre for High-End Computing (ICHEC), and the Internet Consortium for Assigned Names and Numbers (ICANN).
For more, visit https://bit.ly/3kdcMyv.
–
The Arts Council of Northern Ireland has announced the six artists awarded the Young Musicians' Platform Award. The awards, a collaboration with BBC Northern Ireland, showcase and support the development of young musicians by providing funding of up to £5,000 in addition to performance and broadcast opportunities.
The awards are presented in the categories of classical, traditional and folk, contemporary singer-songwriter and jazz. The awardees include tenor Owen Lucas, soprano Rebecca Murphy and tenor Andrew Masterson; fiddle player Méabh Smyth, singer-songwriter Eve Belle-Murtagh, and jazz drummer Andrew McCoubrey.
This funding enables the recipients to spend time learning from a master musician, mentor, teacher or composer either in Northern Ireland or abroad. The awardees also receive two professional BBC radio broadcast engagements, including one with the Ulster Orchestra on 16 March at the Ulster Hall, Belfast. 
Visit https://bit.ly/3KqCA4Q.
– 
Glyndebourne has announced the three singers taking part in its Jerwood Young Artists talent development programme 2023 as bass-baritone Michael Ronan, mezzo soprano Annabel Kennedy and bass Jamie Woolard. 
Through the Jerwood Young Artist Programme, the singers will work with leading conductors, directors, choreographers, theatre specialists and vocal coaches to enhance their skills and experience.
Visit https://bit.ly/2JscCPJ
–
The English Folk Dance and Song Society has appointed multi-instrumentalist and singer Jo Freya as Artistic Director of its National Youth Folk Ensemble.
Freya will lead the Ensemble from October 2023, succeeding Sam Partridge who held the role since 2019.
Freya has played in bands since her early teens, including with the well-known band Blowzabella. As a musical collaborator, she set up Freyja, a European band featuring female instrumentalists from different countries. She has also collaborated with Breton-British band Belen and Dutch band Maalstroom, and she recently formed Harmonia with jazz trombonist Annie Whitehead. She sings in Voices at the Door, who perform with the author Michael Morpurgo.
Freya also has extensive experience teaching workshops and summer schools. She plays soprano and tenor saxophones, clarinet, bass clarinet and traditional whistles. She is also a prolific writer and arranger of melodies and songs.
For more, visit https://bit.ly/3YSdgZI.
–
At the Radio Days Ireland conference, which took place in Dublin on 16 and 17 February, IMRO presented an award for Outstanding Contribution to the Irish Music Industry to Niall Stokes and Mairin Sheehy of the magazine Hot Press in recognition of their support for Irish artists over many years.
Commenting on the award, Stokes said: '[B]eing presented with this Award for supporting Irish music means a huge amount to me, and to Mairin, who founded the magazine with me – along with a bunch of other crazies that we brought together under the Hot Press umbrella back in 1977. …'. Sheehy added:
From the very start, at Hot Press, we had all the London offices of the important record labels … on our mailing list… They loved Hot Press. They started to offer us trips to London …But they also began to read about the Irish scene… Suddenly, they realised that – far from being a poor relation of Nashville – Ireland was a hotbed of great new music. 

Windmill Lane studios opened a year after Hot Press. They too knew that being second best would be no use. A band that had been called The Hype changed their name that same year to U2. They, and their manager Paul McGuinness, took the same view. Their aim was to be as good as, if not better than, any other band on the planet. In many ways, that was a watershed moment for music – and for music in Ireland in particular. Nothing, you might say, would ever be the same. … Hot Press saw supporting and encouraging Irish singers, songwriters, artists and performers as an essential part of our mission. 
For more, visit www.imro.ie.
–
Wexford Festival Trust has appointed Paul Cleary as Chairman of the Board. Having joined the Board of the Wexford Festival Trust in September 2014, Cleary served as Vice Chairman from 2016 to 2018 and is the current chairman of the Artistic Advisory Committee as well as a member of the Finance Committee. 
Cleary has been a volunteer with Wexford Festival Opera for almost forty years, serving in several voluntary roles in both the artistic and administrative areas. 
Visit https://bit.ly/3YX5gqE.
–
Roscommon County Council Arts Office has announced composers Bianca Gannon, Peter Leavy and Fiona Linnane are the recipients of the King House Piano Commission 2023 Awards.
The 2023 programme marks the third in a series of music commissions by Roscommon County Council in celebration of the grand piano at King House purchased in 1998 with Arts Council funding. 
Each composer has been awarded €2,500, in addition to other supports, to write a 6-minute piano solo that responds to a literary text with a local theme. The three compositions will be premiered by Roscommon pianist Peter Regan at a concert during Boyle Arts Festival on Friday 28 July 2023. 
The commission is funded by the Arts Office of Roscommon County Council with the Arts Council, in collaboration with Boyle Arts Festival and the Contemporary Music Centre.  
Visit https://bit.ly/3XT0CZf.
–
For January 2023 appointments and awards in music, see here. 
Subscribe to our newsletter.
Published on 21 February 2023