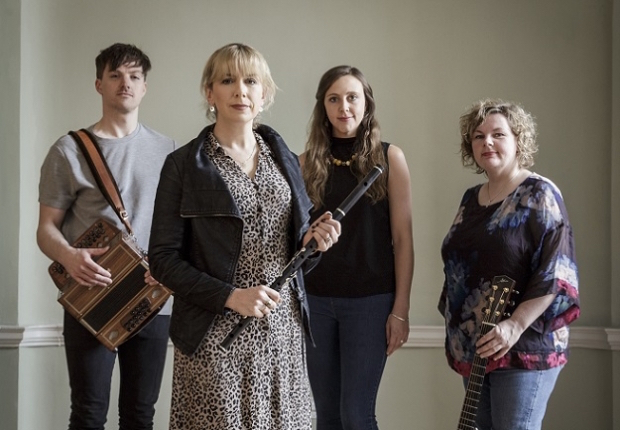 Muireann Nic Amhlaoibh, Rhiannon Giddens, De Temps Antan, Claire Duff in Music Network Spring Series
Jane O'Leary and Kevin Volans commissioned to write new works as part of season.
Music Network has announced 43 concerts over 5 separate tours as part of its 2019 Spring Series.
Beginning in January with 10 dates by the Irish–Scottish quartet of Muireann Nic Amhlaoibh, Siobhan Miller, Damien Mullane and Anna Massie, the season runs until May and ends with a tour by the Canadian folk group De Temps Antan.
Folk Award
Singer Nic Amhlaoibh recently won Best Traditional Folk Track for 'Where Foxglove' at the RTÉ Folk Awards. She is joined by former Dé Dannan accordionist Mullane, BBC 2 Folk Awards nominee Siobhan Miller and guitarist Anna Massie, a member of the group Blazin' Fiddles.
Baroque and folk
In February, Baroque violinist Claire Duff, leader of the Irish Baroque Orchestra, and French harpsichordist Benjamin Alard will perform six concerts under the theme Inspiring Bach, and include a newly commissioned work by Jane O'Leary.
Internationally renowned American folk singer and banjo player Rhiannon Giddens joins Irish-based Italian jazz pianist Francesco Turrisi for 11 dates in March. The two have been performing together in the States over the past year.
Volans, Canadian dance
In April, cellist Raphaela Gromes and pianist Julian Riem perform a programme of Busoni, Martucci, Rossini, Offenbach and Martinu, as well as cello:piano 2, a new Music Network commission by Kevin Volans.
De Temps Antan from Canada, consisting of Éric Beaudry (voice, guitar, mandolin, bouzouki), David Boulanger (voice, fiddle) and Pierre-Luc Dupuis (voice, accordion, harmonica, jaw's harp) mix lively song, music and traditional dance. They will perform nine dates in May.
For full details on all tours and booking, visit https://www.musicnetwork.ie/concerts
Published on 14 November 2018