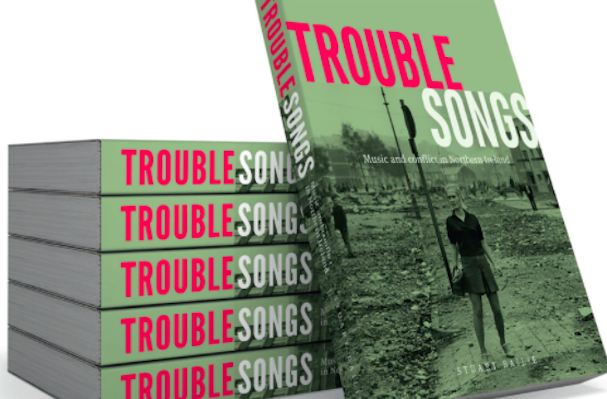 Music Books News (16 March)
A round-up of new and recent music books news.
A Kickstarter campaign for a new book on music in Northern Ireland; the correspondence of Nadia Boulanger and the Stravinskys; Suede lead singer's memoir; a history of yacht rock; and a new work on Astral Weeks. Please send information on new music books to editor [at] journalofmusic.com.
–
Trouble Songs: Music and Conflict in Northern Ireland
Stuart Bailie
Kickstarter
11 May 2018
Trouble Songs is a book about music and conflict in Northern Ireland by music journalist Stuart Bailie. The author is currently running a funding campaign on Kickstarter in order to publish it this May. Trouble Songs includes over 60 interviews with artists such as Bono, Christy Moore, The Undertones, Stiff Little Fingers, Orbital, Kevin Rowland, Terri Hooley, the Rubberbandits, Dolores O'Riordan and the Miami Showband survivors.
For more, visit www.kickstarter.com
–
Nadia Boulanger and the Stravinskys: A Selected Correspondence
Edited by Kimberly A. Francis
University of Rochester Press/Boydell and Brewer
15 March 2018
Nadia Boulanger and Igor Stravinsky began corresponding in 1929 when Stravinsky sought someone to supervise the musical education of his younger son, Soulima. Publishing the correspondence for the first time, Kimberly A. Francis unveils a rich dialogue revealing one master teacher's power to shape the cultural canon and one great composer's desire to embed himself within historical narratives.
For more, visit www.boydellandbrewer.com
–
Coal Black Mornings
Brett Anderson 
Little, Brown
1 March 2018
In Coal Black Mornings, Brett Anderson traces the journey that took him from a childhood as 'a snotty, sniffy, slightly maudlin sort of boy raised on Salad Cream and milky tea and cheap meat' to becoming founder and lead singer of the group Suede. 
For more, visit www.littlebrown.co.uk
–
The Yacht Rock Book: The Oral History Of The Soft, Smooth Sounds Of The 70s And 80s
Greg Prato
Jawbone
3 March 2018
What is yacht rock? New York journalist Greg Prato defines it as music that would not sound out of place being played aboard a yacht in years gone by. By the early twenty-first century, the era of yacht rock had passed but now it is celebrated as a 'yesteryear' style of pop music. Featuring interviews with John Oates, Kenny Loggins and Don Felder, The Yacht Rock Book is the story of yacht rock's creation, rise, success, fall and rebirth.
For more, visit http://jawbonepress.com
–
Astral Weeks: A Secret History of 1968
Ryan H. Walsh
Penguin Press
8 March 2018
Van Morrison's Astral Weeks has influenced countless artists from Bruce Springsteen to Martin Scorsese. In his first book, musician and journalist Ryan H. Walsh unearths the album's back-story – along with the secrets of the time and place that birthed it: Boston 1968.
Visit www.penguinrandomhouse.com 
Published on 16 March 2018