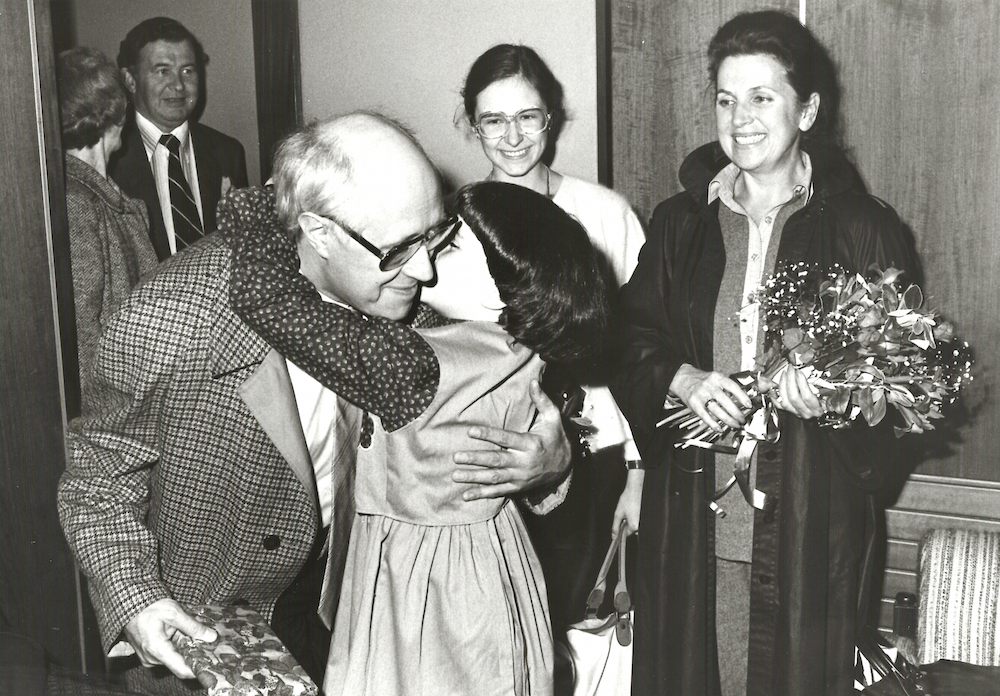 'My little colleague': Remembering Rostropovich in Dublin
Thirty-eight years ago, the great cellist Mstislav Rostropovich came to Dublin for two concerts. He was greeted by a young Irish musician at the airport. The Journal of Music speaks to Dearbhla Brosnan – the girl in the photo above – to find out the story behind the picture.
On 1 October 1981, renowned Russian cellist, pianist and outspoken artist for cultural freedom Mstislav Rostropovich, and his wife, the singer Galina Vishnevskaya, flew into Dublin for two concerts at the National Concert Hall. They were accompanied by their daughter Elena.
Rostropovich and Vishnevskaya were to give a concert together – Rostropovich accompanying her on piano – but he also gave a solo cello concert.
The above photo shows 10-year-old Dearbhla Brosnan from Rathfarnam in County Dublin welcoming him at the airport. Now a piano accompanist at the Royal Irish Academy of Music, Brosnan spoke to The Journal of Music about meeting the great artist and how it came about.
'At the time I was a young student of cello and piano,' Brosnan says, 'and through a Feis down in Limerick I had come into contact with Dame Ruth Railton.' Railton, founder of the National Youth Orchestra of Great Britain, was then on the Board of the recently opened National Concert Hall in Dublin and she had heard Brosnan play. She asked her to welcome Rostropovich at the airport because, like him, Brosnan played cello and piano.
I got a phone-call from her asking would I go out to the airport to meet him to present him with a bunch of flowers. He was a big bear of a man and I was this tiny ten-year-old… He called me 'my little colleague' because I played cello which was so lovely.
 Brosnan then attended both concerts.
I remember being astounded by his playing… and the next night, when he was playing piano for his wife, it was stunning.
Brosnan now teaches piano accompaniment at the RIAM. On meeting Rostropovich, she says, 'I've always remembered it. It was amazing.'
The photo was taken by photographer Patrick Monaghan at the airport and issued to the press by the National Concert Hall. It comes from the archives of the Sunday Tribune. 
After the newspaper closed down in 2011, the offices were being cleared and the photos disposed of outside of their offices in Dublin. Nicholas Carolan of the Irish Traditional Music Archive and his staff collected as many of them as possible. While the Archive has retained the traditional music photos, The Journal of Music has kept the publicity photos relating to classical, popular music, jazz and ballet.
The Journal of Music will be releasing more photos from this collection in the coming weeks.
Published on 25 February 2019