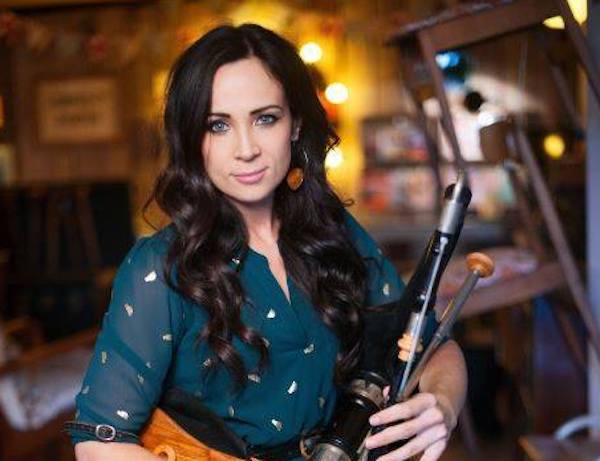 New Appointments and Awards in Music (May 2021)
A round-up of recent appointments and awards including the Markievicz Award, Royal Scottish National Orchestra, Music Generation Cavan and Monaghan, ISM Distinguished Musician Award, First Music Contact, Wigmore Hall, Na Píobairí Uilleann, London Philharmonic Orchestra, Cowbridge Music Festival, and the Feis Ceoil. Send your news to
[email protected]
.
Musicians Louise Mulcahy and Gemma Dunleavy have been announced as recipients of the Decade of Centenaries Markievicz Award bursary scheme for artists. The award, worth €25k, is intended to support artists to develop their craft and produce art that recognises and commemorates the role of women in the historical period covered by the Decade of Centenaries and beyond.
A flute-player and uilleann piper, Mulcahy from Limerick is well known for her performances and recordings as a soloist and with her sister Michelle and father Mick Mulcahy. She has undertaken extensive research into the history of female uilleann pipers and recently took part in the Irish Traditional Music Archive's Drawing from the Well series.
Singer, songwriter and producer Gemma Dunleavy has recently released her new EP Up De Flats in which she writes about her experience of growing up in Dublin's Sheriff Street. She was also recently selected for the RTÉ 2FM Rising emerging artist initiative. Dunleavy has previously released music on the 4AD sister label B4 and has collaborated with UK duo Swing Ting, Murlo and DJ Sharda.
A total of 10 recipients were announced, including Zoë Ashe-Browne (dance), Barbara Bergin (theatre), Ursula Burke (visual arts), Eleanor Hooker (literature), Oonagh Kearney (film), Zoe Ní Riordáin (theatre), Jennifer Thorp (literature) and Eimear Walshe (visual arts).
Commenting on the awards, Minister for Arts Catherine Martin said:
I am delighted to announce the awards today under this significantly enhanced scheme for the Markievicz Award for the period 2021–2023. The Award continues to both honour Constance de Markievicz – herself an artist – and to provide support for artists from all backgrounds and genres in producing new work that reflects on the role of women in the period covered by the centenary commemorations and beyond. 2021 is the third year of this successful scheme and I am particularly committed to supporting and sustaining artists in this meaningful way during the ongoing public health emergency caused by the Covid-19 pandemic.
Visit www.gov.ie.
***
The Royal Scottish National Orchestra has announced Andy Stevenson as its new Director of Learning and Engagement to further develop its learning and engagement capacity throughout Scotland. Stevenson studied at the Royal Conservatoire of Scotland, the University of Glasgow and Strathclyde University and is a secondary school music teacher in Glasgow. Commenting on his new role, which begins this month, he said:
The opportunity to work with the RSNO's musicians and staff, to ensure that everyone in Scotland has access to inspiring orchestral experiences, is one that greatly excites me and I look forward to bringing my educational experience and creativity to the Director of Learning and Engagement role. Scotland's arts sector has so much to offer its citizens, particularly in light of the past year and the recent challenges we have all faced. I can't wait to join the team and get started.
RSNO Chief Executive Alistair Mackie commented:
Andy's experience of frontline education and community work will prove invaluable to the RSNO. We look forward to welcoming him to our team as we prepare to return to live performance. Andy's appointment will extend our reach, build new creative partnerships, and create broader and deeper engagement with Scotland's communities.
Visit www.rsno.org.uk.
***
Fiddle-player Maggie Maguire has been appointed as Development Officer with Music Generation Cavan and Monaghan. From Derrygonnelly, Co. Fermanagh, Maguire previously worked as Co-ordinator with Acadamh Ceoil in Derry. She studied Music at Ulster University and has performed with artists such as Mícheál Ó Súilleabháin, the RTÉ Concert Orchestra and The Chieftains. Most recently she formed and directed the IMBOLC Youth Orchestra who performed new music composed and conducted by Ryan Molloy, and the IMBOLC Orchestra who performed with Four Men & a Dog in music arranged and conducted by harper and composer Michael Rooney.
Commenting on her appointment, she said:
I look forward to bringing my love for music to our young people in this unique, rich area of culture. I am looking forward to getting to know the music makers, educators and hope to continue to develop opportunities for children and young people to learn, create and express themselves through performance in a new and dynamic way.
Visit http://cavanmonaghan.etb.ie.
***
Composer Errollyn Wallen CBE has been announced as recipient of the ISM Distinguished Musician Award.
Established in 1976, the ISM (Incorporated Society of Musicians) Distinguished Musician Award recognises outstanding contributions to musical life in the UK. Errollyn follows previous recipients such as Dame Sarah Connolly, Sir David Willcocks, Sir Charles Mackerras, Sir Michael Tippett, Jacqueline du Pré OBE and Sir Charles Groves.
Born in Belize in Central America, British composer, pianist and singer-songwriter Wallen has had music performed in concert halls around the world, and she was the first Black woman to have a work performed at the Proms in 1998. Her work Jerusalem – our clouded hills, a reimagination of Hubert Parry's setting, was commissioned for the Last Night of the Proms in 2020 and is dedicated to the Windrush generation. Her EP, Peace on Earth, recorded by The Choir of King's College, Cambridge, was released last November. She holds teaching positions at several conservatoires, including Royal Conservatoire of Scotland, Royal College of Music, Trinity Laban Conservatoire of Music and Dance, and Royal Birmingham Conservatoire, and is also frequently seen and heard presenting on BBC television and radio.
Commenting on the award, she said:
I am deeply honoured to receive this award from the ISM, who do so much to promote the vital importance of music for us all. These times have revealed that the making of live music has been under the direst threat and yet the need and longing for it has never been greater.
Visit www.ism.org.
***
David Wilkinson has joined First Music Contact as Information and Regional Development officer. Wilkinson joins FMC from the Irish Music Rights Organisation and will be responsible for building out and updating the organisation's factsheets and band tips section for artists. He will also join CEO Angela Dorgan in providing free consultancy and mentor sessions to artists and will help write and deliver FMC's Regional Development Strategy.
Book a consultancy here. For more, visit www.firstmusiccontact.com.
***
Wigmore Hall has appointed nine new Associate Artists. The Hall has committed to five-year relationships with each Associate Artist, presenting each musician at least once every season. The nine artists are: Nitin Sawhney (composer/performer), Amjad Ali Khan (sarod), Amaan Ali Bangash (sarod), Ayaan Ali Bangash (sarod), Lawrence Power (viola), Gweneth Ann Rand (soprano), Trish Clowes (saxophone), Elaine Mitchener (vocal and movement artist) and Christian McBride (jazz bass).
Wigmore Hall has also announced a new partnership with the African Concert Series, which was launched in 2019 by Nigerian-Romanian pianist Rebeca Omordia and presents a season of concerts at the Africa Centre in London exploring the depth and diversity of African classical music. Wigmore Hall has committed to a day of concerts in the 2021–22 season.
Visit https://wigmore-hall.org.uk.
***
Uilleann pipers Patricia Logan and Rita Farrell have joined the board of Na Píobairí Uilleann. Logan, from Athlone, worked in the further education sector in Dublin as a teacher and deputy principal for over 30 years. Farrell is a previous recipient of the NPU Scholarship Scheme for young students of the pipers. She is a graduate in architecture from Queen's University Belfast and is currently practising in London. Farrell features on NPU's The Rolling Wave – A New Generation of Pipers CD.
Visit https://pipers.ie/news/
***
The London Philharmonic Orchestra has announced Elena Dubinets as Artistic Director. She will begin her new role in September 2021.
The Russian-born administrator has spent the last 15 years with the Seattle Symphony Orchestra as Vice President of Artistic Planning and Creative Projects. She is co-founder and executive producer of the Seattle Symphony Media in-house record label, which won five Grammys as well as the Gramophone Orchestra of the Year Award. In her new position with the LPO, Dubinets will work with incoming Principal Conductor Edward Gardner, Principal Guest Conductor Karina Canellakis and Vladimir Jurowski, who will become Conductor Emeritus at the end of the 20-21 season.
'I am honored and excited to become part of the incredible London Philharmonic Orchestra as it enters a new era,' said Dubinets. 'The LPO has assembled a true "dream team" of phenomenal musical breadth and depth, and I couldn't be more grateful for the opportunity to join its creative team. The simultaneous eruption of the pandemic landscape and social justice movements last year have led to considerable changes in our art form and made the musical world even more relevant and interconnected. I see my role as helping the LPO nurture both its local supporters and its global audiences through curating transformational music experiences filled with insight and wonder that will make the LPO a destination for artistically vibrant and socially impactful discoveries.'
Visit www.lpo.org.uk.
***
The Cowbridge Music Festival in Wales has announced Rosalind Ventris and Joseph Fort as its new Artistic Directors. Ventris is a violist and performs widely as a soloist and chamber musician collaborating with artists such as Nicola Benedetti, Mitsuko Uchida, Sheku Kanneh-Mason and actor Simon Russell Beale. She also teaches at the Royal Irish Academy of Music in Dublin. Joseph Fort is a conductor and musicologist based at King's College London. He directs the college's choir and lectures in the music department, where he is Director of Performance. His research focuses on eighteenth-century music, and he is currently completing a new book on Haydn.
Commenting on the appointments, founder of the festival and former Artistic Director Mary Elliott-Rose said:
As hard as it is to step aside as Artistic Director, this role that I have loved and cherished for the last decade, I do so knowing that the festival is now in the best possible hands. After this particularly difficult year, we are beyond excited to finally be able to start dreaming again about the possibility of live events, and to see where Rosalind and Joseph's impressive artistic vision takes us. They are already working incredibly hard on ensuring that the 2021 festival brings hope and joy to as many people as possible in the Cowbridge community and beyond!
Visit https://cowbridgemusicfestival.co.uk/
***
The Feis Ceoil competitions took place on 15–26 March 2021. The event comprises almost 200 competitions and attracts over 5,000 participants from all over Ireland every year. It covers all ages, levels and disciplines. View the full list of first- and second-prize winners below. For more, visit www.feisceoil.ie.
For April 2021 appointments, see here. Send your news to editor [at] journalofmusic.com. 
Published on 4 May 2021