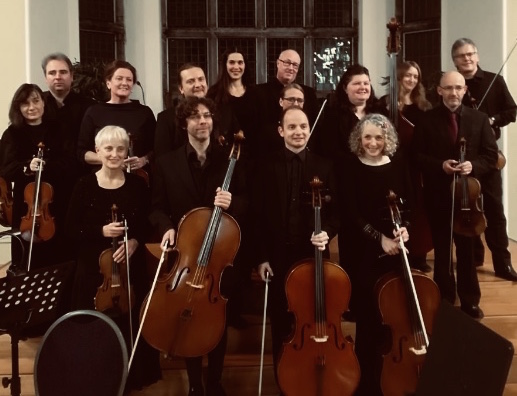 New Orchestra Launched in Galway
Luminosa features all four members of ConTempo Quartet and will be led by Paul Ezergailis, co-principal of the Oslo Philharmonic Orchestra.
The launch of a new professional orchestra, Luminosa Music, took place in Galway last night (26 November 2018).
Founded by Lucy Hayward, the orchestra includes the four members of ConTempo Quartet and a range of other experienced musicians now based in the west of Ireland.
Galway-based
Among the musicians are concertmaster Paul Ezergailis from Australia who is currently co-principal of the Oslo Philharmonic Orchestra and a member of the Academy of St Martin in the Fields in London; violinist Gergely Kuklis is from Budapest where he was concertmaster of the Hungarian National Philharmonic Orchestra for sixteen years; violinist Áine Kelly is a deputy with the RTÉ Concert Orchestra and the Irish Chamber Orchestra; Péter Sébestyen from Hungary is a member of the Concerto Malaga chamber orchestra in Spain since 2008; and double bassist Teresa Turner is currently principal double bass with the Irish Symphonic Wind Orchestra.
At the launch in the Emily Anderson Concert Hall in NUI Galway last night, Luminosa opened with Grieg's Holberg Suite, followed by Philip Glass' Company, T.C Kelly's Three Pieces for Strings and Bartók's Romanian Folk Dances.
First season
The orchestra's first season concert will take place next April in Galway Cathedral where they will perform a range of work by female composers including Jane O'Leary, Joan Trimble, Rachel Holstead and Elizabeth Maconchy. This will be followed by a concert in June with music by Vaughan Williams, Schoenberg and Bill Whelan.
Speaking to the Journal of Music, Executive Director Lucy Hayward commented:
I am thrilled that we have now launched this exciting venture to bring Galway City a new orchestra and look forward to producing a stunning programme of music at Galway Cathedral in 2019. We have incredible talent in this vibrant city, and, by shining a light on it, I hope to inspire a new dawn for orchestral music in the west.
The orchestra was introduced by Dr Aidan Thomson, Head of Music at NUI Galway and also a member of Luminosa's Board of Directors, and Danny O'Leary of Bank of Ireland.
Bank of Ireland is Luminosa's founding patron and the orchestra has also launched a patronage scheme.
For more, visit www.luminosa.ie

The full list of members is as follows.
First violins
Paul Ezergailis
Dr Bogdan Sofei
Áine Kelly
Gergely Kuklis
Second violins
Dr Ingrid Nicola
Nuala Ní Chanainn
Katharine MacMághnuis
David Clarke
Violas
Dr Andreea Banciu
Tom Murphy
Eilish Devine
Cellos
Dr Adrian Mantu
Nicola Geddes
Péter Sébestyen
Double bass
Teresa Turner
Published on 27 November 2018