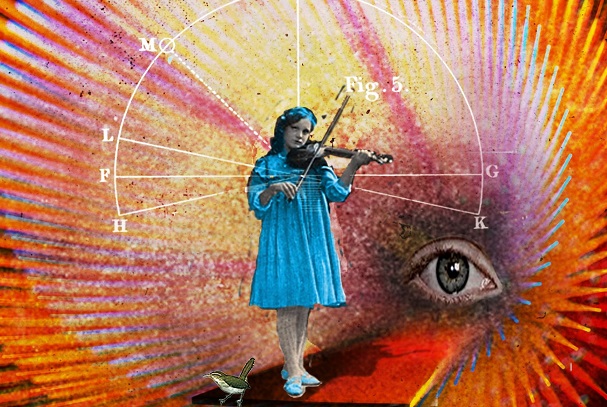 New Releases of the Week (23 October 2020)
A round-up of recent releases, including Ed Bennett, Sam Amidon, A Lilac Decline, Maeve Gilchrist, the Choral Scholars of University College Dublin, Kyoto Love Hotel and Rowan. To submit your music for inclusion, please email
[email protected]
.
Ed Bennett – Psychedelia
Following his album Togetherness in 2018, Northern Irish composer Ed Bennett's new recording Psychedelia is released today on NMC. 'Ed Bennett's work moves', writes Stephen Graham on the sleeve notes. '…the spring and coil of a sharp attack, a whacking drum, an insistent, trancing rhythm texture seems to inspire…'. At the heart of the album is the intense three-movement Song of the Books, which premiered at the Kilkenny Arts Festival last year and features Kate Ellis on cello with the Decibel ensemble. There are also the orchestral works Psychedelia and Freefalling, performed by the RTÉ NSO under David Brophy, and Organ Grinder played by Orkest de Ereprijs. Magnetic performed by Jack McNeill on bass clarinet and Eliza McCarthy on piano concludes the album. Graham describes the album as 'an important moment of change and development' for the composer. Available to purchase from www.nmcrec.co.uk.
Sam Amidon – Sam Amidon
American folk-singer Sam Amidon has just released a self-titled album, his fifth with Nonesuch Records, following the 2019 EP Fatal Flower Garden (A Tribute to Harry Smith). Sam Amidon comprises nine tracks of mostly traditional songs from his repertoire, including 'Pretty Polly' and 'Time Has Made a Change'. Amidon will perform as part of the Tradition Now online event this Sunday. Visit: www.samamidon.com.
A Lilac Decline – Shelter From the Shadows
Shelter From the Shadows is the second album from A Lilac Decline, the musical project of Swedish-born, Galway-based musician and visual artist Cecilia Danell, following her debut album The Mountain Rages. Her debut album  came together during sessions in 2016, recorded via one microphone and borrowed and found instruments. Shelter from the Shadows finds her going electric on Telecaster, with other electronic elements. The album is released on Galway indie label Rusted Rail. Visit: https://rustedrail.bandcamp.com/album/shelter-from-the-shadows
Maeve Gilchrist – The Harpweaver
The Harpweaver is the latest album from innovative US-based Scottish harper and composer Maeve Gilchrist. An album of almost all her own compositions, interjected by lines from poets such as by Edna St Vincent Millay and Charles Kingsley, The Harpweaver, Gilchrist says, 'hones in on the idea of artistic nostalgia'. 'I always loved hearing old-timers in New York referring to the "old" and the 'new" worlds. It seems related somehow to this project which deals in the nostalgia which I feel is inherent in traditional Irish and Scottish music… this tangle of words and notes is my sonic postcard home, as I stand, like so many migrant musicians before me, on the bank of the Hudson and look East.' The Harpweaver is available to purchase on Vinyl and CD on Bandcamp: https://maevegilchristmusic.bandcamp.com/
The Choral Scholars of University College Dublin, Desmond Earley, Irish Chamber Orchestra – Be All Merry
Be All Merry is the new album from the Choral Scholars of University College Dublin led by founding Artistic Director Dr Desmond Earley, performing with the Irish Chamber Orchestra. The record is a collection of Christmas carols plus new works composed especially for the choir, such as title-track 'Be All Merry' by Eoghan Desmond, 'Curoo Curoo' by Elaine Agnew, and American composer Linda Kachelmeier's 'We Toast the Days'. Visit: www.ucdchoralscholars.ie.
Kyoto Love Hotel – You Unfold
Electronic pop duo Kyoto Love Hotel have just released a new single, 'You Unfold', following the release of 'Machine' in August. The song, which will feature on their upcoming EP Grow, due for release on 11 December, was written for a boy who passed away and for the woman who remembers him. Visit: www.facebook.com/kyotolovehotel
Rowan – I Had a Dream
Indie band Rowan's new single 'I Had a Dream' is out today and will feature on their forthcoming EP No One is Safe Here, out on 20 November. The track follows a number of releases this year, including 'Finish Line', 'Big Wave' and 'Moonlight'. Visit: https://www.rowantheband.com.
–
To submit your music for inclusion, visit: https://bit.ly/38vquCn
Published on 23 October 2020