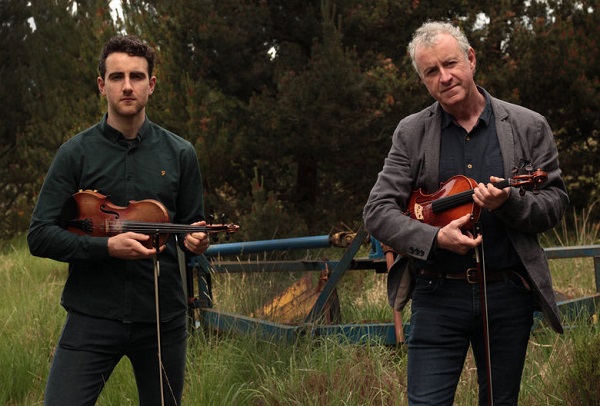 New Releases of the Week (4 September 2020)
A round-up of recent albums, EPs and singles, including Joshua Burnside, Niamh Regan, John and James Carty, Karen Power, God Knows, Josh Johnston and more. To submit your music for inclusion, please email
[email protected]
and add it to our listings.
John and James Carty – The Wavy Bow Collection
The Wavy Bow Collection is a new album from father and son John and James Carty. A collection of fiddle music mainly, with John also playing banjo, guitar and mandolin. 'For John and James,' says Kevin Crawford on the sleeve notes, 'having a tune is like having a chat. It's completely natural, unhurried and navigated with a healthy mix of respect and humour.' The album follows James' debut Hiding Daylight in Dark Corners from 2017 and John's duet with daughter Maggie the year before. Visit https://racketrecords.bandcamp.com/
Add a Reader Review here. 
Joshua Burnside – Into the Depths of Hell
Following the release of EP Far O'er the Sounding Main in April, Belfast singer-songwriter Joshua Burnside's new album Into the Depths of Hell is out now, featuring previously released tracks such as 'Whiskey Whiskey' and 'War on Everything'. Visit: https://joshuaburnside.bandcamp.com/album/into-the-depths-of-hell
Add a Reader Review here. 
Niamh Regan – Hemet
Galway songwriter Niamh Regan's debut album Hemet was written during a time of great life change as she dealt with the death of her mother, getting married and returning to education. The eleven track album reflects on this change and features guest musicians including Caimin Gillmore (double bass), Peter Berrill (trumpet), Liam King (accordion) and Anna Mullarkey (backing vocals, synths) among others. Out now on Black Gate Records. Visit: https://niamhregan.bandcamp.com/album/hemet
Add a Reader Review here. 

God Knows – Who's Asking? EP Vol. II
Hip hop artist God Knows released Who's Asking? EP Vol. I in February, featuring a series of collaborations with Irish hip hop artists MuRli, Denise Chaila, Hazey Haze, Citrus Fresh, Gavin DaVinci and Strange Boy Nature. His latest release, Who's Asking? EP Vol. II is a follow-up record and features new collaborations with artists including MuRli, BONY, Skripteh, Nealo, Mango, Rebel P, Lethal Dialect and more. Visit: https://flyhighsociety.bandcamp.com/album/whos-asking-ii-ep
Add a Reader Review here. 
Josh Johnston – Where We're Standing Now
Dublin songwriter and pianist Josh Johnston's latest solo album Where We're Standing Now is comprised of four works of piano solo improvisations, recorded between 2013 and 2019. Musically, it takes influence from jazz, folk and classical. Visit: http://joshjohnston.com/
Add a Reader Review here. 
Karen Power – Human Nature
18 new compositions by Irish composer Karen Power, tied together through pairing human with nature. Power invited 18 musicians from 7 countries to each remotely listen to and explore musically an un-processed field recording. Recordings include seals off the Namibian shipwreck coast and rush hour in Puerto Maldonado. Featured performers include Samuel Stoll, Anne-Marie O'Farrell, Ute Wassermann, Michelle O'Rourke and Caoimhín Ó Raghallaigh. Visit https://composerkarenpower.bandcamp.com/
Add a Reader Review here. 
Varo – Streets of Forbes
Singers and fiddle players Lucie Azconaga, from France, and Consuelo Nerea Breschi, from Italy, who play together as Varo, perform Irish folk songs, arranging them with baroque and classical influences. 'Streets of Forbes' is their latest single, which comes from their self-titled debut album, released in January. Visit: https://varodublin.bandcamp.com/album/varo
Add a Reader Review here. 

JYellowL – Mademoiselle
Rap artist JYellowL's new single 'Mademoiselle' will feature in his upcoming debut 2020 D|vision, out on 4 December 2020. The track follows earlier releases 'Jewels' and 'Doesn't Feel Like', both of which achieved significant airplay on Irish radio, as well as featuring on multiple major Spotify playlists including New Music Friday, We Move, Breathe of Fresh Eire and New Eire. 'Mademoiselle' is about prioritising your own needs, after neglecting to do so while trying to please others. Visit: https://twitter.com/RealJyellowL
Add a Reader Review here. 
Girl Band – Live at Vicar Street
Dublin rock act Girl Band have just released a new live album, Live at Vicar Street. The fourteen-track album is a collection of songs recorded at their Vicar Street shows last November, including 'Shoulderblades' and 'Pears for Lunch'. Visit: https://girlbanddublin.bandcamp.com/
Add a Reader Review here. 

Janet Harbison – By Strangford Water
An album of mainly original compositions by renowned Irish harper Janet Harbison, By Strangford Water includes her well-known piece 'Bright New Morning', written in 1994 to celebrate peace in Northern Ireland. Harbison plays almost completely solo on the album. Tracks include 'Leap of Faith', 'Farewell to Joel' and 'Trip to London'. Purchase By Strangford Water here: https://www.janetharbisonharp.com/shop/irish-harp-music-cds/by-strangford-water-by-janet-harbison-CD
Add a Reader Review here. 
Bróna McVittie – The Man in the Mountain
The Man in the Mountain is the second album from Northern Irish singer-songwriter Bróna McVittie. This album contains less traditional songs than her previous record, and focuses mainly on original compositions. The title track explores the mythological legend of Finn McCool. Visit: https://bronamcvittie.bandcamp.com/album/the-man-in-the-mountain
Add a Reader Review here. 
To submit your music for inclusion, visit: https://bit.ly/38vquCn
To add a Reader Review of the new music listed above, or other releases, see: https://journalofmusic.com/reader-reviews.
Published on 4 September 2020