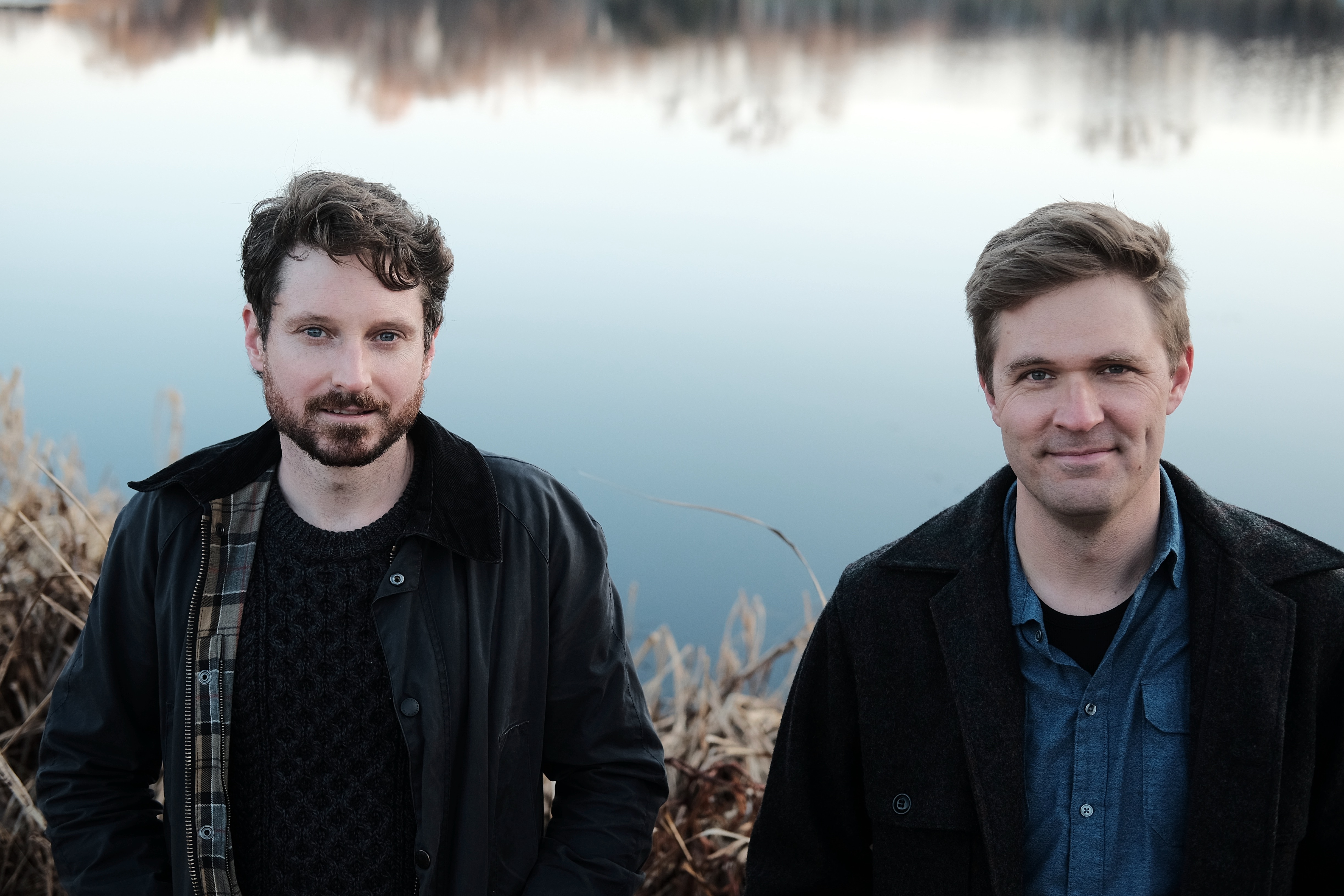 New Releases of the Week (5 March 2021)
A round-up of recent releases, including Danny Diamond and Brian Miller, Anne Briggs, Ryan Molloy, Denise Chaila, God Knows and MuRli, Simon Jermyn, Ailbhe Reddy and Sacred Animals, The Carducci Quartet and Crash Ensemble, and Loner Deluxe. To submit your music for inclusion, please email
[email protected]
Danny Diamond and Brian Miller – Let Fly
Let Fly is the new duet album from Irish traditional fiddle-player Danny Diamond (now based in Minneapolis) and guitar and bouzouki-player Brian Miller from northern Minnesota. The tunes for the 12-track album were sourced by Diamond from family, friends and musical mentors during the lockdown of spring 2020; as he writes, 'tune versions, names, and background stories flying back and forth on phone and video calls, maintaining a connection with home and community during pandemic-induced exile.' Featuring Diamond's relaxed, swinging fiddle-playing, Let Fly follows his previous fiddle albums Fiddle Music (2014), North with Conor Caldwell (2016), and Elbow Room (2017). Among the repertoire are tunes from his parents Dermy and Tara Diamond, James Byrne, and 'Down the Hill', a tune published in Charles Villiers Stanford's The Complete Collection of Irish Musicians from 1902 and which likely originates in the Irish wire-string harp tradition of the 17th and 18th centuries. Let Fly is available to purchase on Bandcamp. https://dannydiamond.bandcamp.com/album/let-fly
Click on the image below to listen.
Anne Briggs – Anne Briggs (Remastered)
The 1971 self-titled debut album by English folk singer Anne Briggs has been remastered and is released today on special edition vinyl via Topic Records. Featuring songs such as 'Blackwater Slide', 'The Snow It Melts the Soonest', 'Willie O Winsbury' and 'Go Your Way', the album, as with the 1971 original, contains sleeve notes by singer and collector Bert Lloyd. Purchase the album on Topic Records: https://www.topicrecords.co.uk/2021/01/anne-briggs-topic-treasures-series-vinyl-re-issue/
Ryan Molloy – Tempered
Tempered is a new album of traditional Irish music played on uilleann pipes with Ryan Molloy on piano. A relatively rare combination of instruments, the piano/pipes recording is a project initiated by Molloy, who is also a composer and professor of composition at Maynooth University. The album follows his solo Pianophony in 2019 and One Day – November Woods with fiddle-player Fergus Scahill the same year. Tempered features well-known pipers Sheila Friel, Jarlath Henderson, Tara Howley, Pádraig McGovern and Tiarán Ó Duinnchinn and includes 16 tracks with repertoire ranging from airs to dance music to planxties, plus a Bach Bourée played by Ó Duinnchinn. Available to purchase from Bandcamp: https://ryanmolloy.bandcamp.com/
Click on the image below to listen.
Denise Chaila, God Knows and MuRli – Water
'Water' is the new track by Narolane, the hip hop collective founded by Denise Chaila, God Knows and MuRli. According to the Narolane Bandcamp, '"Water" rebukes oppression and refuses false narratives of inferiority. It is a joyous battle cry that fleshes out the truth of entitlement to dignity, to jubilation, to life. To pure water.' Yesterday, Chaila won the RTÉ Choice Music Prize Album of the Year 2020 for her record Go Bravely. Purchase the track on Bandcamp: https://narolane.bandcamp.com/
Click on the image below to listen.
Jonathan Goldberger, Mat Maneri, Gerald Cleaver and Simon Jermyn – Live at Scholes
Live at Scholes, released on Brooklyn label Out of Your Head Records, features US musicians Jonathan Goldberger (guitar), Mat Maneri (viola) and Gerald Cleaver (drums), and Irish musician Simon Jermyn on electric bass. Recorded at Scholes Street Studio in Brooklyn in February 2019, Live at Scholes is a 36-minute free-improv album in one continuous track, recorded by Rene Pierre Allain, and featuring some of the finest improvisers in the NYC scene. Purchase on Bandcamp: https://outofyourheadrecords.bandcamp.com/album/live-at-scholes
Click on the image below to listen.
Ailbhe Reddy and Sacred Animals – City Unfolds
'City Unfolds' is the latest release from indie singer-songwriter Ailbhe Reddy, in collaboration with producer Darragh Nolan's ambient  electro-indie project Sacred Animals. The lo-fi song features a backdrop of atmospheric synth and fragmented motifs on piano with Reddy on vocals. Reddy's album Personal History was nominated for the RTÉ Choice Music Prize Album of the Year, while Nolan has worked as a producer with other Irish artists including Jackie Beverly, Kobina, Molly Sterling, A.Smyth and NNIC, among others. Visit: http://www.ailbhereddy.com/
The Carducci Quartet and Crash Ensemble – Embers
Embers is the new record released by Louth Contemporary Music Society (LCMS) which features three works: Ukrainian composer Valentin Silvestrov's String Quartet No. 3 and Marthiya and Embers by Raymond Deane. The Carducci quartet perform Silvestrov's quartet and Embers while Marthiya is performed by members of Crash Ensemble. In his review of the album on the Journal of Music published yesterday, Brendan Finan said 'Although both Embers (in its original quartet format) and Silvestrov's third string quartet are available to hear online as recordings of live performances, this album marks their first release in a recorded setting, and the Carducci Quartet's sound – dry and dark, and intimate without becoming Romantic – is an excellent fit for both works despite their stylistic differences'. Embers is the second release in LCMS' 'Out of Silence' series of music released during the pandemic, following Linda Catlin Smith's Meadow, released in December 2020. Visit: https://louthcontemporarymusicsociety.bandcamp.com/album/embers-2
Click on the image below to listen.
Loner Deluxe (Rusted Rail) – Field Recordings
Galway-based indie label Rusted Rail have today released Field Recordings, the new album by alternative electronic artist Loner Deluxe, the musical project of Keith Wallace. Field Recordings is Loner Deluxe's follow up record to 2017's Songs I Taped Off the Radio cassette release, and features Wallace on electronics, synth and bass, with Rusted Rail artists Cecilia Danell (A Lilac Decline) on banjo, electric guitar and vocals and Brian Kelly (So Cow) on acoustic and electric guitar and mellotron. According to Loner Deluxe's Bandcamp, the record 'draws on a wide palette of sounds, from lo-fi bedroom pop with a fuzzy, garage rock edge, to evocative electronica… Although written and recorded in pre-Covid times (bar the pandemic pop song 'Viral Hit'), lyrically this is a loose concept album about technophobia, nuclear fallout, paranoia, dead satellites, vandalised phone boxes, gentrification and environmental collapse'. Visit: https://rustedrail.bandcamp.com/album/field-recordings
Click on the image below to listen.
To submit your music for inclusion, visit: https://bit.ly/38vquCn
Published on 5 March 2021