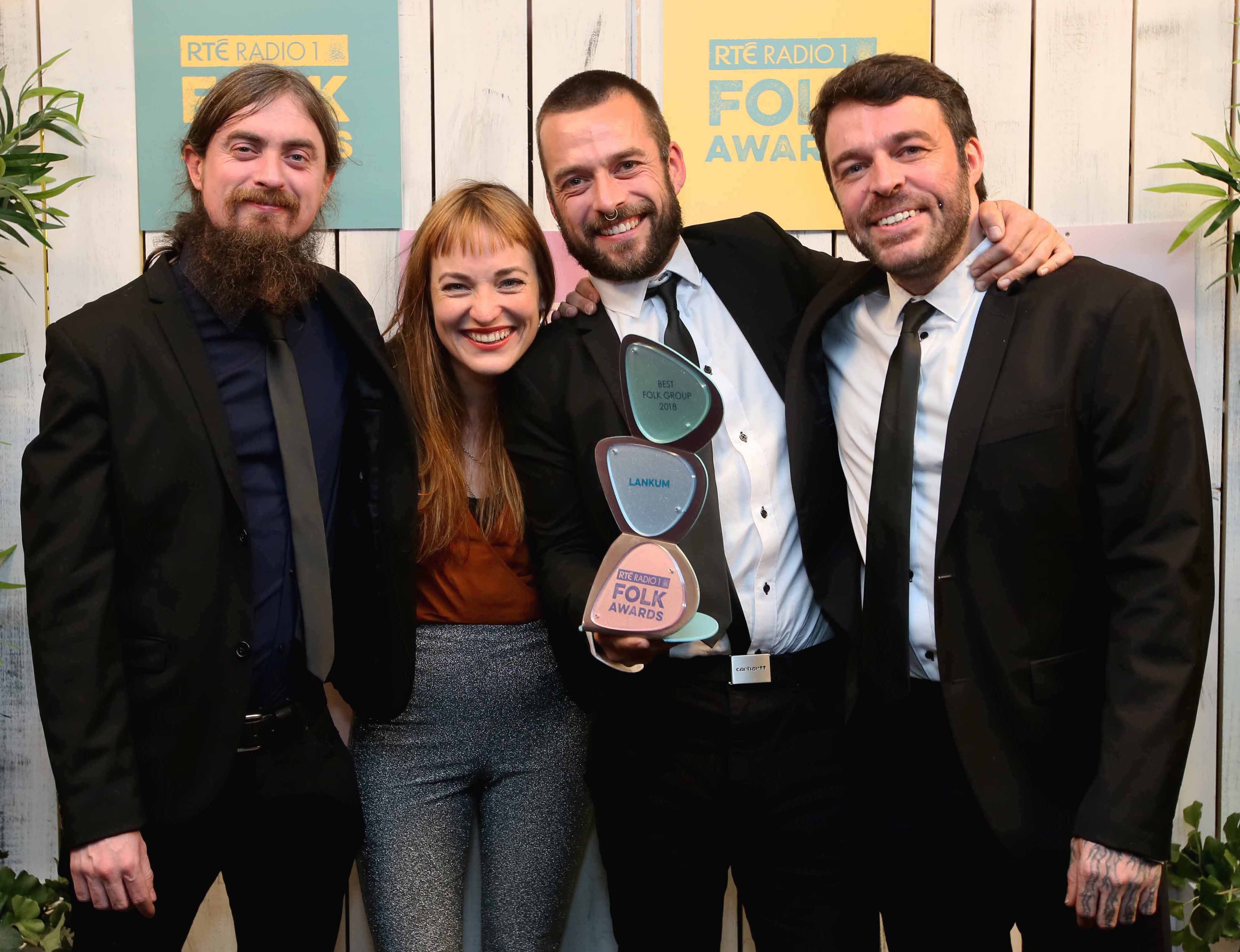 Radie Peat, Lankum, Emma Langford, We Banjo 3 Among Winners at RTÉ Folk Awards
Tom Munnelly and John Reilly inducted into Hall of Fame.
Lankum won Best Folk Group and their singer Radie Peat won Best Folk Singer at the inaugural RTÉ Radio 1 Folk Awards last night. The awards ceremony, which was presented by Ruth Smith and John Creedon, took place at Vicar Street with performances from Lankum, Slow Moving Clouds, Daoirí Farrell, Landless, Eleanor Shanley, Muireann Nic Amhlaoibh and more.
John Kelly presented the award to Lankum and Mary Black presented the award to Peat.
Martin Hayes won Best Folk Instrumentalist and Emma Langford from Limerick won Best Emerging Folk Artist. We Banjo 3 won Best Folk Album for Haven. The award was presented by RTÉ presenter Ronan Collins and accepted by band members Enda and Fergal Scahill.
Muireann Nic Amhlaoibh won Best Traditional Folk Track for 'Bean Dubh A' Ghleanna' from her album Foxglove & Fuschia. On the night, she performed 'Where Foxglove', written by Gerry O'Beirne, with O'Beirne on guitar and Dónal O'Connor on fiddle.
Declan O'Rourke won Best Original Folk Track for 'Along the Western Seaboard' from his album Chronicles of the Great Famine. Accepting the award, O'Rourke said:
There are so many displaced peoples and migrants throughout the world on the move right now, and the apathy towards them is really worrying … The Guardian has described this time that we're in now as being dangerously similar to the fascism of pre-Second World War Europe. It is our responsibility – each and every one of us – to act on behalf of, and to be a voice on behalf of, those who have no voice.

Declan O'Rourke, Andy Irvine, Nicholas Carolan and Andy Irvine's partner Rumiko.
Christy Moore announced posthumous Hall of Fame recognition for collector Tom Munnelly (1944–2007) and Traveller singer John Reilly (1925–69). Moore sang 'Raggle Taggle Gypsy', a song collected by Munnelly from Reilly. Annette Munnelly accepted the award on behalf of her late husband and presented it to the Irish Traveller Movement.

Annette Munnelly and Christy Moore
The Lifetime Achievement Award was presented by Dónal Lunny to Andy Irvine. Irvine sang 'My Heart's Tonight in Ireland' accompanied by Rens van der Zalm, Lunny, Paddy Glackin and Mike McGoldrick, and finished up the night with 'Never Tire of the Road'.
Standing ovation for Andy Irvine last night @RTERadio1 Folk Awards #RTERadio1FolkAwards @AndyIrvineNews pic.twitter.com/A300fq78zu

— Toner Quinn (@TonerQuinn) October 26, 2018
The awards were designed by Fiona Mulholland. See full list of winners below. Listen back to the RTÉ Radio 1 Folk Awards here.
Best Folk Singer
Radie Peat
Best Traditional Folk Track
Bean Dubh A' Ghleanna – Muireann Nic Amhlaoibh
Best Folk Instrumentalist
Martin Hayes
Hall of Fame
Tom Munnelly
Hall of Fame
John Reilly
Best Original Folk Track
Along the Western Seaboard – Declan O'Rourke
Best Folk Album
Haven - We Banjo 3
Best Emerging Folk Artist
Emma Langford
Best Folk Group
Lankum
Lifetime Achievement Award
Andy Irvine
All photos by Mark Stedman.
Published on 26 October 2018