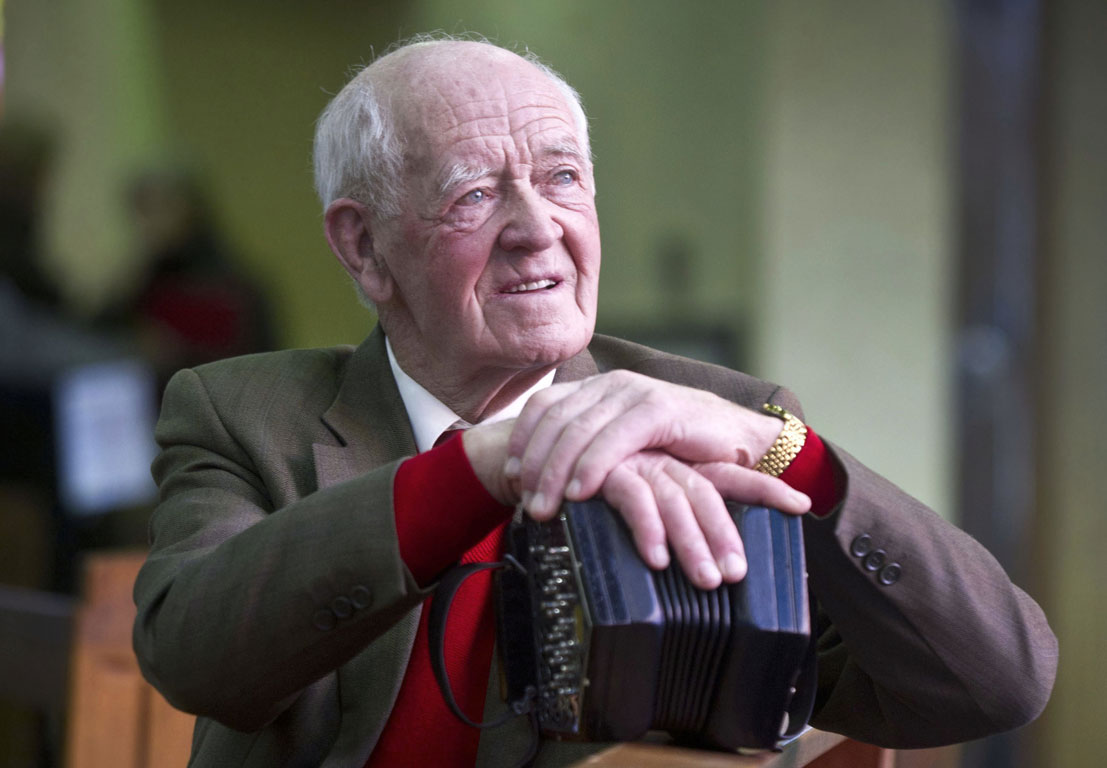 RIP Concertina Player Chris Droney
Influential Clare musician passes away aged 95.
The well-known concertina player Chris Droney, from Bellharbour in County Clare, has died. He was 95.
Born in 1924, Droney's father and grandfather also played concertina and he learned music by ear from the age of eight.
He once said that his first two tunes were 'The Wearing of the Green' and 'Clare's Dragoons'. His first public appearance was in Johnson's dance hall in Kinvara at the age of 14.
Droney became senior all-Ireland concertina champion at the Fleadh Cheoil several times in the 1950s and 1960s and played with a number of ceili bands, including the Bell Harbour Ceili Band, which he co-founded, and the Ballinakill Ceili Band. He also played with fiddle-player Tommy Peoples in Kitty Linnane's group.
He toured internationally and made four recordings: Irish Dance Music (1962), The Flowing Tide (1975), The Fertile Rock (1995) and Down From Bell Harbour (2005). A dancer as well as a musician, Droney's playing had a clear rhythmic drive but also a characteristic Clare lilt. He wrote a number of tunes, including the slow air 'Peaceful Corcomroe'. Droney was an influential musician in Clare and beyond and featured in composer Dave Flynn's Clare Concerto in 2013 at the age of 88. 
His children include the singer and concertina player Ann Kirrane and the concertina player Francis Droney. His grandson is the electronic musician and producer Daithí. 
Droney was the recipient of the Comhaltas Ceoltóirí Éireann Bardic Award in 2004; the TG4 Gradam Saoil award for lifetime achievement in 2014; and, in 2018, the MÓRGlór Award in County Clare.
Published on 10 September 2020