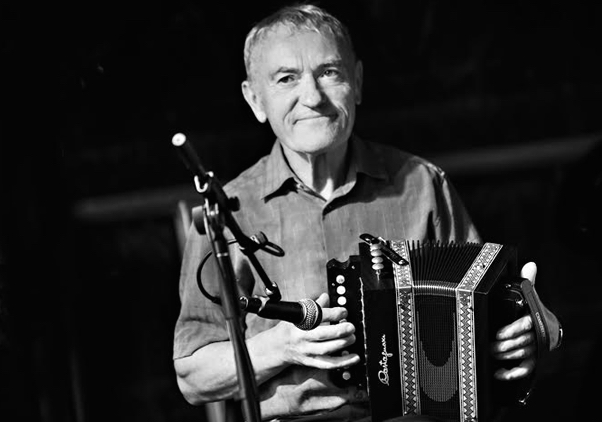 RIP Johnny Connolly
Conamara musician inspired revival of the instrument.
The great Conamara melodeon player Johnny Connolly has passed away aged 75. His playing left an indelible mark on Irish traditional music and dance. 
As a soloist, he played a central role in the revival of the ten-key melodeon, an instrument that had been almost completely replaced by the two-row accordion during the twentieth century. His 1993 solo album An tOileán Aerach was a groundbreaking recording in that regard, displaying the versatility of the instrument and attracting the attention of a new generation. This was followed by classic recordings such as Drioball na Fáinleoige (1998) and An Mileoidean Scaoilte (2004), all released on the Cló Iar-Chonnacht label.
Connolly, known locally as Johnny Phádraic Phíotair, also became deeply associated with the revival of sean-nós dancing. He played for soloists and competitions at events such as the Pléaráca festival and the Oireachtas dancing competitions. In 2002 he was presented with the Gradam an Phléaráca award, and more recently he was presented with the Gradam Laoch an Traidisiúin award at the Éigse an Spidéil festival.
Connolly's playing was characterised by a strong rhythm ideal for dancing but also great dexterity. He championed a wide range of repertoire including newly composed tunes by Charlie Lennon and his son Johnny Óg Connolly, and also wrote his own tunes such as 'An Cosán Draíochta'.
Connolly grew up on the island of Inis Bearacháin near Leitir Móir in County Galway and began playing the melodeon as a child. He moved to England for work when he was seventeen. When he returned to Ireland in 1976 there were very few players of the melodeon in Conamara and he began playing the two-row accordion. In 1990, he was asked to play the melodeon at a performance at the L'Orient Festival in Brittany, and, after borrowing one for the concert, he decided to focus on the instrument again. 
Connolly became a central figure in the music and culture of the Conamara Gaeltacht. He had long-standing sessions at An Cistin in An Cheathrú Rua, at Tigh Hughes in An Spidéal with the flute-player Caoimhín Ó Sé and in Tigh Pheadair Mhóir in Baile na hAbhainn with the flute-player Liam Ó hEaghra, and he performed extensively in Ireland and abroad with musicians such as Meaití Jó Shéamuis Ó Fátharta and Marcus Hernon. He was particularly known for his warm welcome for musical visitors and encouraged and inspired a whole new generation of musicians in Conamara and beyond. In 2016, a special tribute concert for Connolly was held in An Spidéal.
In 2008, on the TG4 tribute programme 'Sé Mo Laoch, he said:
Is breá an rud an ceol. Níl fhios agamsa cén sort saol a bheadh a'm fhéin i ndáiríre murach gur éirigh liom tosaigh ceol. [Music is a great thing. I don't know what kind of life I would have had if I hadn't started playing music.]
Connolly is survived by his wife Patricia, his sons Jimmy and Johnny Óg and his daughter Mary-Ellen.
The funeral for Johnny Connolly will take place on Tuesday 31 December in  Séipéal Naomh Ainnín, An Cnoc, Indreabhán.
Published on 29 December 2019