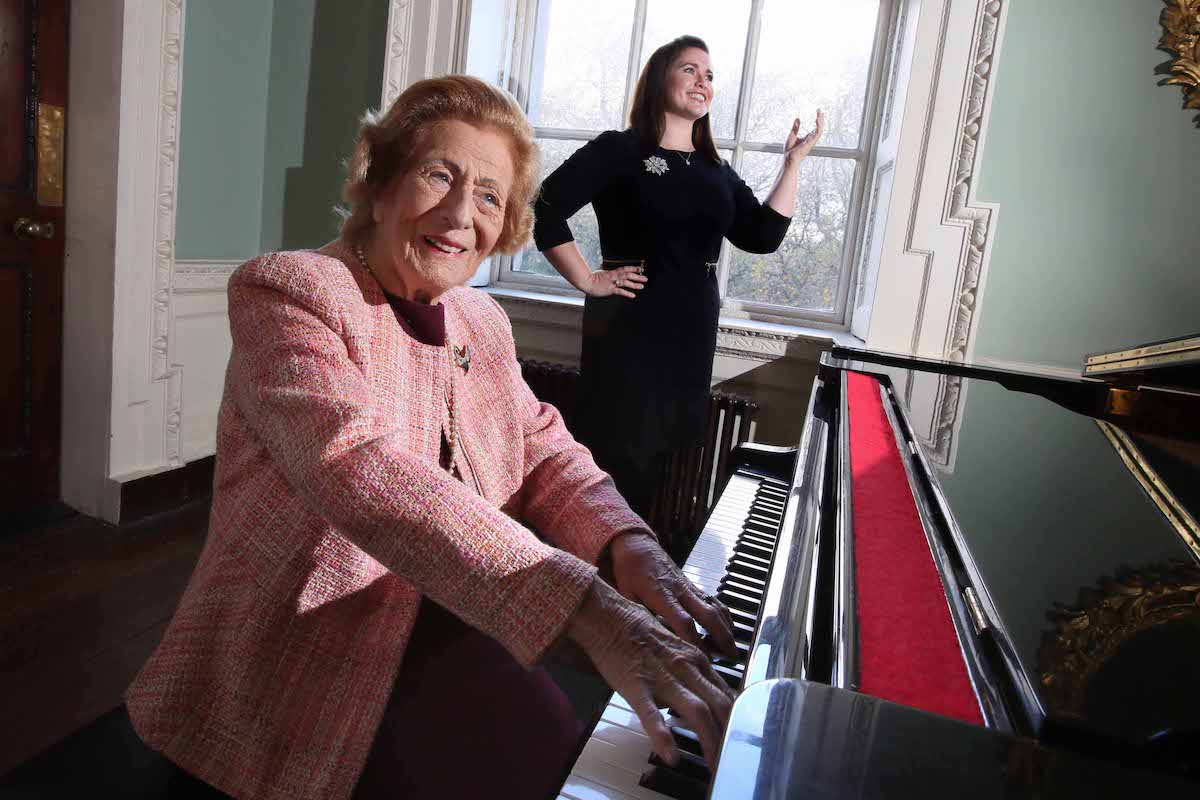 'Ronnie defined opera in Ireland throughout her long life': RIP Veronica Dunne
Tributes paid to singer and teacher who died on 5 April.
The renowned Irish singer and pedagogue Veronica Dunne has died aged 93. President Michael D. Higgins said that the news 'will have deeply saddened all those who love the power and beauty of music.' He commented: 
Throughout her life, Dr Veronica Dunne captivated millions with her singing. The legacy she leaves lies in the talents of those scores of others whose talents and performances she unlocked with her enthusiasm, energy and commitment as a teacher and friend.
Known as 'Ronnie' to her friends and colleagues, Dunne was born in Dublin in 1927. She once recalled in an RTÉ interview how her singing began:
I always wanted to sing… at this party, I was only 11 at the time, everybody was singing. My brothers decided, you get up and sing, so I sang 'The Hills of Donegal', which I'd learned, and they all said, 'My God, she's got a voice.'
Dunne began singing lessons with Hubert Rooney at age 12, and in 1946 left Ireland for Rome to continue her studies. She returned to make her operatic debut with the Dublin Grand Opera Society in 1948, but won the Concorso Lirico Milano the same year and was subsequently asked to play the lead in La bohème at the Teatro Nuevo in Milan. This was followed by a contract at the Royal Opera House in Covent Garden where she sang in The Marriage of Figaro with Joan Sutherland and in Orfeo ed Euridice opposite Kathleen Ferrier in the singer's final performance. In the 1950s she also began appearing regularly on Radio Éireann and with the new Radio Éireann orchestras, and subsequently sang with Welsh National Opera and Scottish National Opera.
Teaching
In 1962, Dunne was appointed as a vocal teacher at Dublin's College of Music (subsequently DIT Conservatory of Music and Drama and now TU Dublin Conservatoire). The same year she made her debut at Wexford Festival Opera, singing the role of Suzel in Pietro Mascagni's L'Amico Fritz, with Bernadette Greevy as Beppe. In 1965 she gave the world premiere of Seóirse Bodley's setting of Yeats poems for soprano and orchestra, Never to Have Lived is Best, and also premiered Irish Songs (1971) and The Táin (1972) by James Wilson. In the 1960s, she released albums such as Celtic Songs, She Moved Thro' The Fair – An Album of Irish Love Songs and Highlights from The Bohemian Girl, Maritana, The Lily of Killarney under conductor Havelock Nelson. 
In the 1980s, Dunne served on the first three boards of the new National Concert Hall and played a key role in raising the several hundred thousand pounds required to install an organ in the new venue. She retired from DIT in 1992 but continued to teach at the Leinster School of Music and the Royal Irish Academy of Music. Over several decades, she taught many leading Irish singers including Finbar Wright, Patricia Bardon, Suzanne Murphy, Celine Byrne and Tara Erraught. On RTÉ's Morning Ireland today (6 April), Byrne said Dunne was 'very generous with her time, with her spirit, and with her knowledge.'
Dunne was a founding member of Friends of the Vocal Arts, which, in 1995, established the triennial Veronica Dunne International Singing Competition with Joan Sutherland as one of its first judges. Prizewinners have included Orla Boylan, Tara Erraught, New Zealand tenor Simon O'Neill, South African sopranos Pumeza Matshikiza and Sarah-Jane Brandon, American soprano Nadine Sierra, Egyptian soprano Fatma Said and English bass William Thomas. In 2010, EMI released the 34-track The Essential Veronica Dunne and in 2016 Alison Maxwell published Ronnie: The Authorised Biography of Veronica Dunne. 
Commenting on her passing, Fergus Sheil, Irish National Opera Artistic Director, said:
Ronnie defined opera in Ireland throughout her long life. Her successes as a performer led her to many major international engagements, but her legacy will undoubtedly be as a teacher and as somebody who did more than anybody else to develop singing and opera in Ireland. The success of her students on the stages of opera houses throughout the world stands as her astonishing legacy today.
Minister for Arts Catherine Martin said 'she was a real trailblazer as a musician, teacher and an utterly inspiring woman, with an incredible career that spanned 70 years. She leaves in her wake a long line of gifted singers and she has inspired generations of musicians worldwide.'
Just last November, Dunne announced a number of bursaries for young singers. At the time, she commented: 
We're excited about this initiative which we've created to develop the potential of our young singers. We look forward to mentoring them in vocal and technical training, and to help guide them towards achieving their particular career goals… I want this bursary to be my legacy to future young Irish stars of opera.
Visit www.vdiscompetition.com.
Published on 6 April 2021