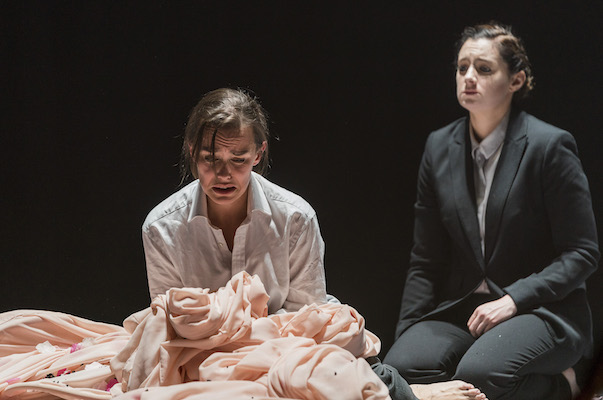 'The story is the core... opera is the vehicle': An Interview with Sharon Carty
Ahead of her performance in Irish National Opera's production of Gluck's 'Orfeo ed Euridice', Sharon Carty speaks to The Journal of Music about her career, her work in Germany, and the significant changes for opera in Ireland.
This week, Irish National Opera launches its second season with a reprise of Gluck's Orfeo ed Euridice, beginning on Thursday 7 February and running until Saturday 2 March, taking in 11 venues from Tallaght to Wexford.
Mezzo-soprano Sharon Carty's performance as Orfeo received particular acclaim last year, described in the Irish Times as taking 'full yet gentle possession of Orfeo's wide range of emotions – grieving, raging, pleading, surrendering, celebrating'. The Journal of Music review remarked how she 'creatively maintains her tortured pose throughout, every note she sings, with clarity and pathos, adding to our pity for the character.'
Carty will again take the role of Orfeo for the forthcoming performances, with Sarah Power as Euridice and Emma Nash as Amore. It is directed by Emma Martin and features a strong dance element with the United Fall Dancers.
Opera audiences
Carty has recently moved back to Ireland after ten years working primarily in Germany, particularly with Oper Frankfurt. After a decade working between the two countries, she can see significant changes in opera in Ireland taking place. 
Before Irish National Opera started and that funding was available… you had a situation whereby when funding was granted it was sometimes less than a year out, which meant you planned for one production, and you didn't necessarily get the people that were on board in the first place. 
Opera in Germany has a more consistent structure so audiences can get to know artists and repertoire better and an in-depth knowledge of the art form can develop among the public.
In Germany the opera houses belong to the city. There's an ensemble of singers that the opera-going public is familiar with. They get excited about a singer making a debut [in a role] … or to see a young dramatic singer move up into heavier repertoire. 
The key change she perceives in Ireland now is that audiences can see a full year of opera ahead and this naturally allows for audience development. INO announced 38 performances for 2018 at the beginning of last year and then an initial 32 performances for 2019 in November of last year. They will announce their 2019/20 season later this year.
She has been particularly pleased with the large audiences attending in Ireland, often selling out.
I'm not sure that anyone expected that amazing reaction to it. It validates the structure of how the team have gone about planning it.
Intimate character
Orfeo ed Euridice is one of the first operas that Carty bought when she was beginning as a singer. From Celbridge, she initially trained as a teacher, but then studied in the RIAM followed by studies in Vienna and with Irish mezzo Alison Browner. The character of Orfeo is quite a unique one, she feels. 'It's an intimate character… He's on stage the whole time, and apart from a small little interaction with Amore, until he gets to the Underworld, he doesn't really speak or converse directly with anyone.' 
One of the most poignant moments for her is just before Orfeo meets Euridice (Sarah Power), and Power sings 'Orfeo ben mio' on the same note, just before he turns around – 'it's just so simple… It's so poignant and heartbreaking.'
Whether Orfeo feels at the outset that he is going to fail or succeed in his task is something that Carty feels they have left open, which makes the story even more powerful.
For her, the story is key.
The human and emotional interaction and the story and the psychology of the characters is the core, and opera is the vehicle that we use to express that. 
The Second Violinist
As well as Orfeo, Carty is also performing as Amy in Donnacha Dennehy's The Second Violinist next month in Amsterdam with INO, a role she performed at the premiere at Galway International Arts Festival and again last September in London. She is also currently planning a recording of Schubert songs with American pianist Jonathan Ware and has recently been appointed as a Creative Associate with the Arts Council's Creative Schools initiative. 
Recent developments in Irish music, opera and the arts could mean more artists will see Ireland as a desirable destination.
I have the general feeling that lots of Irish artists abroad, not just singers, are thinking of moving home. It's a good time for the country. It's a good time for the arts.
Orfeo ed Euridice begins its run in the Civic Theatre in Tallaght on Thursday 7 and Friday 8 February, then visits Drogheda, Bray, Waterford, Carlow, Celbridge, Cork, Ennis, Tralee, Dún Laoghaire and Wexford. For booking, visit www.irishnationalopera.ie. 
This preview is supported by Irish National Opera.
Published on 6 February 2019