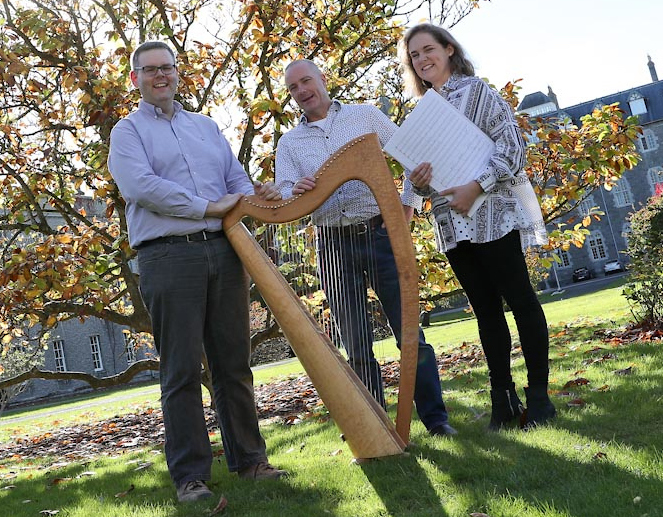 'There's a wonderful playground there': Ryan Molloy Commissioned by RTÉ Lyric FM to Write Concerto for Irish Harp
New work to mark Lyric's 20th year.
Composer Ryan Molloy has been commissioned by RTÉ Lyric FM to write a concerto for Irish harp and orchestra celebrating the station's 20th birthday. The concerto will be premiered by harper Máire Ní Chathasaigh [Update 9 April 2019: Anne-Marie O'Farrell will be performing the concerto] and the RTÉ NSO next May, conducted by Gavin Maloney. The commission comes with an award of €10,000.
The announcement of the commission in May caused criticism among the music community because Lyric specified that composers should 'think about creating melodic, accessible new compositions'. Molloy took it as a creative challenge:
I didn't necessarily approach that as something to be shackled by, but rather something that I could turn my hand to creatively. The core of it for me was the possibility of engaging with the traditional Irish harp and an orchestra in a concerto context, and that really excited me, as most things involving trad and anything else do!
Molloy, a lecturer in composition at Maynooth University for the past six years, is originally from Tyrone and is a traditional fiddle player and pianist as well as a composer. Finding a compositional voice that balanced his broad musical interests was influenced by two key meetings with composers as part of a BBC scheme in 2012.
I was confused. I was a trad musician who was exceptionally fired up by weird and wonderful contemporary music sounds. I wrote contemporary music. I also played contemporary music and had been trained in classical music. My natural expressive reaction was to want to combine these two things, but of course they seemed like polar opposites. I was trying to rationalise my playing practice with my writing practice and Brian Irvine just said 'It's all you!' That was liberating.
Another meeting the same year, with Harrison Birtwistle, had a similar impact. Molloy spent a day in the English composer's house discussing and listening to music. Commenting on Molloy's use of traditional music in his work, Birtwistle said: 'Stop trying… you're trying to hard… if it's there it will come out.' 
'I'be tried to hold on to that ever since', says Molloy. 'If there's a crack in the piece [the traditional music influences] will slip into it.'
Gealán
Molloy has previously written several works for orchestra, including a Violin Concerto that was premiered by the Ulster Orchestra and Darragh Morgan in 2016.
An aspect that has shaped his approach to the commission was an interview that Máire Ní Chathasaigh did with Ellen Cranitch about writing for the harp when the commission was announced.
The one thing that really struck me when Máire and Ellen were talking about the harp was its brightness, nimbleness and versatility, and I really focussed on that… I wanted to look at each of these facets of the harp in the movements of the concerto. I'm trying to find ways – if I imagine myself as a soloist as a trad musician – that would be a little bit beyond trad playing. Máire's such a versatile player anyway, so there's a wonderful playground there.
The title of the work is currently Gealán, meaning 'sparkle'.
Short commissions
As well as the concerto commission, Lyric has also announced shorter commissions for composers Katie Neville and Elliot Murphy to write works for the RTÉ Philharmonic Choir and the RTÉ National Symphony Orchestra Cello Octet respectively. The shorter commissions come with an award of €2,000.
Katie Neville, a classical guitarist, graduated from Maynooth University in 2016. She led the Irish Youth Guitar Orchestra on its inaugural tour the same year and her compositions have been performed by Chamber Choir Ireland and members of the RTÉ National Symphony Orchestra. Elliot Murphy is a composer, cellist and guitarist currently based in Berlin. He studied composition with Evangelia Rigaki and Donnacha Dennehy at TCD and was the recipient of the Gerard Victory Prize in Composition and the Geoffrey Singleton Prize in Music. 
For more, visit https://www.rte.ie/lyricfm/info/2013/0501/389840-rte-music-commissions/
Published on 22 October 2018