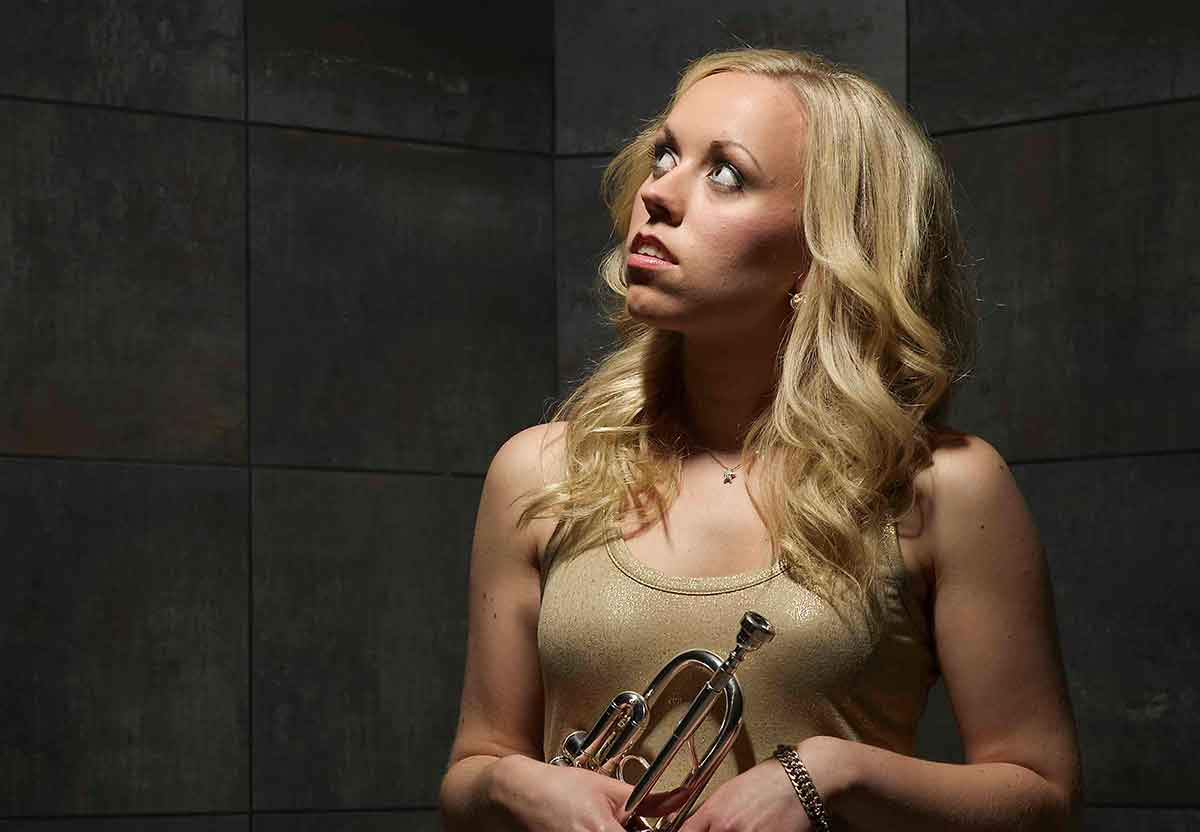 Tine Thing Helseth to Premiere Work by Deirdre Gribbin
First of two new Music Network commissions on national tour from Tuesday 10th to Wednesday 18th October.
Celebrated Norwegian trumpeter Tine Thing Helseth and pianist Gunnar Flagstad will tour Ireland with seven concerts this month, starting Tuesday 10 October and visiting Dublin, Bray, Waterford, Sligo, Dún Laoghaire, Clifden, Castleconnell and Tralee.
As well as works by Bartók, Grieg, Norwegian composer Geirr Tveitt and more, Helseth will premiere a new work, Through every wind that blows, by Belfast composer Deirdre Gribbin. 
Gribbin commented,
Through every wind that blows, inspired by the folklore of mythical Connla's Well, allowed me to conjure up a dramatically vibrant, swift musical dialogue for the wonderful Tine Thing Helseth and Gunnar Flagstad. I am delighted that it will be part of Music Network's Autumn Season.
Composer commissions
Through every wind that blows is the first of two new works commissioned by Music Network for the autumn 2017 season – Edge, Rhona Clarke's 3rd String Quartet, will be premiered by Quatuor Voce in Letterkenny in November.
Commissioning and touring new works by Irish composers has become an important part of Music Network's work – to date, dozens of new works have had their origins in the tours, including Edges of Light, which recently featured in The Journal of Music's review of Kilkenny Arts Festival, Bill Whelan's widely performed The Currach, Donnacha Dennehy's Stamp (recorded by the Smith Quartet), Deirdre McKay's A Million Miles From the Moon for Chloë Hanslip and Danny Driver, and Ian Wilson's Quattro Stagioni for four violins, which was performed throughout Ireland in May (see review here).
The full programme for Tine Thing Helseth's Irish tour is below. The venues are St Ann's Church, Dublin (10th), Mermaid Arts Centre, Bray (11th), City Hall, Waterford (12th), The Model, Sligo (13th), Pavilion, Dún Laoghaire (15th), Station House, Clifden (16th), All Saints' Church, Castleconnell (17th), and Siamsa Tíre, Tralee (18th).
For further information and booking, visit musicnetwork.ie
Programme
Geirr Tveitt (1908–1981)
Vélkomne med æra (Welcome with honour) from Suite No.1, "Hundradfolketonar frå Hardanger" (A Hundred Hardanger Tunes), Op. 151
Edvard Hagerup Bull (1922–2012)
Perpetuum Mobile (Homage to Johann Strauss) 
Dmitri Shostakovich (1906–1975)
Four Romances on Poems by Pushkin, Op. 46 
Astor Piazzolla (1921–1992)
Café 1930 (from Histoire du Tango, 1986) 
Paul Hindemith (1895–1963)
Sonata for Trumpet and Piano (1939) 
Deirdre Gribbin (b. 1967)
"Through every wind that blows"
New commission by Music Network
Béla Bartók (1881–1945)
Romanian Folk Dances
Edvard Grieg (1843–1907)
Haugtussa (The Mountain Maid) Op. 67 (arr. for trumpet and piano)
Kurt Weill (1900–1950)
Three songs
Nanna's Lied (Nanna's Song) (1939)
Youkali (1934)
Je net'aime pas (I don't love you) (1934)
Further information and tickets: https://goo.gl/iTZ1Zt
This news item is supported by Music Network.
Published on 9 October 2017