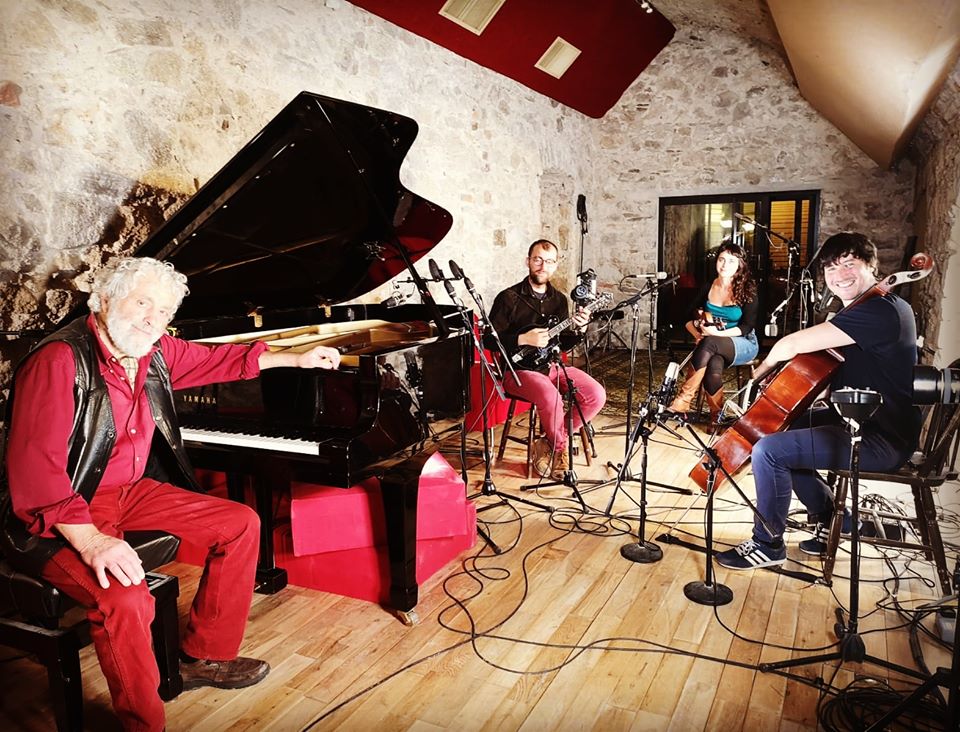 Traidphicnic Festival to Stream Online Concerts This Weekend
Featured artists include Madagán, the Antóni O'Breskey Nomadic Piano Project, Clare Sands, Téada, Síle Denvir and Aisling Lyons.
The Traidphicnic traditional music weekend in An Spidéal, Co. Galway, is moving online this year due to the pandemic and will stream a number of performances beginning this evening (Friday, 3 July) at 8.30pm.
Now in its ninth year, the festival normally takes place at the centre of the Gaeltacht village in the Ceardlann craft centre. This year, however, it is hosting a number of concerts by musicians from various locations in Conamara and beyond. The concerts are free to view – as Traidphicnic concerts always are – but they are asking viewers to 'íoc an méid is féidir leat / pay what you can' online.
The weekend of events begins this evening with performances streamed on Facebook and YouTube by the Loch Lurgan Céilí Band, accordion player and composer Johnny Óg Connolly, banjo player Clíodhna Costello, and guitarist Pádraig Ó Dubhghaill, the Belfast-based group Madagán, and the Antoni O'Breskey Nomadic Piano Project.
Tomorrow morning (4 July) at 11am, there will be the opportunity to learn three specially chosen tunes from the 1909 P.W Joyce collection via the Irish Traditional Music Archive's interactive Port facility. 
Tomorrow evening at 7.30pm there will be a range of featured performances by young musicians in 'Turas Siar' ('Journey West'), and at 8.30pm, there will be streamed performances by flute-player Neansaí Ní Choisdealbha and accordionist Tommy Mellett, the Hernon family of musicians and singer Mary Éinniú, singer and fiddle-player Clare Sands, concertina player Becky Ní hÉallaithe, fiddle-player Orla Leavy, singer Mac Dara Ó Curraoin, fiddle-player Ella McGrory, fiddle-player Megan Nic Fhionnghaile, and the group Téada with Séamus Begley and Samantha Harvey.
Finally, on Sunday at 12.30pm there will be a music session for families live with the Breathnach family, featuring uilleann piper Paidín Breathnach and fiddle-player Liz Coleman. At 6.30pm, there will be an online craft demonstration, An Airdín Buí, and at 7.45pm there be the second instalment of Turas Siar followed by performances at 8.30pm by harper and sean-nós singer Síle Denvir, harper and concertina-player Aisling Lyons, harpers Alannah Thornburgh, Eilís Lavelle and Niamh Ní Bhriain, Na Rógairí, sean-nós singer Sarah Ghriallais and Ceoltóirí Óga Chois Fharraige.
As part of Traidphicnic's outreach, last Sunday (28 June), the festival committee organised for the Moycullen ceili band Cogar to travel by bus to three nursing homes in Conamara – Arás Chois Fharraige in An Spidéal, Arás Mhic Dara in An Cheathrú Rua, and Teach Altranais Charna – and perform for residents outside.
'It was very emotional,' says founder of the festival Bridge Barker. 'The residents were waltzing inside and waving.' 
We're a small committee but we are able to adapt and go with whatever we're faced with – whether it's good weather, bad weather, Covid restrictions – rather than not do something.
The Traidphicnic concerts will be able to view on the festival's Facebook page and YouTube channel. For more, visit http://traidphicnic.com/
Published on 3 July 2020