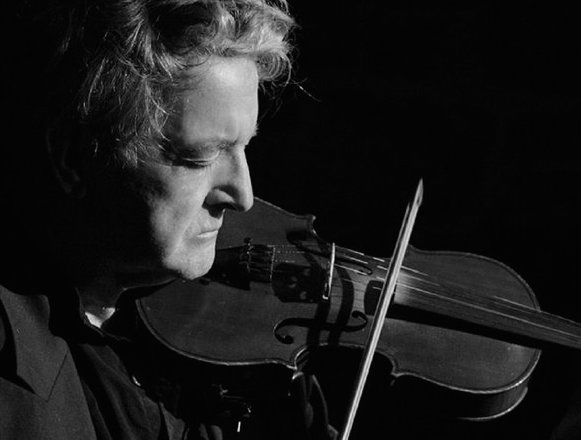 Tribute to Tommy Peoples at Willie Clancy Summer School
Celebration of the music of legendary Donegal fiddle-player to take place on 10 July, chaired by Paddy Glackin.
The annual Willie Clancy Summer School takes place on 7–15 July this year and will feature a tribute to fiddle-player Tommy Peoples.
Peoples, who has taught at the school for many years, has had a major impact on fiddle playing over the past forty years through his solo performing and recordings. In 1975 he recorded with The Bothy Band on their debut album and subsequently released seminal solo recordings The High Part of the Road, The Iron Man and Waiting for a Call, a trio album with Matt Molloy and Paul Brady, and much more.
He was awarded the first TG4 Traditional Musician of the Year Award in 1998, and, in recognition of his work as a composer of tunes, he received the Composer of the Year Award in 2013, becoming the first person to receive a second TG4 Gradam.
In 2015, he published Ó Am go hAm – From Time to Time: Tutor, Texts and Tunes, a fascinating insight into his fiddle style as it includes detailed transcriptions of his playing.
The tribute to Peoples will take place on Tuesday 10 July at 3pm at the Community Centre in Miltown Malbay, Co. Clare, and will be chaired by fiddle-player Paddy Glackin.
Other highlights of this year's summer school include a lecture by Louise Mulcahy on women uilleann pipers; the Breandán Breathnach Memorial Lecture, which will be given by Fintan Vallley and titled 'Irish Music in Irish Art: using the visible to understand the unspoken'; a lecture on piping and traditional music in Wales by Ceri Rhys Matthews; a lecture by Harry Bradshaw on the broadcasting career of Ciarán MacMathúna; and the annual recitals in fiddle, concertina, flute, whistle, harp, pipes, singing, banjo and button accordion, plus workshops, classes and dance demonstrations. The school will be opened by accordion player Joe Burke on Saturday 7 July at 8pm.
For full details, visit www.scoilsamhraidhwillieclancy.com
Published on 20 April 2018