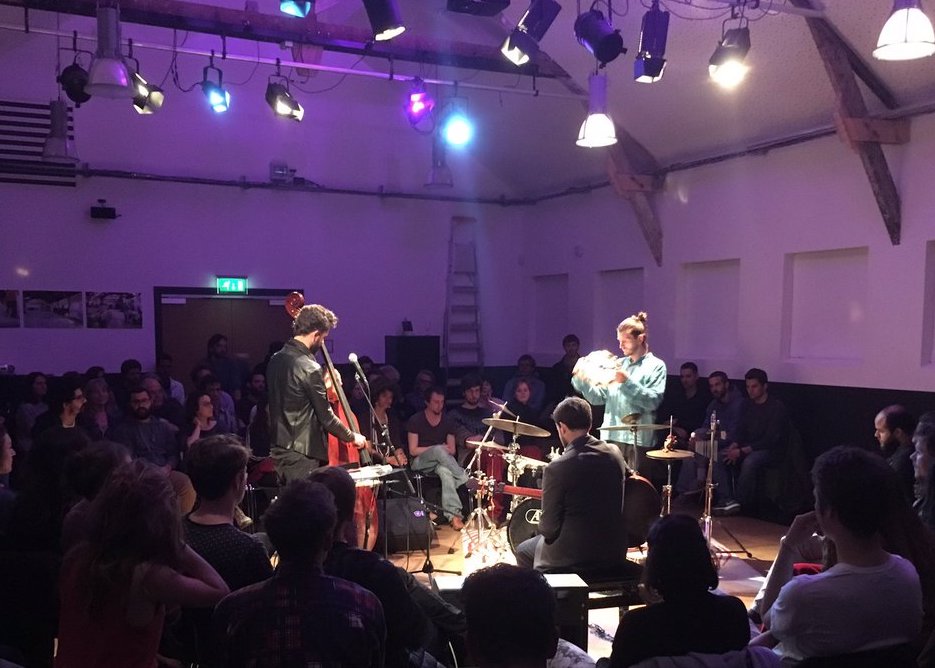 What Kind of Music Space Does Dublin Need?
Musicians have a rare opportunity to shape the future of arts spaces in Dublin city through a survey currently being run by Dublin City Council Arts Office. The Journal of Music spoke to three members of the music community about what they would like to see, and why musicians need to fill out the survey.
The phrase 'artist workspace' conjures up lots of different images. Perhaps a painter's studio, or a rehearsal space for theatre, or a writer's room. Rarely do we consider what exactly it could mean for music.
Currently, Dublin City Council Arts Office is running an online survey asking artists to 'shape the future' of artist workspaces in the city – specifically with regard to a number of upcoming spaces in Dublin. Those in the city's music scene see it as a significant opportunity.
Dublin has no custom-made music hub (such as Splendor in Amsterdam, for example), a space where musicians can rehearse, collaborate, practise, compose, record, store instruments and equipment, and more. The record label Ergodos opened a small collaborative space and post-production studio in Portobello in the city in 2017, but it closed last year.
The absence of a centralised hub for what is one of Europe's most exciting music scenes means that the sector struggles to build on the work and progress so far, and increase collaboration across the scene. It is now over nineteen years since Gerry Godley wrote in this magazine of the need for such a space.
Acute needs
'Musicians have really acute space needs,' says musician and composer Nick Roth, also a co-director of the Diatribe label, which recently hosted a series of sold-out concerts at New Music Dublin. He continues:
When you imagine musicians you think of the public-facing nature of their work… There isn't so much of a public awareness of the behind-the-scenes nature of being a musician – the several hours of practice you have to do on your instrument every day, the composing, the editing, the private work which feeds into what you do when you come on to the stage.
His ensemble Yurodny has nine members and finding a space for rehearsal has been a constant challenge. Similarly, the group ReDiviDeR, of which he is a member, had to stop a rehearsal at his home recently because of neighbours, just as the band were practising for New Music Dublin. 
It was four o'clock in the afternoon. Legally, I think we were well under the decibel limit for what you can do at that time, but obviously if it's your neighbour you don't want to cause any problems so we had to stop, and that was the one rehearsal that we had for the largest new music festival in the country.
Roth also sees the need not just for an artist workspace but a live-work space – i.e. accompanying apartments with affordable rents and long-term tenures – due to the difficulties musicians have in finding a place to live in Dublin that lasts more than a year or two.
Identity
According to Ken Killeen, Artistic Director of the Improvised Music Company, the lack of an acoustically treated rehearsal, collaboration and performance space for the music community in Dublin is a significant, ongoing issue.
'It is the issue,' says Killeen. 'Without a home … it's very difficult to build upon your identity. This is a fundamental type of requirement… The biggest issue amongst the jazz and improvised music sector – by a country mile – is the lack of spaces, for developing work, for collaborating and ultimately for presenting that work.'
Killeen sees the Dublin City Council Arts Office survey as an important chance for the music community to make its voice heard.
This is a great opportunity for artists to come together and outline what it is they need. We don't get many opportunities to articulate that, and I think being able to do that is empowering … it does rely heavily on those various voices filling out the form to get the best strata of information we can get… This is the time now to define what shape these spaces need to take.
Music hub
Neva Elliott McGinley, CEO of Crash Ensemble, says that we need to move beyond the idea of an artist space as just being for a visual artist. A music hub or space needs a number of key facilities: individual rehearsal space as well as group rehearsal space for up to 20 members of an ensemble, in rooms that are acoustically treated so that musicians and surrounding musicians and artists can work uninterrupted.
Musicians that are working at the level of Crash Ensemble, they need to be keeping on top of their practice, obviously performing together but also rehearsing on their own. So many of them are doing that from their kids' bedrooms.
A music hub also needs a post-production space where musicians and composers can work on recordings. 'A big loss to us was when Ergodos went,' says Elliott McGinley. A hub also needs hot desks for all the many types of workers in the Irish music industry, with Wi-Fi and kitchen facilities, offices for administration, equipment storage space, bookable spaces, and collective spaces for performances where they can try out material. 
Designing from scratch
Ray Yeates, Arts Officer for Dublin City Council, is keen to hear from the music and arts community in the survey. 'This study is about the pent-up demand… what kind of space would they like and what should it look like? This is all moving towards the new city development plan. We're good at doing libraries, community centres and sports centres, and we have dedicated staff around that, but when it comes to arts centre structure, we have less of a procedure in place.'
Artists don't get to talk about their work spaces usually and what they'd like to have in them. There's artists in all kinds of buildings they find to be unsuitable… [They] are great at taking over found buildings… they take them over and do their best with them… but if you were designing from scratch, how should you go about that?
The survey will help the arts office decide on the approach to future arts spaces in the city, for example, whether they should be multi-art form or single art form, what kind of subsidy they need, and the form of governance.
'We need to speak up now about the space that we need,' says Elliott McGinley, 'to not only create a custom-made space but build up the strengths in the Irish music community. We need … a space for our community where we can work together.'
The 'Shape the Future of Artist Workspace' survey takes 15–20 minutes to complete and is available at www.artistworkspaces.ie. The deadline for filling it in is next Tuesday 30 June 2020.
The company undertaking the survey is also conducting a limited amount of interviews via Zoom. Details on how to take part are available at the above link also.
Published on 23 June 2020