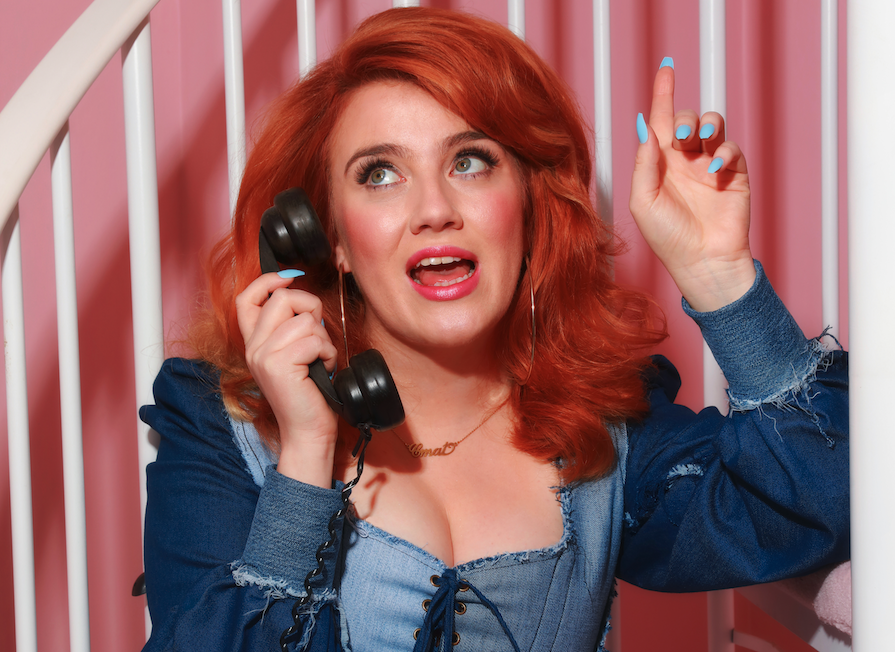 CMAT Sees Us Through
Irish pop singer CMAT's debut album went to number one in the Irish charts in its very first week. An original songwriter with a witty online presence, she has come to mean even more than that for her fans, writes Shannon McNamee.
At the height of the first lockdown, I heard CMAT for the first time when her debut single 'Another Day (kfc)' was played on Louise McSharry's former show on 2FM. She was singing about breakups and Kentucky Fried Chicken in a country-tinged style of pop and I immediately stopped what I was doing to make sure I got the details of the song. A month later, I'm dancing in my bedroom to a tutorial the artist has shared on her Instagram in which she teaches the choreography from the track's accompanying music video. Had lockdown got to me, or was there something special about this idiosyncratic artist who had launched her music career during a global pandemic? 
Over the subsequent two years, singer-songwriter from Dublin CMAT – Ciara Mary-Alice Thompson – has released a string of singles exploring topics such as relationships, self-image and life as a twenty-something woman, written with a witty style of lyricism and sung in her distinct country-pop twang. The intrigue grew as more music was released – singles like 'Rodney' and 'I Wanna be a Cowboy, Baby!' – not just for me, but there seemed to be a growing hype about this relatively unknown artist. Now her debut album If My Wife New I'd be Dead has gone straight to number one in Ireland's charts in its first week. 
Donning a uniform of Dolly Parton-esque outfits, voluminously styled hair, and an essence of glitz, CMAT tethers on the edge of caricature and homage to country music and its culture. She has somehow, though, struck a balance, and captured the attention and esteem of a dedicated fan-base. Positioning herself as not only a musician but an online personality too, the artist regularly shares humorous and playful videos on her social media channels, often speaking directly to those watching. These online interactions make you feel like you're on the phone to a friend, or making up dance routines at a sleepover. 
Pre-pandemic, before CMAT had released any music, if I had been told that one of my favourite new emerging artists would be a singer-songwriter who dresses and sings like a country star, and shares Instagram videos about popcorn chicken, I wouldn't know what to expect. Two years later, CMAT has created a new and unique space for herself within the Irish music scene – and further afield, as she has just announced a series of UK concert dates for next winter, and this week is showcasing at SXSW.
 

Lives online
With the release of debut album If My Wife New I'd be Dead, fans now have a body of work to sink into. Its twelve tracks feature some previously released singles – 'I Don't Really Care For You', 'No More Virgos' and '2 Wrecked 2 Care' – along with new compositions. 'Nashville' opens the record with uptempo vocals and breezy acoustic guitar. She sings of escapism and a lack of personal contentment, fantasising about a potential life in the Tennessee capital, singing country music, drinking tequila and going to the rodeo. 
On 'I Don't Really Care For You' – a bright, punchy piece with a recurring piano hook – CMAT sings about a relationship gone wrong, and the self-reflection that arises from it. 'I just spent sevеn hours looking at old pics of me, Tryna' pinpoint where the bitch began / Somewhere after the passion of Christ, and before I had an Instagram', articulating a personal but also a particularly millennial and Gen Z experience that has come with living a part of our lives online.  
Behind the facade of cowboy boots and glamorous get-ups, CMAT's real strength is her songwriting. She can harmoniously blend somber and melancholic issues with bright melodies and clever lyrics so that at first it seems like a catchy, funny pop song, but with further listens the layers of meaning unfold, harnessing a juxtaposition of light and dark. 
In 'Peter Bogdanovich' she sings of an infatuation with an older, married man – 'My daddy didn't love me, so guess I moved onto you', while in 'Geography Teacher' we hear about body image (a recurring theme) as she sings in her Kate-Bush-meets-Jean-Ritchie warble 'I dreamt about being thin in another's hands'.
'Lonely', an honest and vulnerable piece about feeling disconnected and morose, is a personal standout from the record. Its heartrending lyrics – 'I'm so lonely, and I don't have any real friends / I'm so lonely, other people are just means to an end' make it one of the album's most affecting songs. Much of the artist's work contains an element of sadness or displeasure, but with this track, we hear her fully lean into the melancholy. Here, there is no upbeat chorus or catchy hook on piano to cover up the sadness. 'How long more 'til I'm a lost cause / I'm mentally unwell' she bellows over a cutting, whining slide guitar motif that mirrors the sorrow of the work. 
Guidance for fans
The night before her album was released, CMAT hosted a livestream on her YouTube channel titled 'CMAT Confessional'. It was an interactive programme where fans could call her on the phone, speak to her live and ask her for advice on different topics – agony aunt style. Comments streamed in with messages like 'Love you CMAT, please come to Nottingham', and 'CMAT is a queen!', while she chatted to fans who had called in to ask for her guidance on topics varying from fashion to relationships to careers. Sitting in what appeared to be a pub lounge space, wearing a flowing cream and pink gown while sipping a cocktail from a martini glass, CMAT spoke with her fans, laughed with them, and approached their questions with sincerity and tenderness. Something bigger was happening here than the usual experience of tuning into a livestream concert. 
Hearing the giddy, absorbed interactions between the callers and CMAT made me wonder – what is it that this artist offers to her listeners beyond the obvious music and lyrics? Is she just a musician to fans, or does she offer something more than that? She occupies the space of a friend, a confidant, and creates a sense of community, offering an element of escapism from real life. In a way, she's the big sister, cousin or neighbour who you always idolised, whose clothes you wanted to borrow, and to whom you go to for advice.  
CMAT is an artist who speaks to a generation from the perspective of a young woman in her twenties. Blending elements of old and new with her unmissable country singing voice and notions of chicken fillet rolls and Instagram, CMAT's debut is exposed and refreshingly authentic. For me, her music was a beacon of light during lockdown and remains relatable, funny, sad and uplifting all at once.  
If My Wife New I'd be Dead and tickets to upcoming CMAT concerts are available from www.cmatbaby.com.
Published on 15 March 2022
Shannon McNamee is Assistant Editor of the Journal of Music.