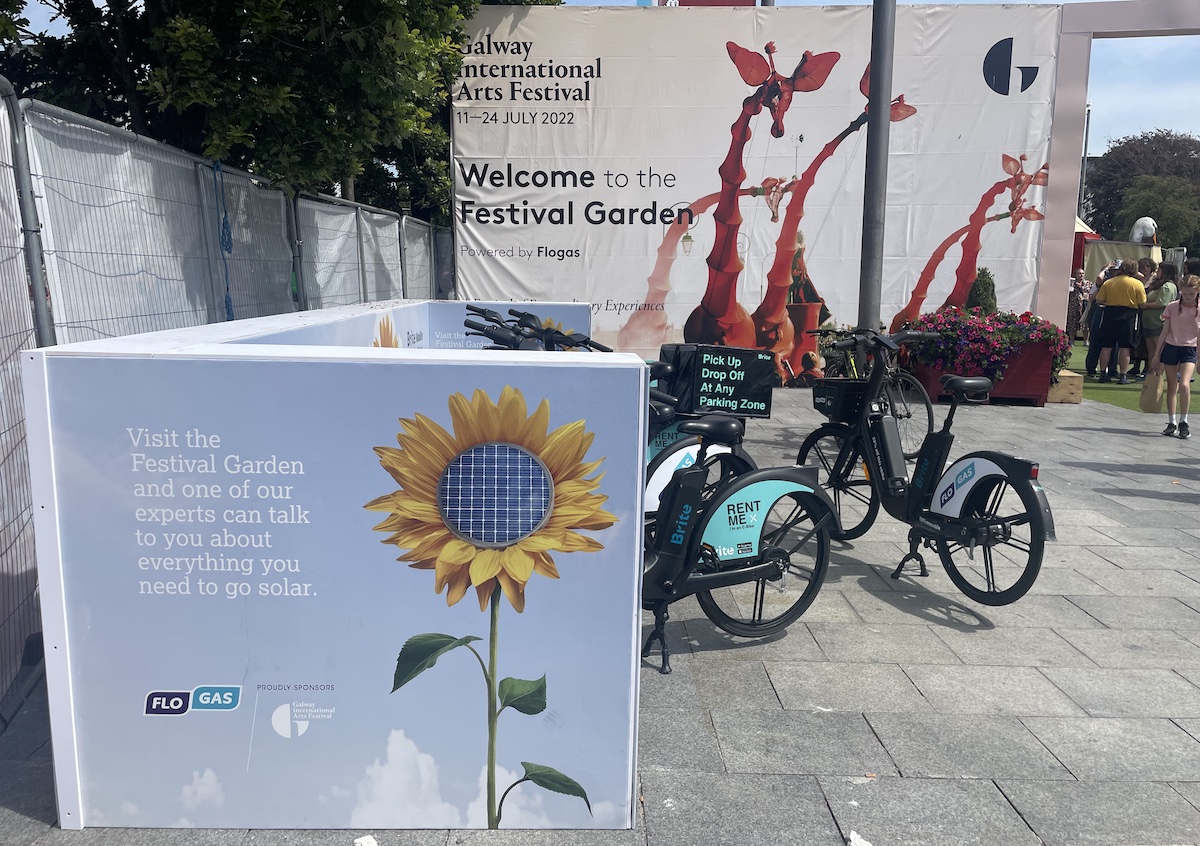 'Confusing the Discourse' – Why Fossil Fuel Companies Should Not Be Sponsoring the Arts
The sponsorship by Flogas of the Galway International Arts Festival raises a number of questions about what is appropriate sponsorship for the arts, writes Toner Quinn.
The Galway International Arts Festival delivered exceptional experiences again this year: Donnacha Dennehy and Enda Walsh's The First Child was powerful and unforgettable, an outstanding new Irish opera; Fíbín's musical theatre show Muc Rí with Julie Feeney was wild and inventive. There was so much more. Every year the festival inspires audiences and makes Galway magical. That is why I take such an interest in their programming, and why I found an aspect of the festival this year deeply unsettling.
On Sunday 17 July, the environmental activist Sadhbh O'Neill was interviewed as part of the festival's First Thought Talks series. In her introduction, Catriona Crowe, who has curated the series in recent years, mentioned that she always includes a talk on the climate crisis because it is such a critical issue. The event was chaired by Kevin O'Sullivan, Environment and Science Editor of the Irish Times and the former Editor of the newspaper.
As an activist, O'Neill had significant success in 2020 when the Friends of the Irish Environment campaign brought the Irish government to the Supreme Court over the lack of climate-proofing in the National Mitigation Plan 2017, and they won, forcing the Irish government to be accountable. And yet O'Neill says it is difficult today to find good news on climate change, and believes we need to be totally honest about what is happening to the planet, how our lives will change, and why more radical changes to reduce carbon emissions are needed.
The event was almost full, illustrating the value of having a major arts festival focus on climate issues and attract a crowd. And yet there was a lot that was not said.
Among the issues O'Neill raised was how fossil fuel companies and other corporations with large carbon emissions have been effective in creating a narrative around 'going carbon neutral', achieving 'net zero' and 'carbon offsetting', and have been 'confusing the discourse', making sure that change comes at a pace that suits their commercial needs rather than the needs of society. They do this, very effectively, through lobbying, PR and sponsorship. She said:
The media and publications are awash with corporate claims about 'carbon neutrality' and 'net zero' and these are very confusing for people… some companies are clearly doing their very best… and other companies are jumping on bandwagons, what we call 'greenwashing' in order to align their brands with climate action so that they can get greater market share.
O'Neill added that many European environmental organisations now believe that corporations should be banned from making claims about net zero, carbon neutrality and offsetting, because once a fossil fuel company produces carbon emissions they can't be wished away. The solution is reducing them at source, and this needs urgent, radical action. She continued:
What would be much more helpful … is a clear, transparent accounting approach where companies report all their emissions from their activities  … and just report on these honestly and accurately… The idea that … your climate action, like purchasing offsets [or] riding bicycles is somehow offsetting [carbon emissions] is nonsense. I think it's a dangerous fantasy.
It wasn't the first time O'Neill mentioned corporations and climate change, but, in the hour-long interview, not one person, not the chair, the curator or the speaker or anyone in the audience, mentioned the fact that the Galway International Arts Festival is sponsored by a fossil fuel company, Flogas, and has been for the past two years.
Fossil fuel sponsorship
Flogas provides LPG (Liquefied petroleum gas), natural gas and electricity in Ireland, but it is part of a much larger company called DCC, which is the seventh largest company in Ireland according to the Irish Times, is listed on the London Stock Exchange, and owns oil and gas companies around the world. It has taken over Shell businesses in Denmark, Austria, France, Hong Kong and Macau; it has oil and gas companies in the UK, the Netherlands, Sweden, Norway, Luxembourg and the US; and also owns the Emo petrol stations in Ireland. It also deals in healthcare and technology, but 69% of its profits come from oil, gas and electricity.
Flogas is, therefore, not just a supplier in Ireland but intertwined with the global fossil fuel industry that is having such an impact on the environment, and yet the company's presence at the arts festival was unmistakeable. Flogas' logo appeared on the festival's marketing materials, and it was featured in press releases and media coverage. Emphasising O'Neill's concerns, Flogas provided branded bicycles and 'biodegradable macs' that audiences could use for free.
In addition, Flogas was central to the 'Festival Garden' (a number of kiosks and an event venue in Eyre Square at the heart of the city), which was being 'powered by Flogas Solar energy'. The company had a stand covered in painted sunflowers and they were offering to 'Power your home with 100% Green Electricity' and 'Plant a tree on your behalf'. But nowhere did it say that the company is part of DCC and that it is not a 100% green energy company. DCC says it wants to get to 'net zero' carbon emissions 'by 2050 or sooner', but there is no detailed timeline in its sustainability report. In its latest accounts it generated £17.7bn in revenue, an increase of £4bn on the previous year. Is that a company that is likely to get out of the fossil fuel industry fast?
The issue is this: a high-profile arts festival, one of Ireland's flagship events, should not accept sponsorship from a fossil fuel company in an environmental crisis. Flogas was presented as an 'energy partner' and the festival issued a press release outlining the plans they have to make the event more sustainable, including the recent employment of a sustainability officer, but context is everything, and it is difficult not to make the connection here between Flogas' sponsorship and what O'Neill describes as 'greenwashing'. At a time when the airwaves are full of climate talk, and politicians are thinking about carbon budgets and emission targets, Flogas is presented through this media-friendly event as a solar and green power company, not a business dealing in fossil fuels.
The fact that the festival was at the same time presenting art works that highlight the peril of climate change only compounds the irony.
Sustainable future
When I asked the festival about these issues, it said that 'The festival is on a journey towards a more sustainable future and is making step changes to reduce its impact on the environment.' It outlined many of the admirable steps it is taking: sourcing 50% of its total energy requirements from renewable resources and reducing current waste production by 55% by 2025; using reusable cups in bars; promoting behaviour among staff, volunteers, artists and audiences that will reduce their impact on the environment; and working with supply chains to help deliver more sustainable options. But all of this is dwarfed when they take on a fossil fuel company as a sponsor.
At the 'Arts In Ireland' talk at the festival on Sunday 24 July, the Irish Times arts journalist Deirdre Falvey interviewed Kevin Rafter, Chair of the Arts Council. Again, neither interviewer, curator nor speaker raised the issue of Flogas' sponsorship. When former Galway Jazz Festival manager Ciarán Ryan, who was in the audience, asked whether sponsorship by fossil fuel companies in the arts was appropriate, Rafter replied, 'that's obviously for individual organisations themselves. I'm not sure what the actual example would be. It's something that I'm not familiar with.' Ryan pointed out that the festival Rafter was speaking at was sponsored by such a company. The Council Chair replied that that was an issue for the festival itself, that he had not given it a lot of thought up to now, but that he would now bring it into the Arts Council conversations. The Director of the Arts Council Maureen Kennelly then replied from the floor that the Council has started working with the environmental organisations Julie's Bicycle and Native Events. The Council recently issued a survey on climate action, but it makes no reference to sponsorship.
This inappropriate sponsorship in Galway, however, is not an isolated case in the arts. Irish National Opera is sponsored by an aircraft investment and leasing company, ABL, which is obviously working in an industry contributing significantly to carbon emissions. A music education initiative for children at the National Concert Hall, partnering with the Royal Irish Academy of Music, is sponsored by the Irish office of the offshore law firm Walkers, which has its headquarters in the Cayman Islands, so it is a firm that in part helps reduce the tax obligations of wealthy Irish individuals and companies, actually leaving less money for music education in Ireland. Is that appropriate? The positive image of music and the arts in Ireland brings huge value to all of these companies. In the absence of any regulation, however, the Minister for Arts Catherine Martin, who is deputy leader of the Green Party, and the Arts Council have got to step in with tighter guidelines on sponsorship as a matter of urgency. 
In the interview with O'Neill, she made another interesting point. Discussing the lack of traction that green policies receive in Ireland, she said that an entire generation is so caught up with trying to find a home and manage the cost of living that it has essentially closed them off from focusing on green issues. Meanwhile, the fossil fuel companies step in and confuse whatever messages they are receiving. Greenwashing is happening and the temperature is rising. Our emissions may not be at net zero, but our tolerance of companies using the arts to 'confuse the discourse' should be.
Subscribe to our newsletter here.
Published on 28 July 2022
Toner Quinn is Editor of the Journal of Music.