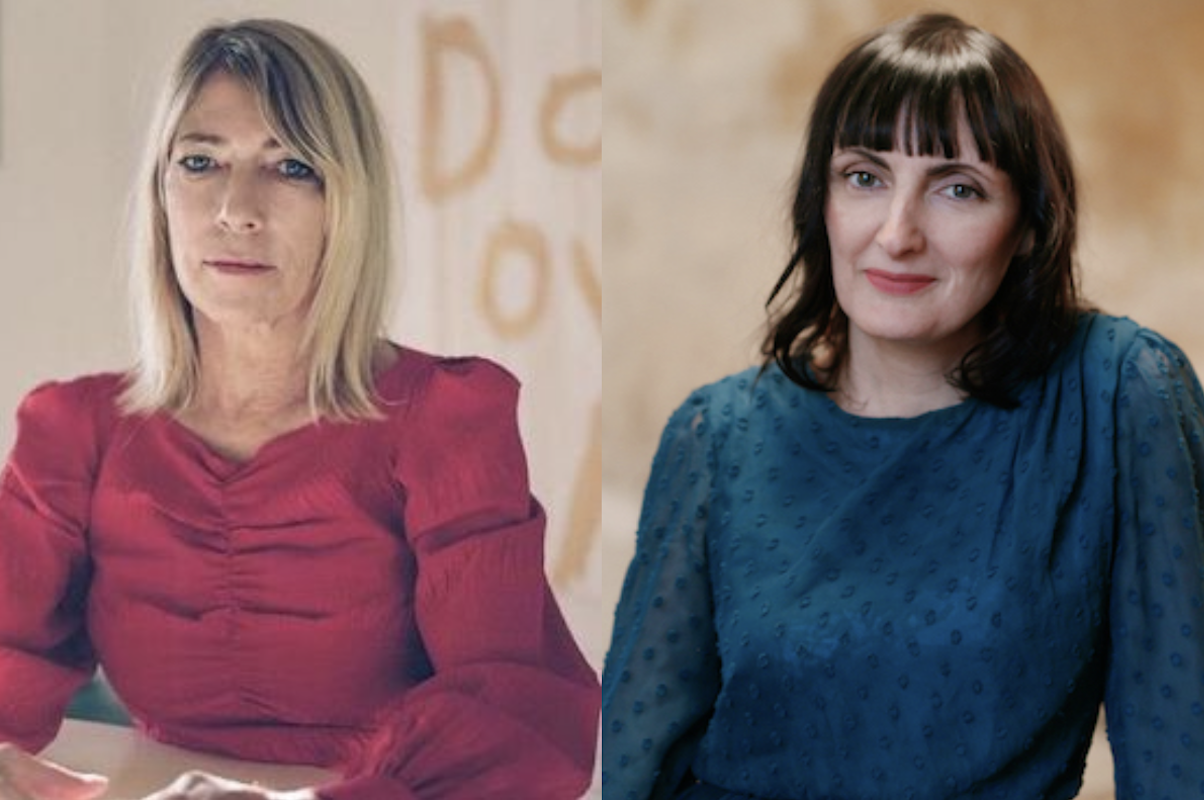 A Limited Edition
A new collection of essays, 'This Woman's Work', focuses on the female experience of music and aims to challenge 'the historic narrative of music and music writing being written by men, for men'. Laura Watson reviews.
The new essay collection edited by writer Sinéad Gleeson and Sonic Youth co-founder Kim Gordon has an arresting title. This Woman's Work is named after the Kate Bush song commissioned for the soundtrack to the film She's Having a Baby (1988). It accompanies a scene in which an expectant father awaits news of his partner's complicated labour. Childbirth is rare and radical material for popular music. What makes 'This Woman's Work' even more memorable is the way that Bush inhabits the man's perspective in her performance and ventriloquises his private anxieties. Readers who catch the song reference will therefore anticipate essays in women's voices, by writers who address the taboo, who can articulate the multitasking nature of a 'woman's work' in music. For those unfamiliar with the Bush track, the blurb promises a book to 'challenge the historic narrative of music and music writing being written by men, for men' and to 'confront the male dominance and sexism that have been hard-coded in the canons of music, literature and film.' 
Why linger on the title and blurb? Simply put, these words are all we have by way of overview. The collection's fifteen essays and one interview are authored by sixteen eclectic voices. While these comprise novelists, poets, English literature academics, experimental artists and performers, journalists, and a couple of music industry figures, the literary profession is represented much more than the music world. Given the writers' diverse stylistic approaches and their varied levels of engagement with music, this book calls for an introduction from the editors. In lieu of this, the reader is offered a short preface by musician Heather Leigh. While interesting as a personal response to the collection, it is prone to generalising – 'our experience of music is full of contradictions […] we all start out as fans' – and occasional remarks at odds with parts of the book – 'you can't explain [music], you have to experience it'. Without guidance from Gleeson and Gordon, the reader is none the wiser about key questions. What was the project's rationale? Who is the intended audience? Why does the roll-call of contributors include a few names from academia yet exclude music scholars who have spent careers specialising in this area? 
'Citation is feminist memory […] it is how we acknowledge our debt to those who came before,' wrote Sara Ahmed in Living a Feminist Life (2017). Citation is not just a textual nicety but a political necessity. This Woman's Work is positioned and promoted as a corrective to male-centric music histories. Such books are essential. But, except for a few of its individual essays, this volume omits to acknowledge other women's work in this field – and, unfortunately, that partly maintains the gatekeeping. An editorial intervention could have averted this. A short overview might have situated this book as the latest in the existing tradition of women writing for the popular press about women musicians. Lucy O'Brien, Gillian G. Gaar, Ann Powers and others have led the charge since the 1990s. A new generation has emerged to include critics such as Jessica Hopper and Kate Molleson. Over the past fifteen years they have been joined by a stream of musicians-turned-memoirists. Best-sellers include Sinéad O'Connor, Patti Smith, Chrissie Hynde, Viv Albertine, Grace Jones, and Gordon herself. This Woman's Work, as a high-profile project helmed by two noted figures in the literary and musical spheres, could have better recognised the graft of women who have fought to establish a mainstream discourse about women in music. (Additionally, there is an extensive body of academic musicology literature on the subject, which has likewise flourished since the 1990s.)
Pop as central subject
Those reservations aside, the individual pieces are engaging, although the reader is likely to gravitate towards some more than others, depending on their experience. Western popular music of the recorded era is the central subject, albeit not the only one. Poet and critic Simone White's analysis of trap and drill begins dramatically – '[the music] resonates with my own rageful, productive and unrelenting unhappiness' – before swerving in a richly theoretical direction. It slants towards discussion of male artists more so than women. In that respect it echoes Megan Jasper's account of her career at Sub Pop Records in Seattle. Starting out as 'the girl who answered phones,' she moved up the ladder, working with Mudhoney and Nirvana, and later the riot grrrl band Sleater-Kinney.
Novelist and essayist Leslie Jamison, tracking her 'taste in music as a landscape of pleasure' through thirty years of mixtapes, is self-reflective and shares an insight which applies beyond her essay. 'Because I'm most at home in words, I often find myself invoking lyrics when I write about music,' she explains. Jenn Pelly, a contributing editor at Pitchfork, celebrates American singer Lucinda Williams' lyrics, lauding her song 'Fruits of my Labor' as 'a requiem, a road song, an escape hatch, a poem.' Novelist Rachel Kushner similarly focuses on her favourite recording, 'Tears at the Grand Ole Opry,' in her chronicle of singer Wanda Jackson's career. Novelist Yiyun Li contemplates how lyrics can be weaponised, drilled into children and permanently etched in the mind. During a road trip across Texas where singing offered the only distraction, she found herself resorting to music from her past: 'the propaganda songs I grew up with in China, and the military songs from my year in the People's Liberation Army.' 
A couple of contributors render the personal political. Fiction writer and screenwriter Ottessa Moshfegh's ode to her piano teacher, Valentina, is shadowed by her experience of an abusive clarinet teacher. 'My playing was an insult to his ears, he said. Better to sit tightly and be admired for my tight sweater,' she recalls in what feels like a #MeToo moment of reckoning. Author and columnist Fatima Bhutto remembers how the trauma of exile from Pakistan thrummed in the background of her family's musical tastes: 'I really know we are homesick because of two songs […] "Sitting on the Dock of the Bay," sung by Otis Redding [and] "Ho Jamalo," a Sindhi folksong beloved and revered by our people.' Broadcaster, writer and DJ from London Zakia Sewell treats music as a portal to the past, too; she evocatively describes uncanny sonic encounters with her mother as a young woman, as 'a ghost, immortalised on tape.'
Several memorable pieces reveal the multifaceted nature of 'woman's work' in music. Grounding this in the body, artist Juliana Huxtable listens closely to the voice of avant-garde jazz singer Linda Sharrock. Her analysis amplifies Sharrock's 'very real specificity of noise – of speechless cry, of freakish fanatical scream' as the 'eruption of unmistakeably Black expression.' Critic Margo Jefferson traces the residue that performance leaves on bodies, particularly the surface of one Black woman's body. '[E]ven as she swings, scats and soars, Ella Fitzgerald's sweat threatens to drag her back into the maw of working-class Black female labour,' Jefferson writes, observing how the singer's body remained under surveillance in a racist patriarchal society.
Exploring another type of work, novelist Anne Enright's tribute to multimedia artist Laurie Anderson illuminates how fans toil on behalf of their idols. As she recalls, 'when I became a television producer […] I put the video of "O Superman" out on my first broadcast, which was also the first time it played on Irish TV.' American writer Maggie Nelson shares the story of her 'brilliant friend' Lhasa de Sela – 'I felt sure that Lhasa and her family were the most interesting things that had happened to me' – in an insightful biography of the late singer. Another fascinating study is Baffler writer Liz Pelly's piece on protest musician Agnes 'Sis' Cunningham. Later in life, she became the powerhouse behind the influential folk music magazine Broadside, 'which she launched out of her kitchen in 1962.' 
In contrast to Cunningham who worked from the home, in a setting traditionally coded as a woman's domain, two other musicians discussed in the book developed as artists in what are often male-dominated spaces. The electronic studio is the natural home of composer Wendy Carlos, who wrote scores for films such as The Shining and A Clockwork Orange. Meanwhile, the Japanese noise artist Yoshimi reaches her fullest artistic expression on stage, where she often performs as a drummer. In an interview by Gordon, which is welcome for how it brings this musician to wider notice, Yoshimi explains that her concept of performance involves 'exposing everything that is inside me to the outside world.' On the other hand, as Gleeson shows in her sensitive essay on Carlos, the composer fiercely guards not just her privacy but also access to her musical catalogue. Consequently, it is in 'danger of simply disappearing from the culture.' Such is the composer's desire to control the public narrative that she last updated her website only 'to object to a recent biography.' (Presumably, this refers to Amanda Sewell's 2020 book.) Gleeson thoughtfully explores the tensions between creator and audience. 
A woman's work in music is often a negotiation between self-expression and society's expectations. And, as Carlos' attitude towards biographers suggests, writing about women in music is also an act which can be contested. The challenge of rising to this task is usually best met by those with experience or expertise in the music world. As music writers constitute a minority of the contributors here, the extent to which this book can tackle its subject is somewhat limited.
This Woman's Work, edited by Sinéad Gleeson and Kim Gordon, is published by White Rabbit. Visit www.whiterabbitbooks.co.uk.
Published on 3 May 2022
Dr Laura Watson is Associate Professor of Music at Maynooth University.