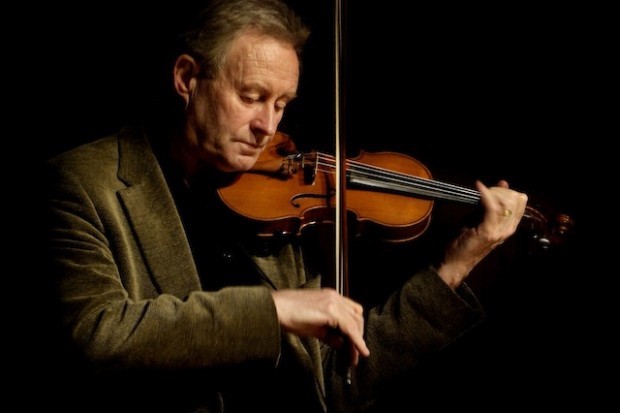 'Listen, listen and listen': RIP Fiddle Player Seán Keane
A tribute to the Irish fiddle player Seán Keane who died on 7 May.
For any fiddle player, the music of Seán Keane, who sadly died on Sunday, is never far from your mind. We may think about how he combined traditional style with classical technique, or his incredible dexterity on the instrument, or that he mastered piping techniques and a variety of regional styles in his playing, but it is the individual voice that he developed, which drew so much out of tunes we thought we knew, that is never easily explained.
It is not that there is no sign of it on the few solo tracks he made for Gael Linn in 1969, when he was in his early twenties. The clear technical ability is there and the natural rhythm, particularly on 'The Wind That Shakes the Barley'. He had already been playing with Ceoltóirí Chualann for six years, a band he joined when he was, incredibly, just seventeen ('I just went for it,' he said in Seán Keane: A Portrait of an Artist, a documentary produced by the Irish Traditional Music Archive), and he joined the Chieftains in 1968. There can rarely have been such an auspicious start for a young Irish musician. 
His solo playing, however, did not feature strongly on the Ceoltóirí Chualann albums, and it wasn't until The Chieftains 4 (1973) that we experience the full individual artist on 'The Bucks of Oranmore'. It is here that we begin to hear what fiddle player Paddy Glackin described in the ITMA documentary as the 'bow-to-string contact', the attack in his playing, in addition to the mastery of piping ornaments, which would, in part, make Keane so distinctive. But there was more to come.
Perhaps one could speculate that by the time Keane took to recording his first solo album, Gusty's Frolicks on the Claddagh label, released in 1975, he had been part of two of the most popular Irish traditional music groups for 12 years, with strong individuals, and now was the moment to express something of his own, which he unquestionably did.
Gusty's Frolicks is an album that draws fiddle players back to it repeatedly. It was produced by Paddy Moloney but features Keane entirely solo for 16 tracks. It asserts itself throughout: the ambush that is the opening tunes 'Bonnie Ann' and 'Jinnie Bang the Weaver', the cuts and rolls bouncing off the notes of the tune (sometimes the other way around); the prising open of the reels 'Doctor Gilbert' and 'Colonel Fraser', finding fresh nuances in what are already tightly constructed melodies; the rolling ornaments on 'The Gold Ring', the sorrow of the crans and trills on the slow air 'Mickey "Crumbaw" O'Sullivan's'. It is quite unprecedented musically and still hugely influential.
His 1981 album, Seán Keane, released on the Ogham label and produced by Brian Masterson with Keane, deserves to be equally well known. On the sleeve notes, Keane writes, 'On actually sitting down to record this LP, I had no idea of the order of the various tracks. I wanted to relax myself, to take myself easy and float into the spirit of the occasion.' 
The opening tune, the hornpipe 'Mrs Galvin's', may adhere to that description, but the album soon becomes an intense exposition of virtuosic fiddle-playing, from the jig 'The Major' and the set of three reels, 'The Piper's Despair', 'The Boys of Ballynahinch' and 'The Jolly Tinker', to the Italian classical tune 'The Banks'. Glackin has used the word 'volcanic' to describe aspects of Keane's style and it is in the reel and jig playing on this album that we increasingly get a sense of this.
Coming in 1981, the recording also seems to bookmark the earlier phase of his career. In the notes, he reflects on his time with Ó Riada and joining at such a young age:
Being only seventeen years old when I joined Ceoltóirí, I was indeed very proud to be accepted amongst my peers. We all had our own style of playing, our leader Seán Ó Riada never wished us to play as one, in fact he became rather anxious when at one time we seemed to be heading in this direction. … We played as much for Ó Riada as with him, he enjoyed us, we were a complete cross section of what traditional Irish music was about. I learned a lot during those golden years with Seán Ó Riada.
In the 1980s, as well as continuing to record with the Chieftains, Keane released Contentment is Wealth with Matt Molloy, followed by The Fire Aflame, again with the flute player and another life-long friend, Liam O'Flynn. His third solo album, Jig it in Style (1990) with Arty McGlynn on guitar, is adventurous, combining an improvised version of the Elvis song 'Heartbreak Hotel' with the 'Cliffs of Moher' jig, but there is also big statements such as the opening and final sets of reels, sliding between different keys, each tune becoming more challenging and virtuosic than the last.
I met Keane only once, at a session in a pub in Rathcoole, Co. Dublin. He happened to be in another part of the bar having a drink with friends, but when we heard who was there, we all quickly put down our instruments and one by one went in to meet him. He was friendly, kind and interested, and our conversation was partly about Joni Mitchell, who had recently recorded a song with the Chieftains. 
The last time I heard him play was at a gathering in the Teacher's Club on Parnell Square in Dublin following a commemorative event for the late Tony MacMahon. Keane entered with his fiddle, and rather than dawdle at the bar, he headed directly for the session at the other end of the room that had been struck up by Peadar Ó Riada and James Kelly, and to play with his life-long friend Mick O'Connor. Keane has said that, ever since he was a teenager, all he ever wanted to do was play the fiddle, and it was evident then too.
He was still performing on stage as recently as last month. Maybe that is the explanation behind his unique voice, a commitment to the musical journey, 'an open mind', as he says in the ITMA documentary, always ready for new musical and technical challenges. But the mystery of his ability to combine dexterity with subtle artistry remains. Towards the end of the documentary, he says that the three most important things about music are to 'Listen, listen and listen'. As we lose another giant of traditional music, that is still the most important thing we can do. RIP the great Seán Keane.
Published on 9 May 2023
Toner Quinn is Editor of the Journal of Music. His new book, What Ireland Can Teach the World About Music, will be published on 1 February 2024 and is now available to pre-order. Visit https://bit.ly/3uz7rGm.