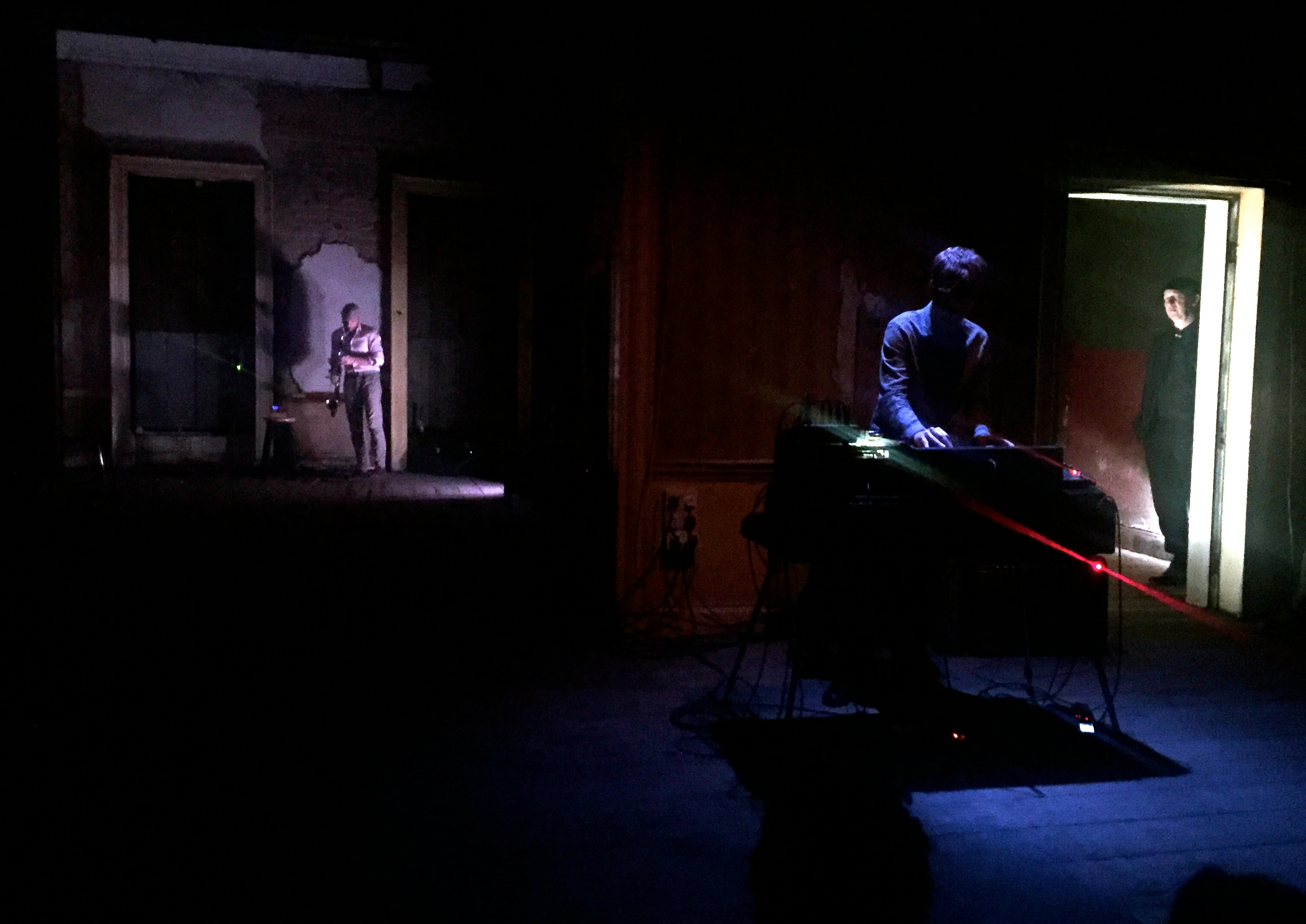 The Walls Have Ears
Cellist Ernst Reijseger was among the improvisers featured at Bottlenote collective's recent performance during the Dublin Fringe. Anna Murray attended one of the six improvisations, which took place in a dilapidated Georgian house.
On 7–9 September, for six performances, four of the country's most innovative improvising musicians – Shane Latimer, Justin Carroll, Sean MacErlaine and Sean Carpio – plus the world-renowned Dutch improvising cellist Ernst Reijseger, occupied a dilapidated Georgian house in north Dublin city, while the audience was brought from room to room.
Titled The Walls Have Ears, and taking place as part of the Tiger Dublin Fringe festival, each space had not only its own sound, but its own atmosphere created by the artefacts of old lived-in spaces (fireplaces, crumbling plaster, creaky floorboards), enhanced with some anachronistic lighting by John Crudden. The music itself was not so much site-specific as site-responsive.
The first room contained Shane Latimer's ambient guitar and electronics performance, which felt like a more systematic than creative exploration of his pedals and processes. It was a lukewarm beginning to the night but one of the more effective light installations (hanging icicle lights in shuddering patterns). Then upstairs to Justin Carroll's intriguing keyboard performance, which built tiny timbal variations into simple repeated motifs, gradually expanding from warbling organ to rich synth washes. Following this was Sean MacErlaine on processed clarinet and vocals, one of the most engaging performers of the night. His performance felt like a partly planned improvisation in which he toyed with the relationship between his instrument and his voice through electronic processes; Sean Carpio's felt like the most pre-composed performance, with distorted electric guitar and vocals.
Ernst Reijseger's set was that of someone who embraces the need for theatre and physicality in performance. It was a sign of his utter conviction that his performance idiosyncrasies never seemed over the top; indeed it went a long way towards softening an audience whose engagement up to that point had not felt absolute.
Reijseger's performance opened with him seated almost in the centre of the final room of the tour, spotlit so as to emphasise the impression of an emotionally distant performer. However, as his set progressed from beautiful eerie textures to fast and aggressive jazz and rock riffs, he brought the audience wholesale into his world. His flipping of the cello to play like a guitar in a short bluegrass song in the middle felt in this context like a logical realisation of this musical journey rather than something comical. The concert's close saw him walk with his cello into the next room, bringing a bemused crowd with him, where he joined in a short collective improvisation with all the musicians of the night which saw him produce sounds by scraping his instrument on the floor, or bowing while spinning it on its spike as fast as it could go.
The event as a whole, though simple in its presentation, was a gradually immersive experience: the movement from performer to performer, and from room to room, slowly drew the listener away from the city outside and into the world of the players and artists that conceived it. It felt refreshing in its emotional honesty and immediacy, with no buffer of space or stage between you and the player. The passage through these temporary installations, in once-loved but now dilapidated rooms, gave an added significance to these musical moments that were never to be heard again.
Published on 15 September 2015
Anna Murray is a composer and writer. Her website is www.annamurraymusic.com.